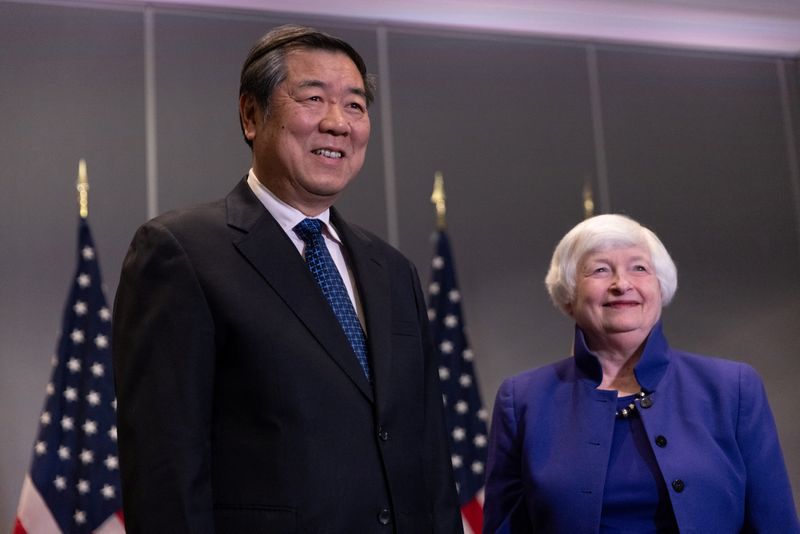 © Reuters. U.S. Treasury Secretary Janet Yellen meets with Chinese Vice Premier He Lifeng during a bilateral meeting ahead of a U.S.-hosted APEC (Asia-Pacific Economic Cooperation) Summit in San Francisco, California, U.S., November 10, 2023. REUTERS/Carlos Barria/
By David Lawder and Ann Saphir
SAN FRANCISCO (Reuters) -U.S. Treasury Secretary Janet Yellen said on Friday that she agreed with Chinese Vice Premier He Lifeng to "intensify communication" on economic issues but warned him to crack down on Chinese companies that give material support to Russia for its war in Ukraine.
The two "had candid, direct, and productive discussions" on issues from U.S export controls to possible areas of cooperation, including climate change and debt relief for low-income countries, Yellen told a press conference after two days of meetings in San Francisco.
The two held talks before the Nov. 15-17 Asia-Pacific Economic Cooperation (APEC) gathering of leaders in San Francisco, which will feature a planned meeting between U.S. President Joe Biden and Chinese President Xi Jinping.
Yellen said she accepted an invitation from He, referred to by China's state media as the director of a powerful Communist Party economic body, to return to China next year as part of a "regular cadence of contact" between the economic leaders.
She emphasized that the U.S. has no desire to decouple its economy from China, but wanted a level playing field for U.S. companies and workers.
"During our discussions, we agreed that in-depth and frank discussions matter, particularly when we disagree," Yellen said. "And I emphasized that the current uncertain global landscape makes it particularly crucial that we maintain resilient lines of communication going forward."
RUSSIA WAR AID
Yellen said that the Treasury has seen evidence that Chinese companies and banks may be aiding in the flow of equipment for use in Russia's war in Ukraine despite Western sanctions, and warned He that these firms "will face significant consequences" if they do.
"We would like to see China crack down on this, especially when we're able to provide information," Yellen said. She gave no further details on the names of the companies involved or on He's reaction.
A spokesperson for China's embassy in Washington said a Chinese readout of the meeting was expected later.
The officials also discussed the Israel-Hamas war, and Yellen spoke about the need "to prevent escalation and expansion of the conflict in the Middle East," the Treasury said in a statement.
Regarding the U.S. Treasury debt market, Yellen said it would not be surprising to see China reducing its holdings of U.S. Treasury debt to support its currency, but China does not publish information about its foreign exchange practices.
She said a ransomware attack on China's largest lender, the Industrial and Commercial Bank of China was not interfering with the market for U.S. Treasury debt.
COMMON LANGUAGE
After nearly five years of fractured U.S. China relations that began with former President Donald Trump's tariff war with Beijing and which has continued with growing U.S. national security restrictions on U.S. technologies, there had been very little contact between Washington and Beijing on economic issues until earlier this year.
A change in China's economic leadership had meant that the Treasury needed to build up new contacts in Beijing from scratch, starting with Yellen's trip to Beijing in July, where she first met with He, a senior Treasury official said on Friday.
Yellen and He's meetings on Thursday and Friday did not produce any specific actions, but the two sides did agree on some common language to describe the engagement, an unusual step in recent U.S.-China interactions.
Under the jointly negotiated language, they agreed to "work toward common solutions, address disagreements where possible and avoid misperceptions contributing to unintended escalations."
The two sides agreed to seek "a healthy economic relationship that provides a level playing field for companies and workers in both countries and benefits the two peoples."
The senior Treasury official acknowledged that the U.S. and China may perceive what constitutes a level playing field differently, but the U.S. side can now point out policies that are inconsistent with that.
They also committed to strengthen the global financial architecture, including through a recently approved International Monetary Fund quota funding increase and plans to "increase the voice of under-represented members/regions," a reference to a bigger shareholding for China.