5/5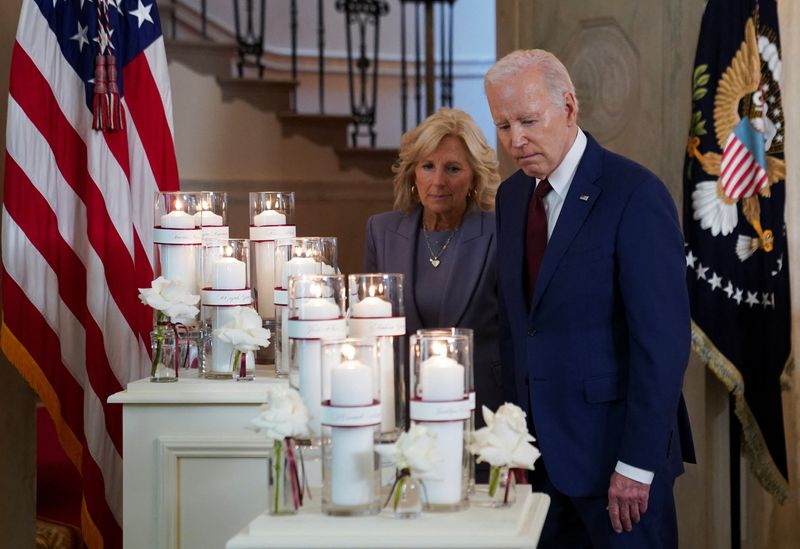 © Reuters. U.S. President Joe Biden and first lady Jill Biden pause to look at a diisplay of candles as they mark the first anniversary of the school shooting at Robb Elementary School in Uvalde, Texas, during an event at the White House in Washington, U.S., May 24,
By Evan Garcia and Steve Gorman
UVALDE, Texas (Reuters) -From a White House candlelight event to a butterfly release in Texas Hill Country, Americans paused on Wednesday to reflect on the 21 victims shot dead at an elementary school one year ago and the seemingly endless scourge of U.S. gun violence.
President Joe Biden used the occasion to renew his call for a ban on assault weapons and high-capacity ammunition magazines, declaring, "too many schools, too many everyday places have become killing fields."
A much larger anniversary remembrance drew hundreds to the lawn of an outdoor amphitheater about 2 miles from Robb Elementary School in Uvalde, where an 18-year-old gunman opened fire in a classroom with an AR-15-style semiautomatic rifle on May 24, 2022.
Nineteen school children and two teachers were killed, and 17 other people were injured in the attack, the deadliest U.S. school shooting in almost a decade.
The assault ended when police officers who had waited more than an hour to storm the classroom and confront the gunman – even as children hiding inside repeatedly called emergency-911 for help – finally charged in and fatally shot the suspect.
Law enforcement's actions that day have been widely criticized as disastrous. Deepening the losses the shooting inflicted, the husband of one of the slain teachers died days later while preparing for his wife's funeral.
EVENING OF SONG AND PRAYER
On Wednesday evening, several hundred community members gathered at Uvalde Memorial Park for prayers and song, beginning with attendees opening white envelopes to release butterflies over the lawn of the amphitheater as guitar music gently played.
Several young survivors of the shooting later led the crowd in candle lighting just before sunset.
The vigil was hosted by Lives Robbed, a group formed to support families of the Uvalde victims and advocate for greater firearms safety.
The Uvalde tragedy stands as the nation's bloodiest single episode of gun violence over the past year, even as incidents of mass shootings and threats of armed bloodshed have become all too commonplace in American life, making "active-shooter" drills routine in schools and other institutions.
"We can't end this epidemic until Congress passes common sense gun safety laws and keeps weapons of war off our streets and out of the hands of dangerous people (and) until states do the same thing," Biden said.
More children and teenagers in the United States were killed by guns than any other cause in 2020, according to an analysis of U.S. government mortality data by researchers from the University of Michigan, Ann Arbor.
"It's time to act. It's time to make our voices heard. Not as Democrats or as Republicans but as friends, as neighbors, as parents, as fellow Americans," Biden said.
During the White House ceremony, a solemn Biden and first lady paused at each of four pillars holding lit candles with the names of the children and educators who perished.
In a separate statement, U.S. Education Secretary Miguel Cardona cited last year's enactment of a bill touted as the most significant gun control legislation passed by Congress in 30 years. It authorized $1 billion in federal grants to bolster school security, expand school-based mental health services and institute classroom safety and violence-prevention programs.
But Cardona said far more needs to be done to change "a status quo in which our educators have to teach our children how to run, hide and fight before they learn to read."
A Reuters/Ipsos poll immediately after the Uvalde massacre found 84% of respondents supported universal background checks for firearms sales and 70% backed red-flag laws making it easier for law enforcement to seize guns from individuals deemed to be a danger to themselves or others.
Some gun rights advocates oppose background checks, saying they infringe on constitutional rights to possess arms while failing to stop criminals from obtaining them. They also contend many red flag laws trample on due process rights.
More than 700 mass shootings have been documented in the United States just since Uvalde, according to the nonprofit group Gun Violence Archive, which defines such incidents as any in which four or more people are wounded or killed, not counting the shooter.