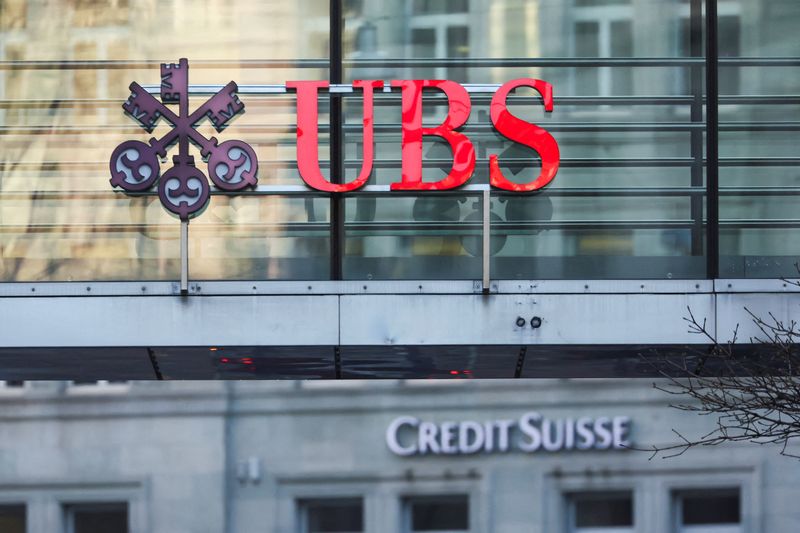 © Reuters. FILE PHOTO: Logos of Swiss banks UBS and Credit Suisse are seen in Zurich, Switzerland March 20, 2023. REUTERS/Denis Balibouse/File Photo
ZURICH (Reuters) – Switzerland's financial capital is bracing itself for the biggest wave of job losses in over a decade following Credit Suisse's collapse earlier this year.
Since the government engineered a rescue of the 167-year-old bank in March by merging it with rival UBS, tens of thousands of jobs have been expected to go.
UBS is likely to provide more specifics later this month on its plans. Its savings targets and indications from insiders and analysts suggest it might be looking at cutting about a third of the combined group's global workforce, or some 30,000-35,000 jobs.
In Switzerland, up to 10,000 jobs could be affected with Zurich bearing the brunt if UBS goes ahead with its indicated preferred option of absorbing Credit Suisse and cutting overlapping jobs and operations.
That would be the biggest setback for the Swiss finance sector since the 2008 financial crisis when UBS had to be rescued by the government, UBS and Credit Suisse laid off thousands of staff and the Swiss economy shrank 2.3% in 2009 as it felt the impact of the crisis.
This time round the economy is in much better shape, creating good job prospects for some in the finance sector but not all.
With a national unemployment rate of just 1.9% in June, and 1.6% in the Zurich area, one of the lowest across Europe, Switzerland can absorb a good number of the people cut from the merged bank over the next 24-36 months, said headhunter Fredy Hausammann, who leads the Swiss arm of Amrop Executive Search.
"In Switzerland in the financial services industry there is a shortage of qualified staff across many disciplines," Hausammann said.
However, he thinks it could be harder for those let go in higher management levels, such as senior and managing director, to find a good fit elsewhere.
"The large banks have many highly paid very specialized roles, where frankly there is very little demand in the market outside UBS and Credit Suisse," he said.
Job cuts at Credit Suisse will hit Swiss and foreign nationals on its payroll, which may mean some have to leave Switzerland if they can't find a new job.
Big global banks have also been cutting staff amid weakness in M&A and capital markets businesses.
Still, one middle manager at Credit Suisse, a foreign national who did not wish to be identified, said he has already been approached by financial services firms with job opportunities but has yet to actively apply for any because he doesn't know yet whether he will get a severance package or a job opportunity at UBS.
"Currently all options are not too bad which is why I haven't been applying yet," he told Reuters.
SKILLS MISMATCH
The Swiss government meanwhile is trying to ease public concern about the prospect of waves of job cuts.
"Considering the shortage of labour in all sectors, it can be assumed that the Swiss labour market would be able to absorb any mass layoffs," a spokesperson for the State Secretariat for Economic Affairs said in an emailed response to Reuters.
Swiss staffing company Adecco (SIX:) said demand for finance professionals, including financial analysts, accountants and controllers, remains robust and demand has increased by 7% this year compared to the second half of 2022.
A report by Arbeitgeber Banker, an association representing employers at Switzerland's banks, shows there were 6,681 job openings in the Swiss financial sector at the end of June but there were also 2,411 people currently unemployed within the sector, which employs more than 120,000 people in total.
"We have a certain mismatch between the open positions and the type of profiles that are on the market," the association's head, Balz Stueckelberger, said. "Many of the current vacancies do not seem to match the profiles the unemployed people have."
Positions that are more frequently being automated, such as back office roles, may be harder to fill, he said.
A separate association representing Swiss bank employees has previously demanded UBS freeze layoffs until the end of 2023.
Some of Credit Suisse's workforce have already taken other opportunities, with UBS Chief Executive Sergio Ermotti saying in June that around 10% of staff had already left.
Swiss banks have been looking in particular to snap up relationship managers with strong client relationships and solid books.
Last month Lombard Odier announced it had hired Credit Suisse banker Marco Arnold and his team to open a new office for the Swiss wealth manager in the town of Zug.
EFG's Chief Executive Giorgio Pradelli said the Swiss private bank was taking advantage of the talent on the market and hiring across geographies and functions.
Presenting the bank's half-year results, Pradelli said that EFG had already exceeded its aim of hiring 50-70 client relationship officers this year and that he expected the number to reach triple digits by the end of 2023.
"I'm sure we are going to see some new (redundancy) waves (in Switzerland's finance sector) and hopefully we will again be very well positioned to hire," he said.