Bracing for an exciting move in Apple Inc.'s stock following the launch of the next iPhone later Tuesday? History says you might have to wait a bit.
Preview: Everything to expect from Apple's big event
There haven't been too many big surprises at Apple AAPL, +0.66% product events lately, both because iPhone upgrades have gotten fairly incremental and because details often leak out ahead of time. Perhaps that's why Apple shares have barely budged on the days of past iPhone launch events, falling 0.2% on average, according to Dow Jones Market Data.
The market apparently needs some time to digest Apple's announcements and how they'll be received. Apple shares have risen an average of 2.8% from the time of a new iPhone's unveiling until its release day.
Gone are the days when Wall Street analysts would canvas their local Apple stores and try to gauge demand based on how many people had lined up outside to be among the first purchasers of the new iPhones. Now people largely order phones online, and analysts look at the delivery wait times for clues.
Regardless, release day hasn't been a major catalyst for Apple shares. The stock has fallen 0.4%, on average, on those days, according to Dow Jones Market Data.
Don't miss: Qualcomm will make Apple's iPhone modems until 2026, and its stock surges
Shares have logged gains in the months following iPhone releases, rising about 5% on average over a three-month span and more than 12% over a six-month span.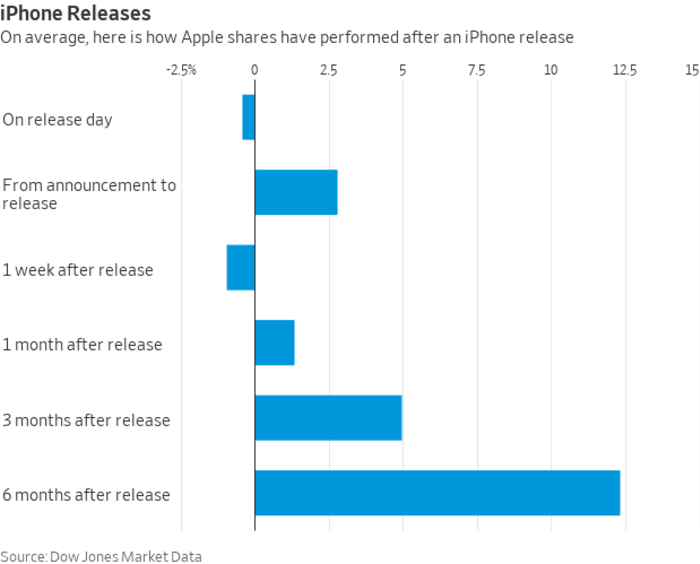 That said, they also have posted an average gain of just under 4% in the single month leading up to the iPhone announcement.
Apple is expected to debut its iPhone 15 family of devices at a Tuesday event. While experts aren't anticipating many groundbreaking new features, they're intrigued by the iPhone 15's price and its launch timing, two components that can impact the stock.
Don't miss: Here's why Wall Street may be overreacting about Apple's China's challenges
Analysts see the potential for Apple to raise the price of its Pro models by $100 or $200 after keeping pricing consistent in recent years. A pricing uplift could benefit margins and help Apple continue to drive its users toward higher-priced configurations, though given economic pressures, there is also some risk associated with boosting prices for devices that are already expensive.
On the timing front, analysts wonder if Apple is suffering from production delays on the iPhone 15 Pro Max. Investors may be disappointed if Apple has to push back the release of its highest-end model, though some analysts in the past have been confident about Apple's ability to retain demand even in the face of supply-chain delays.
Read: Waiting for the iPhone 15? You might have to hold out longer than you think.