Editor's Note: This story originally appeared on The Penny Hoarder.
With the holidays almost upon us, savvy shoppers might have directed their gaze toward retail options where they can find the best deals.
While online shopping is here to stay, one old-school method of finding good deals is still around and thriving — the outlet store. If you're into brand name goods, you've probably been lured to the local outlet mall in the hopes of snagging some luxury items at deep, deep discounts.
Whether you're holiday shopping for mid-range brands like Gap and Banana Republic, or the higher-end houses, like Coach and Burberry — outlet malls seem like great places to splurge at a fraction of the cost.
But are you really getting huge discounts at outlet stores? Unfortunately, the answer is usually no.
Here's the truth about outlet stores that they don't want you to know.
Do Outlet Stores Offer High Quality at Low Prices?
One reason to consider luxury labels (albeit at a wildly discounted cost) is because they're made to last. Yes, part of their jacked-up price is due to the brand name, but it's also because luxury goods are often made of higher-quality fabrics in a higher-quality manner.
If you don't care that the Coach bag you got at an outlet is "so last season," you can probably expect it to weather several seasons and still look fabulous, unlike the cute bags you might pick up for a steal at Target that last less than a year if you're lucky.
Right? Not necessarily.
Most consumers assume outlet malls stock their shelves — and clearance racks — with excess inventory, end-of-season or slightly flawed factory seconds (think: a seam with a few errant stitches). In other words, the same stuff you'd find at full-price retail stores.
But the truth is, many outlet stores sell their items cheaper than their retail counterparts because their quality is cheaper, too. Say hello to a dirty little industry secret: made-for-outlet products.
Made-for-Outlet Products
As the Federal Trade Commission (FTC) reports on its Consumer Information blog:
"Many stores sell products at their outlets made exclusively for those outlets. These items may be of lower quality than what's sold in the regular stores.
"For example, a jacket might not be fully lined, the stripes on a shirt may not match up at the seams, a t-shirt may be made of a lighter-weight fabric, and shoes might be made with synthetic materials rather than real leather. If top quality is important, you may want to shop elsewhere. But if it's the brand, style, or look that's key, you may be in the right place."
This fact is so little known that four members of Congress wrote the FTC in 2014 requesting it investigate the "potentially misleading marketing practices" of outlet stores.
And in 2017, when outlet shopping was dominating, Forbes also highlighted "that outlet malls fail to offer real deals since much of the product is specifically made for the locations."
In essence, luxury brands are knocking off themselves, then selling those knockoffs to you — whether you realize it or not. At least when you buy a knockoff from a street vendor in New York City, you enter into the transaction fully aware you're not getting the real deal.
The Lure of the Experience at Outlet Malls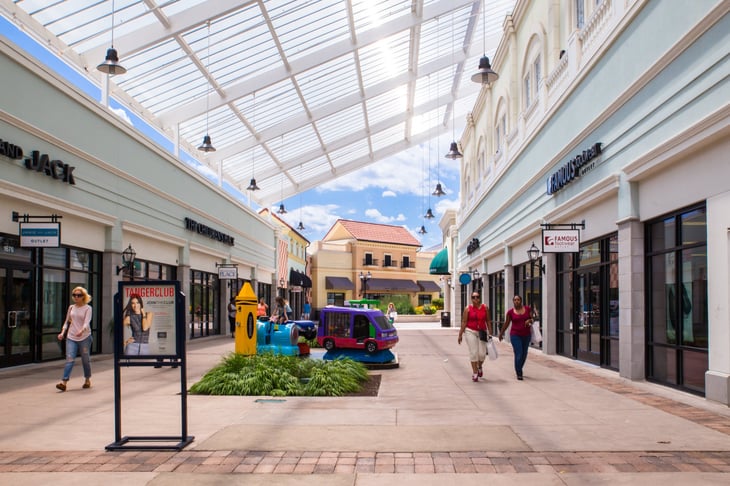 So maybe the quality of outlet items isn't on par with what you'd find in a traditional store — but some outlet retailers are focused on shopper experience over the lure of the label.
That means you can still sport something made by brands you normally couldn't afford and enjoy a great outlet store experience.
According to Retail Leader, not only are outlet malls moving ahead of regular malls in terms of size and selection, some outlet retailers are designing immersive shopping experiences that encourage consumers to stay longer and shop more.
We talked to Richard Laermer, public relations guru and author of eight books on marketing and bargain hunting, including "Trendspotting."
"What does an outlet provide in a good way? Well, probably a good time," he said. "It's a great way to spend an afternoon, hanging with friends and buying cheap goods."
But I'm Still Getting a Discount at Outlet Stores … Right?
All right, so you're getting potentially lower-quality items that may not even be manufactured by the brand whose label is on them. But at the very least, you get the thrill of buying something for a fraction of its original cost, right?
Maybe. Some outlet stores like Dooney & Bourke have a reputation for brand quality legitimacy. We asked Catherine Koziol, a savvy shopper who used to work at a high-end outlet shopping mall in South Florida.
"Although prices may not be that much better, in terms of the bags, they appear to be the same as the ones on the regular website," Koziol said.
In her experience, sometimes outlet shops get "retail transfers" which is the same brand name, same quality merchandise that sells at regular stores, just marked down.
"But most of the stuff is 'made for outlet,' which means cheaper quality," Koziol said.
Not so at Dooney & Bourke, according to Laermer.
"As for Dooney & Bourke, this is a totally unique idea. It's almost all online and that is really cool," he said. "They also seem to sell more quality."
What About Online Outlet Stores?
If it's the discount you're after and not the breezy, outdoor, browsing-for-hours shopping experience, why not shop at an online outlet store?
Fact: Comparing prices online can save you money. Especially when you're not tempted with in-person impulse buys.
So, if you turn your outlet mall obsession virtual, you can save yourself the gas money and still score some great deals, especially at these 10 online outlet stores.
Amazon Outlet
J. Crew Factory
Best Buy Outlet
6pm
Neiman Marcus Last Call
REI Outlet
Zales Outlet
Reebok Outlet
Nordstrom Rack
Burkes Outlet
So Are Outlet Stores Even Worth Visiting?
While all this info may feel a bit doom-and-gloom, there's still nothing wrong with shopping at an outlet store — so long as you do so with your eyes wide open as a savvy consumer.
"Most people go to outlet malls as sport," said Laermer. "But just don't think there's a bargain in poor-selling old models of clothing and other goods."
So if you still love the idea of fooling your fashionista friends with a "luxury" item they think you spent a fortune on, go right ahead. Your secret's safe with us.