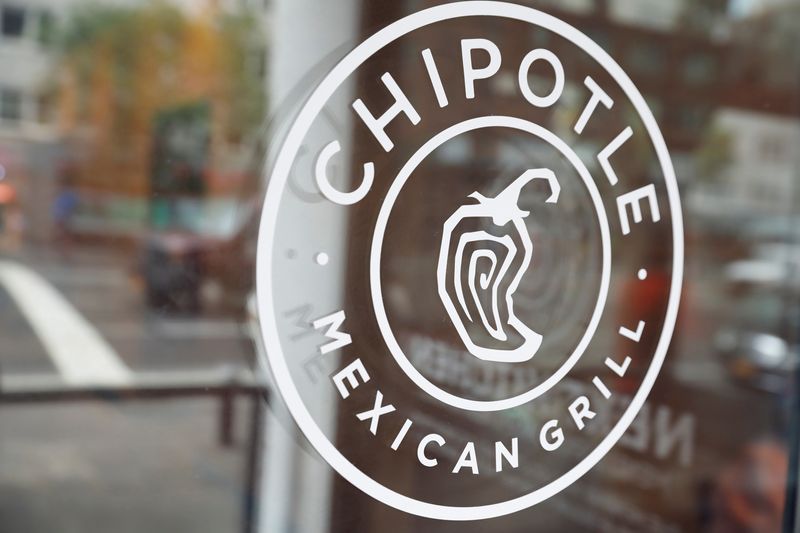 © Reuters. FILE PHOTO: The logo of Chipotle Mexican Grill is seen at the Chipotle Next Kitchen in Manhattan, New York, U.S., June 28, 2018. REUTERS/Shannon Stapleton/File Photo
By Deborah Mary Sophia
(Reuters) – Investors will look for signs that U.S. fast-food chains, already contending with inflation-stung consumers preferring to dine at home, will also have to grapple with the explosive popularity of weight-loss drugs.
Chipotle Mexican Grill (NYSE:) will kick off the earnings season on Thursday and its commentary will be scrutinized by investors worried that appetite-suppressing drugs like Olympic and Wegovy will spark a fundamental change in food consumption patterns and hurt demand for burgers and fried chicken.
"It's very topical. It's kind of the top of the list right now in terms of concerns … investors will likely want to hear more from these companies … on the impact," said BTIG analyst Peter Saleh.
The likes of McDonald's (NYSE:) and KFC-parent Yum Brands are already dealing with slowing traffic as high inflation saps consumers' buying power, though Chipotle and Starbucks (NASDAQ:) have some protection from their relatively more affluent customer base.
As well, restaurants have stopped raising prices and offered extra promotions to get customers through the door, which could take a bite out of the margin gains that most chains likely saw in the July-September quarter, due to easing costs.
THE CONTEXT
Some companies have already sounded a note of caution due to the surging demand for the weight-loss drugs.
Walmart (NYSE:) said earlier this month there was a slight pullback in food consumption among customers taking those treatments. Conagra Brands (NYSE:) said it might tweak portion sizes or ingredients.
Investors' knee-jerk reaction to those comments sent the under-pressure restaurants index down 1.3% at the time. However, it has since recouped those losses.
Indeed, while analysts say these drugs could lead to consumers snacking less and ordering fewer appetizers or desserts, they also say it is too early to quantify the impact of these drugs on restaurants' sales.
What was quantifiable, however, was the progressively worsening dining traffic at fast-food chains from July to September.
Overall, traffic went from a 0.8% dip in July to a 4.2% drop in September, according to location analytics firm Placer.ai.
While footfall at McDonald's, KFC and Taco Bell held up at the start of the quarter, they ended the period with declines of 3.7%, 2.1% and 1.2%, respectively.
That was largely as inflation in food-at-home was much lower — by as much as 360 basis points, according to Wells Fargo — than in food-away-from-home, prompting more Americans to stretch their budgets by eating more home-cooked meals.
THE FUNDAMENTALS
** On Thursday, Chipotle is expected to report a 4.5% increase in Q3 same-store sales, according to LSEG data, slower both on a year-over-year and a sequential basis. Profit likely rose about 18%.
** McDonald's, which reports on Monday, is also likely to post slower same-store sales growth, while profit is expected to rise more than 10%.
** A day later, Yum Brands is likely to report same-store sales growth of 4.7% – slowing from 5% last year and 9% in Q2 – and an 11% jump in profit.
** Starbucks' Q4 earnings report on Nov. 2 is expected to show a 6.5% rise in same-store sales, lower than the 10% in Q3 and 7% last year. Profit is projected to jump about 26%.
WALL STREET SENTIMENT
** The S&P 500 restaurant sub-index has risen just 0.4% year-to-date, lagging a more than 10% jump in the benchmark S&P 500.
** The stocks of major S&P 500 restaurants have dropped sharply in the past three months: Starbucks about 8%, Chipotle roughly 11%, McDonald's about 12% and Yum Brands nearly 13%.
** However, analysts, on average, still rate the quartet's stocks "buy", LSEG data showed. Their price targets, though, have come down — by 5% for McDonald's and 7% for Yum — in the past month.