Sure, you can buy dad a bottle of his beloved booze for Father's Day. But why stop there?
For the big holiday, which falls on June 18 this year, enterprising wine and spirits makers are putting together all sorts of fun packages that combine a bottle with something else. It's a bit like those gift sets you see around the winter holidays, but with more flair and imagination in many cases.
And it speaks to the fact that Father's Day is becoming an ever-more important day on the retail calendar. Indeed, the National Retail Federation estimates that consumers will spend a record $22.9 billion this year on Father's Day gifts. (Last year, the total was $20 billion.) And alcoholic beverages are a top pick, with 27% of those purchasing gifts for dad saying booze is on their buying list, according to Numerator, a market-research company.
With that in mind, here are five buzzworthy gift ideas that caught our eye.
For the tie-loving dad
Aside from a bottle of whiskey, a stylish tie is always a go-to choice for Father's Day. So, why not combine the two? That's the idea behind the Father's Day Gift Collection ($80) from Great Jones, a New York City distillery. It features a cashmere tie made by Mountain and Sackett, a venerable neckwear manufacturer for more than a half century, and a bottle of Great Jones' straight bourbon (yes, they make bourbon even in the Big Apple).
For the barbecue-loving dad (part 1)
Peju Winery, a Napa Valley producer, is known for pioneering direct-to-consumer wine sales — and for also making world-class Cabernet Sauvignon and other varietals. While it's not specifically targeted for just Father's Day, the winery's BBQ Duo ($157) certainly fits the bill for dads who like to play pitmaster. The package includes two reds (Cabernet Sauvignon and Cabernet Franc) that pair well with grilled foods, along with a house-made barbecue rub.
For the barbecue-loving dad (part 2)
If dad is into 'cue, chances are he loves a little smoky flavor. So, why not gift him something to make a smoky cocktail? The WhistlePig Smoked Maple Old Fashioned Kit ($99.99) allows him to do just that. It comes with a bottle of PiggyBack rye from the Vermont distillery especially known for its takes on the classic American spirit, along with a bottle of smoky-tasting, barrel-aged maple syrup. Combine the two and you have a memorable cocktail.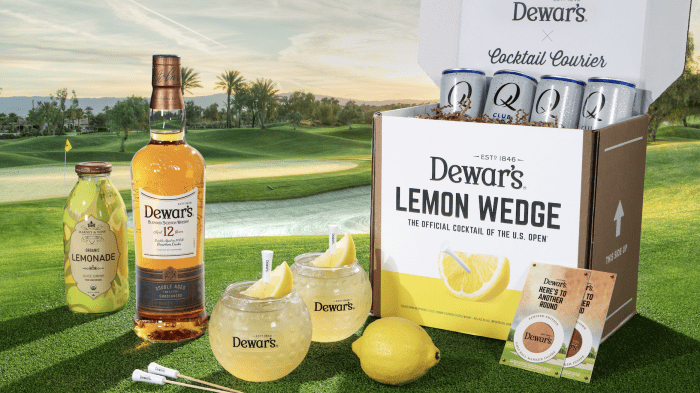 For the golf-loving dad
Here's another cocktail gifting option, with a golf theme. Dewar's, the familiar blended Scotch brand, has partnered with the Cocktail Courier service to create a shippable version of the Dewar's Lemon Wedge ($69.99), which is the official cocktail of golf's U.S. Open. The package includes all the necessary drink-making ingredients (Dewar's 12 Year Old, lemonade, club soda and a lemon), plus some golf and drink accessories, from ball markers to golf-tee garnish picks.
For the dad who's worth the extra expense
While this suggestion is not a gift set per se, it's still pretty impressive. As in a $25,000 bottle of blended Scotch that honors King Charles III on the occasion of his coronation. It comes courtesy of the Royal Salute brand. The physical bottle looks to be impressive by itself, as evidenced by this description on the ReserveBar website: "Tinted in a sapphire hue, it is reminiscent of the precious stones set within the Imperial State Crown." But the liquid inside isn't anything to take for granted, apparently, as it features "a complex blend of over 53 rare and exceptional Scotch whiskies." Just 500 bottles are being released globally, with U.S. orders going through ReserveBar.