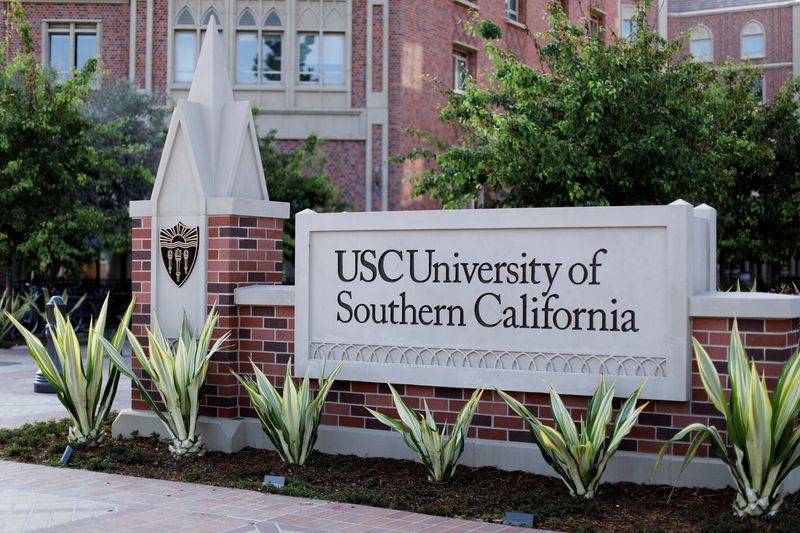 © Reuters. FILE PHOTO: The University of Southern California is pictured in Los Angeles, California, U.S., May 22, 2018. REUTERS/Mike Blake/File Photo
By Daniel Wiessner
(Reuters) – A U.S. labor board official has accused the University of Southern California of blocking student athletes from unionizing by not treating them as employees, in the latest case to challenge the longstanding business model of college athletics.
The National Labor Relations Board's Los Angeles office in a complaint announced late Thursday said USC and the National Collegiate Athletics Association misclassified basketball and football players as student-athletes to intentionally deprive them of their rights to engage in protected labor activities.
USC, the NCAA and the Pac-12 Conference, which is also named in the complaint, did not immediately respond to requests for comment on Friday. The Pac-12 covers USC and 11 other West Coast schools.
The board in December had said it found merit to charges filed by a group of USC players seeking to be treated as employees, and said it would issue a complaint absent a settlement.
An administrative judge will hold a hearing in the case in November. The judge's ruling could be appealed.
The complaint comes amid a broader shift in the legal landscape for college sports as athletes seek a bigger share of the billions of dollars in revenue that sports generate for schools.
The U.S. Supreme Court in 2021 struck down the NCAA's limits on non-cash compensation for athletes, such as scholarships and paid internships. Several states including California have passed laws letting college athletes profit from their name, image and likeness rights.
The USC case is the first filed by the board since its top lawyer, in a 2021 memo, asserted that college athletes should be classified as employees because they provide services that generate profits controlled by their schools.