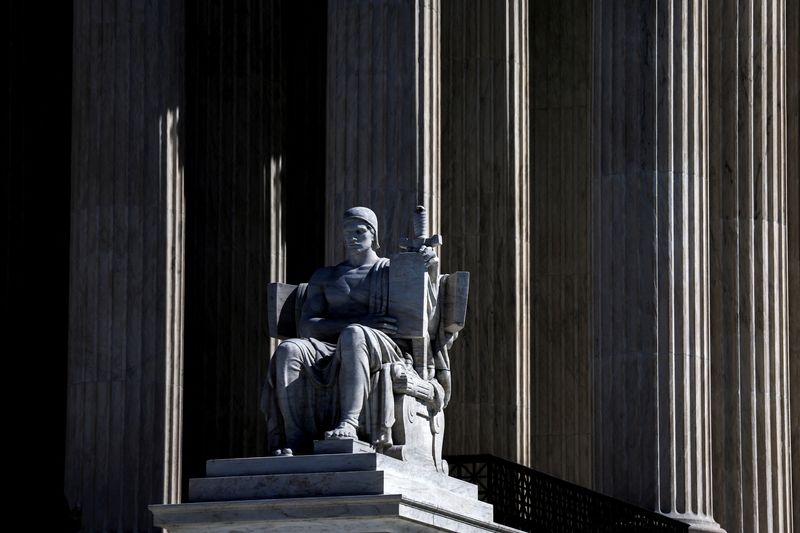 © Reuters. FILE PHOTO: The Authority of Law statue is seen outside the U.S. Supreme Court at the start of the new term in Washington, U.S., October 2, 2023. REUTERS/Evelyn Hockstein/File Photo
By John Kruzel and Andrew Chung
WASHINGTON (Reuters) -The U.S. Supreme Court on Tuesday waded into the issue of free speech rights in the digital age during arguments in cases from California and Michigan involving whether public officials may legally block others on social media, a function often used on these platforms to stifle critics.
Lower courts reached different conclusions in the two cases, reflecting the legal uncertainty over whether such social media activity is bound by the U.S. Constitution's First Amendment limits on the government's ability to restrict speech. Supreme Court arguments were ongoing.
The justices are tasked with deciding whether the public officials engaged in a "state action" in blocking critics from social media accounts or were merely acting in their personal capacity. The First Amendment constrains government actors but not private individuals.
The first case involves two public school board trustees from Poway, California who appealed a lower court's ruling in favor of parents who sued them after being blocked from the personal accounts of the officials on X, called Twitter at the time, and Facebook, which is owned by Meta Platforms (NASDAQ:).
The second case involves a Michigan man's appeal after a lower court rejected his lawsuit challenging a Port Huron city official who blocked him on Facebook.
Questions posed by the justices suggested they were struggling to determine the circumstances under which a social media account should be considered personal or official. Some signaled doubt that personal accounts that are heavily used for government business should be considered personal, allowing their owners to block members of the public at will.
Conservative Justice Samuel Alito told an attorney defending the Poway school board officials that his argument would allow a town manager who puts the town's seal on his own social media page and tells citizens to express their views to "block anybody who expresses criticism of what the town manager is doing, and thereby create the impression that everybody in town thinks the town manager is doing the right thing."
Liberal Justice Elena Kagan used Republican former President Donald Trump as an example, noting that he was doing "a lot of government" on his Twitter account, sometimes even announcing policies.
"It was an important part of how he wielded his authority – and to cut a citizen off from that is to cut a citizen off from part of the way that government works," Kagan said.
The Supreme Court previously confronted the issue in 2021 in litigation over Trump's effort to block critics on Twitter, but the justices failed to decide the matter by deeming the case moot after he left office.
President Joe Biden's administration has sided with the officials in both cases before the court on Tuesday. Free speech advocacy groups urged the justices to back the plaintiffs.
The California case involves Michelle O'Connor-Ratcliff and T.J. Zane, elected trustees of the Poway Unified School District. They blocked Christopher and Kimberly Garnier, the parents of three students at district schools, after the couple made hundreds of critical posts on issues including race and school finances. A judge sided with the parents and the San Francisco-based 9th U.S. Circuit Court of Appeals agreed.
In the Michigan case, Port Huron resident Kevin Lindke sued after City Manager James Freed blocked him from his public Facebook page following critical posts related to the COVID-19 pandemic. A judge ruled in favor of Freed and the Cincinnati-based 6th U.S. Circuit Court of Appeals last year agreed.
Some justices asked whether requiring public officials to include disclaimers on their personal pages making clear their social media activity is not government action would help disentangle their private and public capacities.
"Why should they get to choose whether or not they're doing one or the other without, say, making a clear disclaimer or making it clear to people that this is actually happening in their personal capacity?" asked liberal Justice Ketanji Brown Jackson, adding that she was struggling to understand "why the onus isn't on the government official to be clear about the capacity in which they're operating."
Kagan expressed uncertainty about whether a disclaimer could resolve a dispute over a social media account. "Would a disclaimer turn this immediately into private action?" Kagan asked a lawyer for the school parents.