Published May 05, 2023 06:29AM ET Updated May 05, 2023 11:30AM ET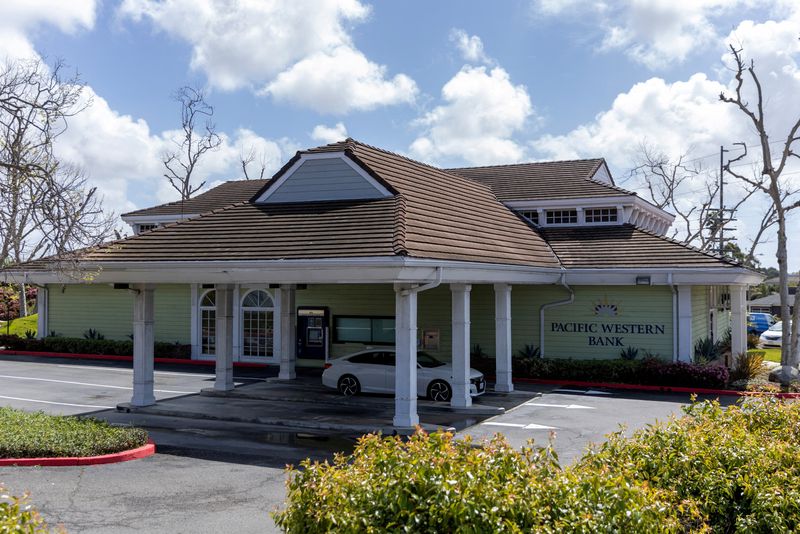 © Reuters. FILE PHOTO: A general view of Pacific Western Bank in Huntington Beach, California, U.S., March 22, 2023. REUTERS/Mike Blake/File Photo
By Manya Saini and Chibuike Oguh
(Reuters) – Shares of U.S. regional lenders rebounded on Friday after the collapse of First Republic Bank (OTC:) and the struggles of PacWest Bancorp exacerbated investor worries about midsized banks, leading to a deep sell-off.
PacWest Bancorp, which is exploring strategic options, including a potential sale or capital raising, rose 54%, while Western Alliance (NYSE:) and Zion Bancorp gained 31% and 15%, respectively.
Comerica (NYSE:) Inc rose 12%, Keycorp was up 7%, First Horizon (NYSE:) Corp added 4%, and Truist Financial (NYSE:) Corp grew 6%. The KBW Regional Banking Index, which has plunged about 31% this year, was 3.8% higher.
"It's more of relief rally just after the dramatic sell-off," said Sandy Villere, portfolio manager at Villere & Co in New Orleans.
"People anticipate over the weekend you can see something with PacWest or one of these banks that's really been struggling," Villere added.
Graphic: US bank stocks slide as failures worry investors – https://www.reuters.com/graphics/GLOBAL-BANKS/jnvwyrxlkvw/chart.png
As many as 16 midsized banks have shed more than $57 billion in market capitalization since last Friday on renewed fears around the sector's stability, Reuters calculations showed.
Short-sellers reaped a combined $430.47 million in paper profits betting against PacWest, Western Alliance, Zion and First Horizon on Thursday, according to data from analytics firm Ortex.
"The regional bank group has completely disconnected from the fundamentals during this week's sell-off, and a shift in momentum could cause a massive short squeeze," Art Hogan, B. Reily Wealth chief market strategist, wrote in a note to investors.
Bank Short profits Short losses in Current % of
on Thursday Friday's premarket free float
(Ortex data) at 7:40 a.m. ET shorted
PacWest $88,424,459.24 $16,868,666.07 23.57%
Western $104,324,869.34 $22,938,625.63 9.57%
Alliance
Zion $48,307,994.20 $33,090,091.26 12.14%
First $189,412,221.84 $7,212,088.61 7.15%
Horizon
Wall Street executives and bank analysts have urged regulators to provide greater protection for bank deposits and consider other backstops, arguing only a strong intervention could stop the banking crisis as First Republic Bank became the third major lender to have failed since March.
JP Morgan analysts, led by Steven Alexopoulos, upgraded their ratings of several regional banks, including Western Alliance, Comerica and Zions Bancorp, saying that these stocks appear "substantially mispriced" after seeing "intense shorting/selling pressure."
"With sentiment very negative and a potential sector re-rating on the horizon, we now move to the middle of the boat and adopt a neutral sector stance," the analysts wrote in a note to investors.