2/2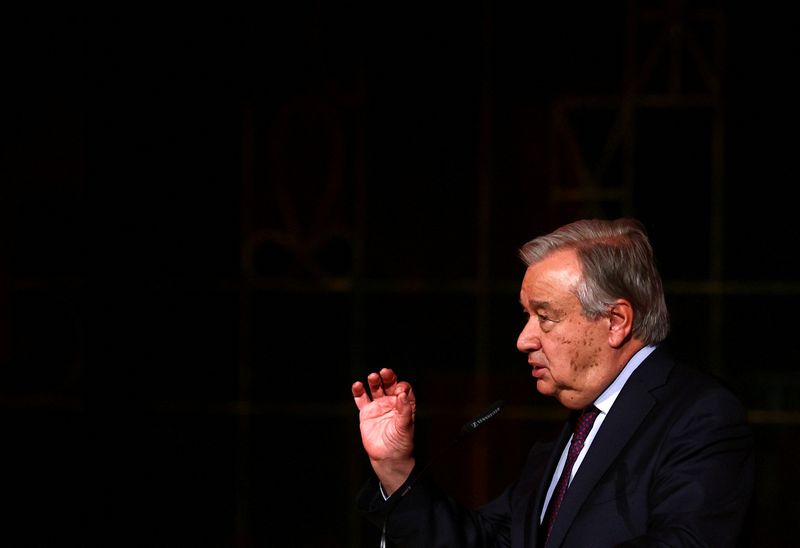 © Reuters. FILE PHOTO: Secretary-General of the United Nations, Antonio Guterres speaks as he receives the University of Lisbon 2020 prize, in Lisbon, Portugal, January 5, 2023. REUTERS/Pedro Nunes/File Photo
By Michelle Nichols
UNITED NATIONS (Reuters) -UN Secretary-General Antonio Guterres on Thursday pushed for more aid access to northwestern Syria from Turkey, seeking an expanded mandate from the UN Security Council to allow UN help to be delivered through more than one border crossing after a devastating earthquake struck the region earlier this week.
Speaking to reporters, Guterres said now was the time to explore all possible avenues to get aid and personnel into the rebel-held area affected by the earthquake, which has killed at least 19,000 people in Turkey and Syria.
"Many non-UN relief agencies are already delivering through other crossings," Guterres told reporters. "I will be very happy if, in relation to the UN, there will be the possibility to do it also in as many crossings as possible."
Since 2014 the United Nations has been able to deliver aid to millions of people in need in the northwest of Syria from Turkey under a Security Council mandate. It is currently restricted to using just one border crossing.
The Security Council mandate was needed because the Syrian government views aid deliveries across its border as a violation of its sovereignty and territorial integrity and says aid should be delivered across frontlines from within the war-torn country.
Guterres did not say whether he has specifically asked the Syrian government to allow aid deliveries through more border crossings, but he did reference the 15-member UN Security Council's ability to approve such a measure.
"It is obvious that we need massive support," Guterres said. "I will be, of course, very happy if the Security Council could reach a consensus to allow for more crossings to be used."
RUSSIA
UN spokesman Stephane Dujarric later said that UN officials would start talks with Security Council members to see if aid access to Syria from Turkey could be expanded.
However, Syrian ally and council veto-power Russia appears unlikely to agree to mandating further border crossings.
"Expanding cross-line deliveries is an obvious solution. The UN has all the necessary tools and cooperation of Damascus on this," Russia's Deputy UN Ambassador Dmitry Polyanskiy told Reuters on Thursday.
The UN Security Council initially authorized aid deliveries into Syria at four points from Turkey, Iraq and Jordan in 2014. By 2020 it had reduced that access to the single crossing used now due to opposition from Russia and China.
Syria's UN Ambassador Bassam Sabbagh did not immediately respond to a request for comment on Guterres's remarks.
Opponents of Syrian President Bashar al-Assad fear that food and other aid delivered from within Syria could fall under government control.
UN aid from Turkey reached 2.7 million people a month in northwestern Syria last year compared with 43,500 people a month who received aid from routes within Syria since August 2021.
UN aid delivery into northwestern Syria from Turkey resumed on Thursday after it was briefly halted by the earthquake.
UN aid chief Martin Griffiths will visit Gaziantep in Turkey and Aleppo and Damascus in Syria in the coming days to assess needs following the earthquake, Guterres said.