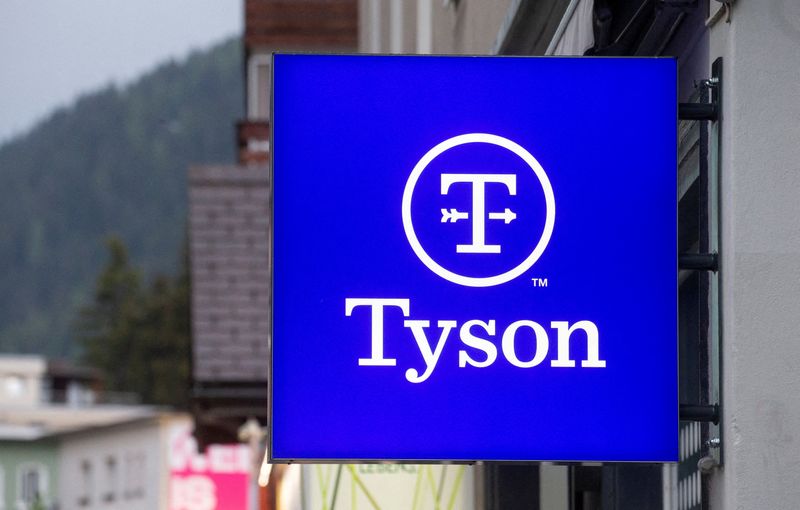 © Reuters. FILE PHOTO: The logo of Tyson Foods is seen in Davos, Switzerland, May 22, 2022. REUTERS/Arnd Wiegmann/File Photo
By Tom Polansek
CHICAGO (Reuters) – Tyson Foods Inc (NYSE:) will eliminate about 10% of corporate jobs and 15% of senior leadership roles, Chief Executive Donnie King told employees on Wednesday.
The layoffs are the latest cost-cutting move for the biggest U.S. meat company by sales as it grapples with declining profits and struggles to improve results in its iconic chicken business.
Discussions with most affected employees are slated to take place this week, King said in a memo to employees seen by Reuters.
"We will drive efficiency by focusing on fewer initiatives with greater intensity and removing duplication of work," King said.
Tyson had about 6,000 U.S. employees working in corporate offices as of Oct. 1 and 118,000 workers at non-corporate sites such as meat plants and warehouses, according to regulatory filings.
The eliminated roles in senior leadership are mostly vice presidents and senior vice presidents, a company spokesperson said.
Some corporate employees already left the company after Tyson said in October it was relocating all corporate jobs to its headquarters in Springdale, Arkansas. However, the 10% reduction in corporate roles is not related to the relocation, a Tyson spokesperson said.
Tyson has shaken up its senior executive ranks as well.
The company fired Chris Langholz as president of its international business in August. In September, Tyson said Noelle O'Mara, who led its prepared foods division, had left the company. John R. Tyson, great-grandson of the company's founder, took over as finance chief.
John R. Tyson was arrested in November for criminal trespassing and public intoxication. The role of finance chief is not among those being eliminated, a spokesperson said.
In January, Tyson replaced the president of its poultry business after the company wrongly predicted demand for chicken.
The company has struggled for years to improve results in its chicken unit and said in March it will close two U.S. processing plants with almost 1,700 employees.
Adjusted earnings of 85 cents per share in the quarter ended Dec. 31 were down 70% from a year earlier. Tyson is set to report its next quarterly earnings on May 8.