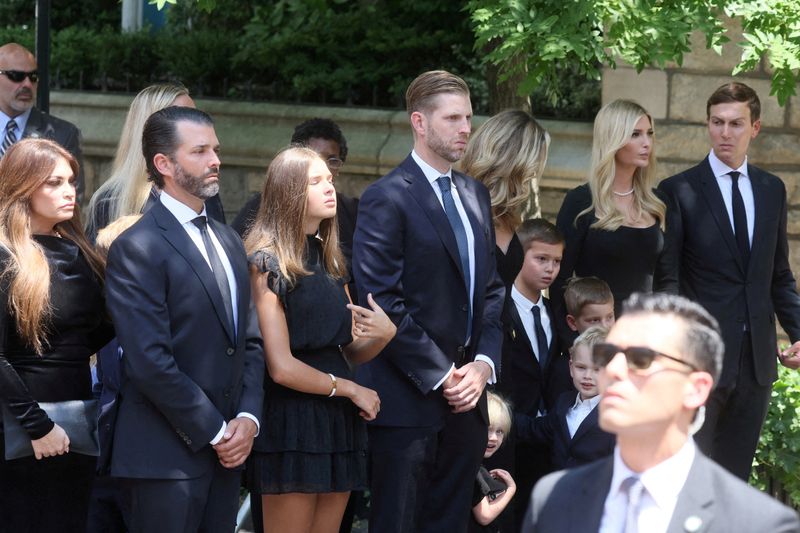 © Reuters. FILE PHOTO: Ivanka Trump, Eric Trump and Donald Trump Jr., children of Former U.S. President Donald Trump and Ivana Trump, and Jared Kushner, and Kimberly Guilfoyle arrive to attend the funeral for Ivana Trump, socialite and first wife of former U.S. Pres
By Jonathan Stempel
NEW YORK (Reuters) -A New York appeals court on Tuesday rejected Donald Trump's bid to dismiss state Attorney General Letitia James' lawsuit accusing him and his family business of "staggering" fraud, but narrowed the case and dismissed all claims against Trump's eldest daughter.
James's civil case filed last September accused Trump of lying from 2011 to 2021 about asset values at the Trump Organization, as well as his own net worth, in order to obtain better terms from lenders and insurers.
The lawsuit seeks at least $250 million in damages, and to stop the Trumps from running businesses in New York. Trump's adult sons Donald Jr. and Eric are also defendants.
Donald Trump, the Republican front-runner for the 2024 presidential election, has denied wrongdoing. He has also called James' case and two unrelated criminal indictments, where he has pleaded not guilty, part of a Democratic "witch hunt."
In a 5-0 decision, the Appellate Division in Manhattan said state law gave James power to police alleged "repeated or persistent fraud or illegality," and conduct lengthy and complex investigations many years after suspected misconduct began.
But it said statutes of limitations prevented James, who had probed Trump's business dealings for three years, from suing over claims that arose before July 13, 2014, or Feb. 6, 2016, depending on the defendant.
It also said all claims against Trump's daughter Ivanka Trump should be dismissed because James filed them too late.
The court returned the case to Justice Arthur Engoron of the state Supreme Court in Manhattan to determine which parts could proceed. An Oct. 2 trial is scheduled. Trump was questioned under oath for the case in April.
"There is a mountain of evidence that shows Mr. Trump and the Trump Organization falsely and fraudulently valued multiple assets and misrepresented those values to financial institutions for significant economic gain," a spokeswoman for James said. "This decision allows us to hold him accountable for that fraud, and we intend to do so."
Lawyers for the Trumps did not immediately respond to requests for comment.
During oral arguments on June 6, Donald Trump's lawyer Christopher Kise said James lacked broad authority to "interject" herself into successful, private transactions dating back several years.
James' office countered that the transactions didn't occur in a vacuum, and that letting Trump commit fraud hurts honest participants in banking, insurance and real estate markets.
In the criminal cases, Trump faces a 34-count indictment obtained by Manhattan District Attorney Alvin Bragg over hush money payments to a porn star, and a 38-count U.S. Department of Justice indictment saying he mishandled classified documents.
The New York civil case is New York v Trump et al, New York State Supreme Court, Appellate Division, 1st Department, No. 2023-00717.