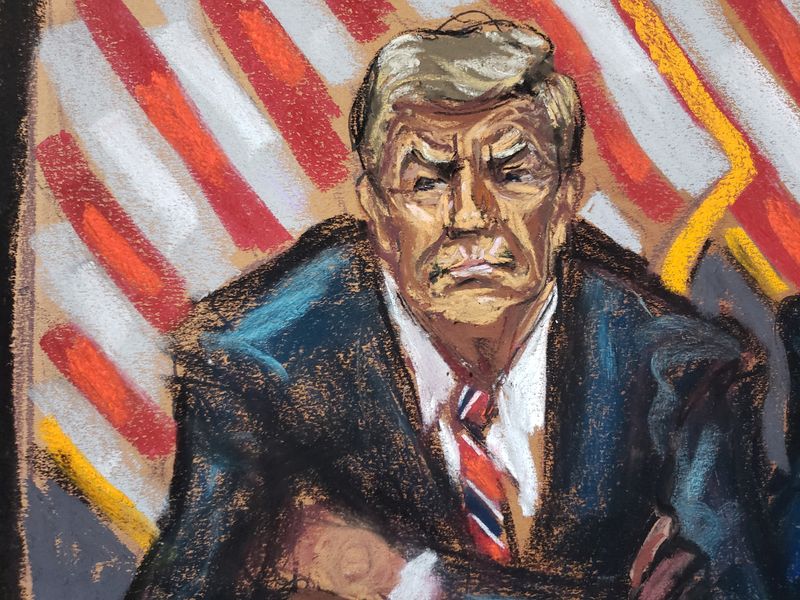 © Reuters. Former U.S. President Donald Trump appears by video conferencing before Justice Juan Merchan during a hearing before his trial over charges that he falsified business records to conceal money paid to silence porn star Stormy Daniels in 2016, in Manhattan
(Reuters) – Lawyers for Donald Trump on Tuesday asked to meet U.S. Attorney General Merrick Garland over the work of a special counsel who is handling two investigations into the former president.
"No President of the United States has ever, in the history of our country, been baselessly investigated in such an outrageous and unlawful fashion," lawyers John Rowley and James Trusty wrote in a letter that Trump posted on social media.
They requested a meeting with Garland "at your earliest convenience to discuss the ongoing injustice that is being perpetrated by your Special Counsel and his prosecutors."
Garland appointed Special Counsel Jack Smith in November to handle the two Trump investigations.
The first investigation is looking into attempts to interfere with the peaceful transfer of power following Trump's November 2020 election loss to President Joe Biden.
The second is looking at Trump's retention of classified documents at his Mar-a-Lago estate in Florida after leaving office in January 2021, and whether he tried to obstruct the Justice Department's investigation.
Trump's lawyers did not specify in the letter which investigation they wanted to discuss.
The letter was not signed by Evan Corcoran, who is recused from the classified document investigation after a judge compelled him to testify before a grand jury about his discussions with Trump about the material. Corcoran is still working with Trump's legal team on the second investigation.
A spokesperson for the Department of Justice and a spokesperson for Smith declined to comment on the request by Trump's lawyers for a meeting with Garland.