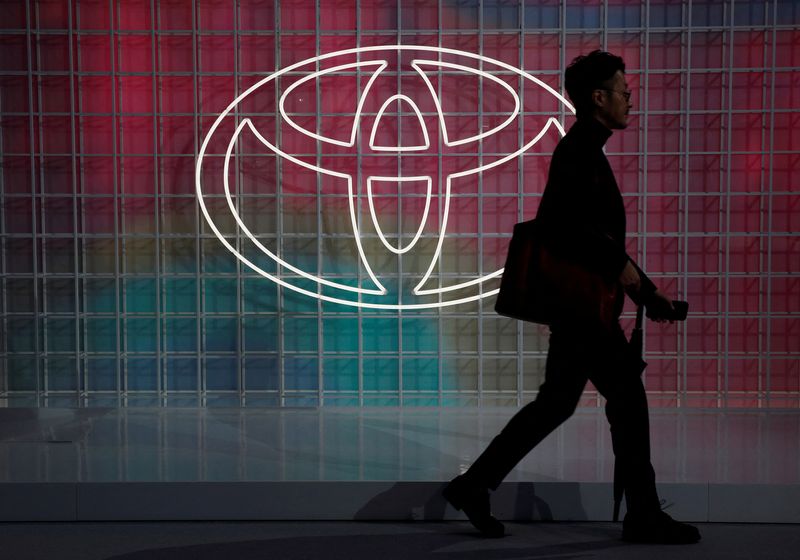 © Reuters. FILE PHOTO: A man walks past a Toyota logo at the Tokyo Motor Show, in Tokyo, Japan October 24, 2019. REUTERS/Edgar Su/File Photo
TOKYO (Reuters) -Toyota Motor, Japan's biggest automaker, has suspended operations at three lines in two domestic assembly plants due to an accident at a supplier's facility, a company spokesperson said.
The incident at supplier Chuo Spring, which makes engine and valve springs used in vehicles, also halted some production at group companies Toyota (NYSE:) Auto Body and Toyota Industries (OTC:), the spokesperson said.
A spokesperson for Chuo Spring said an accident involving an explosion in a building at its Fujioka plant around 12:15 p.m. (0315 GMT) on Monday resulted in damage to the facility, adding that the police and the fire department were investigating.
Production in five lines at three Toyota Auto Body plants – all of the unit's lines – was stopped due to the accident, affecting production of minivans such as the Alphard as well as some Land Cruiser models, including for overseas markets.
Toyota will decide later on Tuesday whether production at its affected plants would be resumed on Wednesday, its spokesperson said.
Operations at all 14 of the automaker's domestic assembly plants ground to a halt in August due to a system malfunction.
Shares of Toyota were up 0.6% at 2,676 yen in mid-morning Tokyo trade.