What exactly are people taking the new class of weight-loss drugs eating and what are they avoiding?
Bernstein analysts set out to determine that, analyzing online data to better understand changes in eating habits — and to evaluate which food companies may be most affected. They published the results in a report Friday.
GLP-1 drugs such as Ozempic and Wegovy are the class of drugs used for diabetes and weight loss that have become highly popular in the U.S. The drugs work by mimicking the effect of GLP-1, a gut hormone that can help control blood-sugar levels and reduce appetite.
As their popularity has risen, and given the high levels of obesity in the U.S., analysts have been working to estimate what the drugs' impact will be on the food industry over time. They are speculating that it will be significant and will force companies to change strategy.
A comment last week from a Walmart executive that the drugs were leading its customers to buy fewer groceries and cut back on those that are high in calories sparked a selloff of stocks of Coca-Cola and PepsiCo, among others.
Read now: Coca-Cola and PepsiCo's stocks fall after Walmart says weight-loss drugs have customers cutting back on calories
The Bernstein data focused on three questions asked of GLP-1 patients: What meals do you make for yourself when you're not hungry but need to eat? What do you make for dinner? And what foods and drinks can you no longer eat even though you used to love them?
The 219 responses to the first question showed that people on GLP-1 drugs are not eating full meals or craving snacks high in empty calories, but rather are eating proteins where possible and avoiding carbs.
"Protein shakes, fruit, eggs, yogurt, soup and cottage cheese came out top of the list here," analysts led by Alexia Howard wrote in the report.
The 72 people who responded to the second question said they tend to make simple meals like a piece of chicken with a side of potato and another green vegetable. There's less emphasis on spices and rich flavors, and soup again emerged as a popular choice for dinner, with many people saying they are making soup at home from scratch.
The third question, which yielded 202 responses, found that people were avoiding greasy or fried foods, as well as sugary and sweet foods, all of which tend to cause stomach issues.
"On the other hand, quite a few people chimed in and said that there really wasn't anything they couldn't eat at all, they either just ate exactly what they wanted to but in smaller portions as they feel full more quickly and don't feel hungry all the time," said the report.
Hot sauce, as a spicy food, and red meat were also mentioned as foods patients are unable to digest at a normal portion size.
See now: As Ozempic and Wegovy frenzy continues, Morgan Stanley lifts forecasts for weight-loss drugs to $77 billion
So what do the responses mean for food companies?
"At the more positive end, this looks good for Simply Good Foods Co. SMPL, +1.20%, given their protein shakes and dairy-focused low-carb high-protein bars. At the other end, Hershey's HSY, +1.97% focus on the U.S. chocolate market looks more vulnerable," the authors wrote.
In the middle, companies with less exposure to snacks, such as Kraft Heinz Co. KHC, +1.57%, are better protected, they wrote. Companies with high exposure to emerging markets, such as Mondelez International Inc. MDLZ, +0.49% and McCormick & Co. MKC, +1.70%, are also protected, as fewer people in those regions have access to GLP-1 drugs. The most exposed are companies with portfolios of carb-focused snacks, such as General Mills Inc. GIS, +2.09% and Kellanova K, +2.20%, the renamed Kellogg.
J.M. Smucker Co.'s SJM, +0.96% acquisition of Twinkies parent Hostess Brands TWNK, +0.14% may be mistimed, the report said.
Read now: As obesity drugs help people eat less, these food companies could be the biggest losers
"And Campbell Soup CPB, +4.11% looks to be a mixed bag, given the mix of soup and snacks. Similarly, Tyson Foods TSN, -1.06% could benefit on the chicken side of the business but could see pressure on beef and pork demand over the longer term, unless export markets pick up over time," the report said.
Change is already visible in the popularity of cottage cheese, the analysts found. Volumes are much higher now than they were before pricing took off in 2021, they wrote.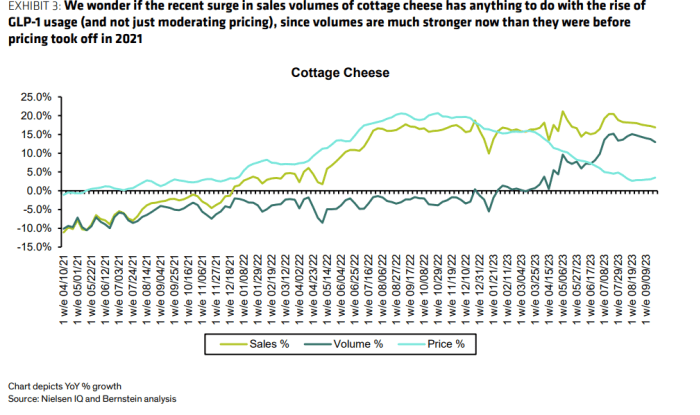 A similar trend is visible in specialty shakes and Greek yogurt.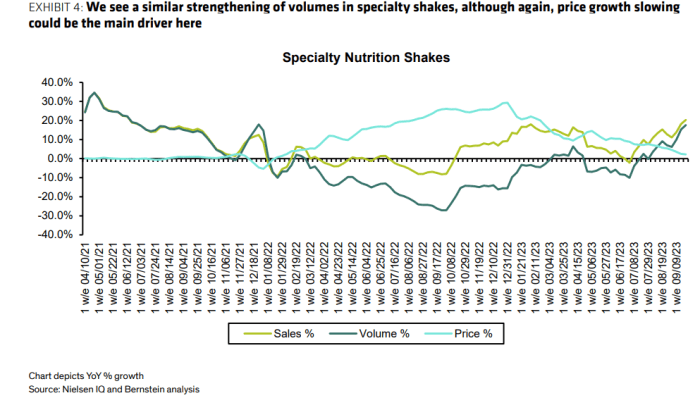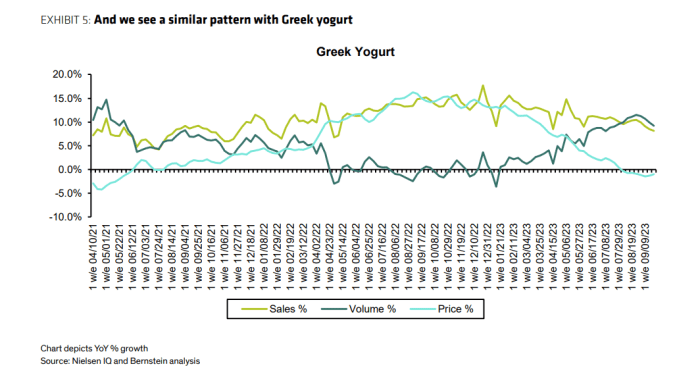 Ozempic and Wegovy are made by Danish drug company Novo Nordisk NVO, +1.74% NOVO.B, +0.89%, and that company raised its full-year profit and sales guidance on Friday to reflect high demand.
The company now expects full-year sales growth of 32% to 38%, up from 27% to 33% previously, and operating-profit growth of 40% to 46%, up from 31% to 37% previously.
The brighter outlook factors in higher expected U.S. Ozempic sales volumes as well as gross-to-net sales adjustments for both Ozempic and Wegovy in the U.S., the company said.
The company's main rival in the U.S. is Eli Lilly & Co. LLY, -0.52%, which won approval from the Food and Drug Administration last year for its tirzepatide as a treatment for Type 2 diabetes.
That drug, which is marketed as Mounjaro, helped patients in a late-stage clinical trial lose up to 15.7% of their body weight, according to Eli Lilly in an April release. The company is seeking FDA approval for its use in weight loss.
Lilly is best positioned to dominate the U.S. market for obesity drugs into the 2030s, BMO Capital Markets analysts said in a late September report.
The Consumer Staples Select Sector SPDR exchange-traded fund XLP has fallen 10.7% in the year to date, and the Invesco Food & Beverage ETF PBJ has fallen 11.6%. The S&P 500 SPX has gained 13%.
See now: The dark side of the weight-loss-drug craze: eating disorders, medication shortages, dangerous knockoffs