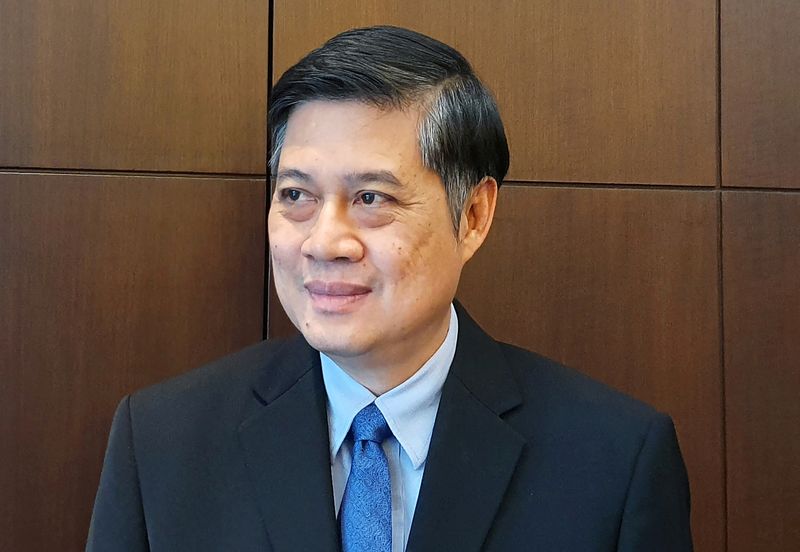 © Reuters. FILE PHOTO: Thailand's Central Bank Deputy Governor Mathee Supapongse during an interview with Reuters at the Bank of Thailand in Bangkok, Thailand, November 13, 2019. REUTERS/Orathai Sriring/File Photo
BANGKOK (Reuters) – Thailand's policy interest rate remains low and further tightening will be gradual to curb inflation risks as the economy continues to recover, a deputy central bank governor said on Sunday.
The Bank of Thailand raised its main interest rate six times since August to 2% to tame inflation and policymakers have pledged a gradual return to normal levels consistent with long-term economic growth prospects.
However, the rate is still "low and probably the lowest" in Southeast Asia, which will help future investment, the central bank's Mathee Supapongse told a business seminar.
"There won't be any fast and aggressive rate hikes like in other countries."
The central bank has said that a gradual tightening strategy will help to ensure continued recovery in Southeast Asia's second-largest economy, driven by tourism and private consumption.
It has forecast economic growth of 3.6% this year and 3.8% in 2024. The economy expanded 2.6% last year.
The central bank's next review of monetary policy is on Aug. 2, with some economists expecting a further interest rate hike while others have forecast a pause owing to falling inflation.
While inflation is trending down there is a need to monitor demand-side pressures and increases in costs pass through as tourism gathers strength, Mathee said.
The policies of the winning parties in May's national election would also add to inflation, he said.
Move Forward and Pheu Thai have agreed to form a ruling coalition and both parties have promised big wage increases among other pledges.