Commodities 9 minutes ago (Jul 13, 2022 04:01PM ET)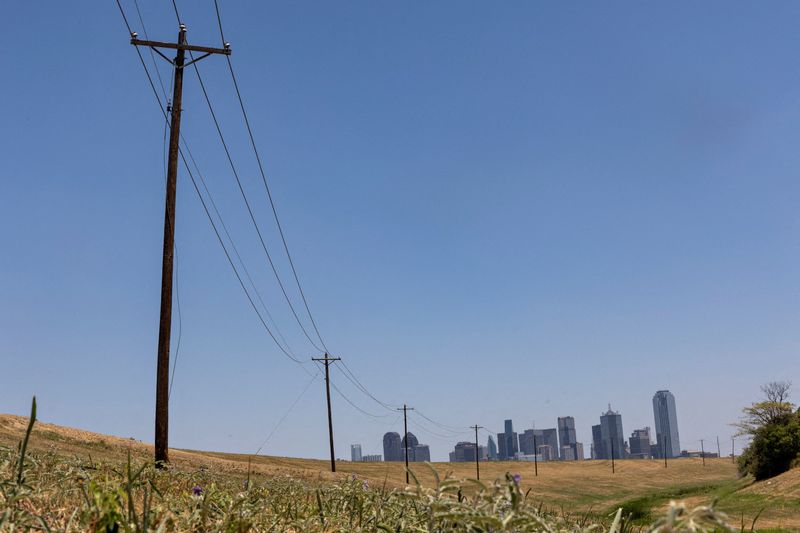 © Reuters. Utility poles lead to downtown Dallas during a heat advisory due to scorching weather in Dallas, Texas, U.S. July 12, 2022. REUTERS/Shelby Tauber/File Photo
By Arpan Varghese and Scott DiSavino
(Reuters) – Texas's power grid operator on Wednesday asked homes and businesses to raise thermostats and cut power use amid stifling heat that threatened to push power demand beyond the state's available supply.
For the second time this week, the Electric Reliability Council of Texas (ERCOT), which operates the grid that serves more than 26 million customers representing about 90% of the state's power load, urged residents to cut power use between 2 p.m. and 9 p.m., the hottest hours of the day. It also warned of a risk for rolling blackouts.
Residents should turn up thermostats, defer the use of high-power appliances and to turn off swimming pool pumps. ERCOT said it is also seeking additional reserves and asking some big industrial customers to shut off machinery.
As temperatures once again above 100 degrees Fahrenheit (38 degrees Celsius), higher than the average for this time of the year, the state projected peak demand to hit 78,914 megawatts, and had only 78,790 megawatts committed as of 2:40 p.m. local time, according to its website. It takes precautions when the safety margin is less than 2,300 megawatts.
ERCOT blamed forced outages at coal- and natural gas-fed power plants, and low wind power generation.
"Texans need to know why so many coal & plants are failing," energy consultant Doug Lewin tweeted on Wednesday.
ERCOT data showed 2.7 gigawatts less power available from coal and gas plants than on Monday, when the state faced a similar shortfall, said Lewin.
It was the third time this year that ERCOT has called on residents to cut power usage and the second time it has warned of the potential for rolling blackouts. On Monday, it avoided forced cuts when some cryptocurrency miners agreed to halt operations.
Lee Bratcher, president of Texas Blockchain Council, said all of the state's large-scale mining operations, which consumer about 1,000 megawatts, are currently offline because of ERCOT's call for conservation and high power prices.
Petrochemical maker LyondellBasell said its Texas operations are working on ways "to reduce electricity demand without shutting down assets or compromising the safety and reliability of our operations," a spokesperson said.
In February 2021 a grid failure led to the deaths of more than 200 people in freezing weather and prompted an overhaul of the grid regulator.
AccuWeather forecast temperatures in Houston, the biggest city in Texas, will reach 104 F on Wednesday. That would be the hottest day in the city since August 2015 and compares with a normal high of 94 F for this time of year, according to federal data.
(Graphic: Texas power demand to soar to record high this year : https://graphics.reuters.com/TEXAS-POWER/ERCOT/gkplgzymyvb/chart.png)
Related Articles