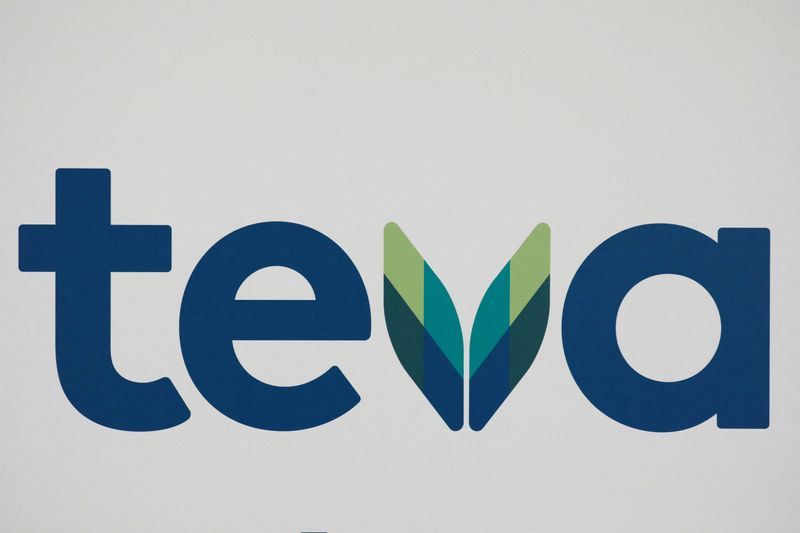 © Reuters. The logo of Teva Pharmaceutical Industries is seen in Tel Aviv, Israel February 19, 2019. REUTERS/Amir Cohen/File photo
By Steven Scheer
JERUSALEM (Reuters) -Teva Pharmaceutical Industries reported higher than expected second-quarter profit, boosted by a jump in sales of its Austedo treatment for Huntington's Disease.
The world's largest generic drugmaker said on Wednesday it earned 56 cents per diluted share excluding one-time items in the April-June quarter, down from 68 cents per share a year earlier.
Revenue rose 2% to $3.9 billion, with Austedo sales up 51% in North America to $308 million. Migraine treatment Ajovy's sales rose 16% to $57 million.
Analysts had forecast Israel-based Teva would earn 53 cents a share ex-items on revenue of $3.71 billion, I/B/E/S data from Refinitiv Eikon showed.
Sales of generic drugs dipped 6% to $969 million in North America but grew 4% to $909 million in Europe, where Ajovy rose 32%.
Teva expects Austedo sales of some $1.2 billion in 2023, up from $971 million last year. Chief Executive Richard Francis said in May Teva was "going all in" on Auestdo, projecting sales of $2.5 billion by 2027.
"With this solid performance, we are slightly increasing the midpoint of our revenue guidance for the year," Francis said.
"As we remain determined to execute on our growth strategy, we are continuing to focus on our late-stage innovative pipeline delivery and early-stage pipeline development, both organically and through collaborations."
For 2023, Teva revised its revenue forecast to $15.0-$15.4 billion from $14.8-$15.4 billion, after 2022 revenue of $14.9 billion.
It maintained its forecast for adjusted earnings per share of $2.25-$2.55, versus $2.52 in 2022.