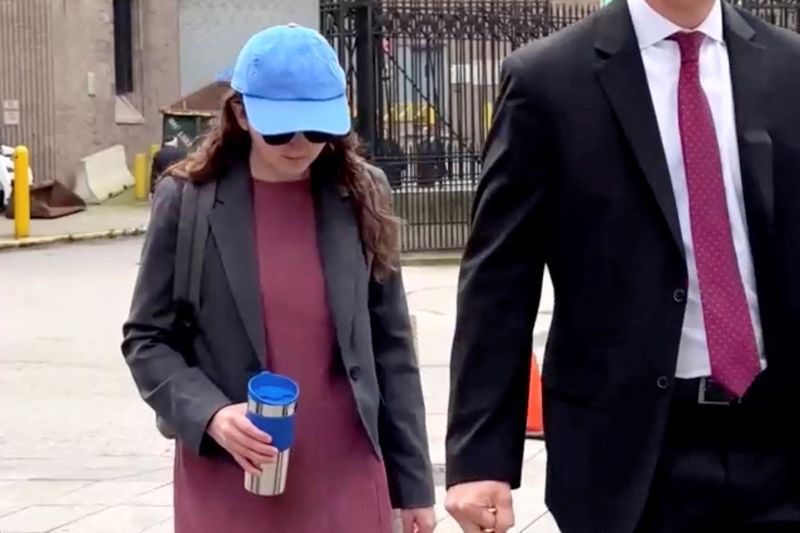 © Reuters. Former crypto hedge fund Alameda Research CEO Caroline Ellison arrives to testify at the trial of former FTX Chief Executive Sam Bankman-Fried, who is facing fraud charges over the collapse of the bankrupt cryptocurrency exchange, at Federal Court in New
By Luc Cohen
NEW YORK (Reuters) -When star witness Caroline Ellison first took the stand on Tuesday at Sam Bankman-Fried's fraud trial, she needed longer than previous witnesses to point out the 31-year-old former billionaire – her onetime boss and boyfriend – at the defense table.
That may have been because the indicted founder of now-bankrupt cryptocurrency exchange FTX, once known for his mop of unkempt curly locks and trademark shorts and T-shirts, had trimmed his hair and donned a suit for his trial on charges of stealing from FTX customers to prop up his Alameda Research hedge fund.
On Wednesday, Ellison – who ran Alameda – grew emotional in describing why she wrote Bankman-Fried a message on social media in November 2022 as FTX and Alameda were collapsing, saying she was relieved because she did not need to lie anymore. She was handed a box of tissues by U.S. District Judge Lewis Kaplan's deputy.
"I didn't feel like there was anyone else I could talk to about these feelings," Ellison, 28, said. The Stanford University graduate has pleaded guilty to fraud and agreed to cooperate with federal prosecutors.
Bankman-Fried has pleaded not guilty.
Ellison wore a gray blazer and carried a Poland Spring water bottle to and from the witness stand. She did not look at Bankman-Fried in any of the instances when she passed him at the defense table.
Bankman-Fried spent much of Ellison's testimony typing on a laptop or whispering to his defense lawyers. During sidebar discussions with Kaplan where lawyers debated legal issues outside the jury's earshot, Bankman-Fried watched a live transcription feed of their conversation on screens at the defense table.
At one sidebar, prosecutor Danielle Sassoon said Bankman-Fried had "laughed, visibly shaken his head, and scoffed" during Ellison's testimony, according to a transcript. Defense lawyer Mark Cohen called that statement "ridiculous." Kaplan instructed Cohen to "have a word with" Bankman-Fried.
Meanwhile, Bankman-Fried's parents, the Stanford Law School professors Joseph Bankman and Barbara Fried, took notes on legal pads which they occasionally showed to each other. They sat directly behind two courtroom sketch artists drawing their son, and two rows in front of Ellison's lawyers from law firm WilmerHale.
Some of the 12 jurors and six alternate jurors took notes, while others shifted their gaze between Ellison and Sassoon during questioning. Three of the jurors appeared to close their eyes at times as Sassoon quizzed Ellison about spreadsheets showing Alameda's assets and liabilities.
"We'll be out of the spreadsheet thicket soon," Sassoon said during a break.
"I'm just tickled to hear that," Kaplan replied.