3/3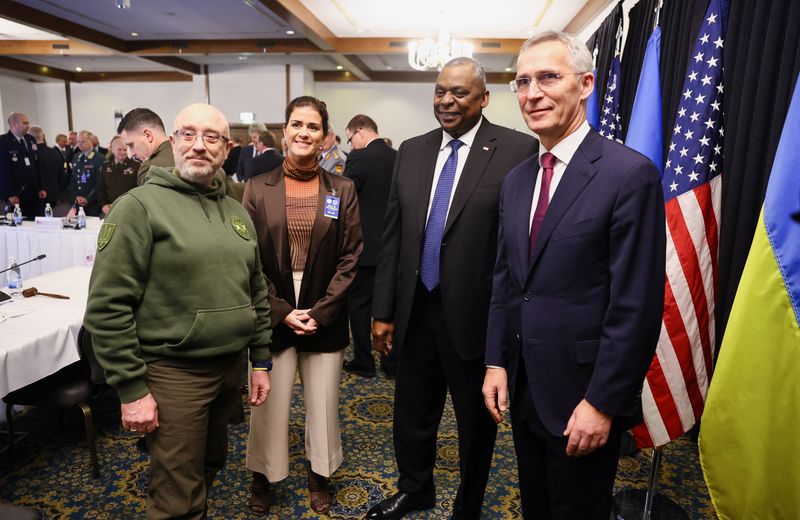 © Reuters. U.S. Secretary of Defense Lloyd Austin, Ukraine's Defense Minister Oleksiy Reznikov, Iceland's Minister of Foreign Affairs Thordis Kolbrun Reykfjord Gylfadottir and NATO Secretary General Jens Stoltenberg, meet to discuss how to help Ukraine defend itself
(Reuters) – Ukrainian President Volodymyr Zelenskiy began a tour of Europe on Wednesday in search of better aerial firepower to turn the war against Russia, winning a British pledge to train Ukrainian pilots on advanced NATO fighter jets.
DIPLOMACY
* London was his first stop on only his second trip abroad since Russia invaded Ukraine on Feb. 24. Zelenskiy was expected to travel to Paris later on Wednesday and on Thursday to Brussels, where the European Union is holding a summit.
* Zelenskiy urged Britain and others to give Ukraine "wings for freedom" by sending combat aircraft to help turn the tide against Russia's offensive, hoping to overcome Western reluctance to take that step.
* British Prime Minister Rishi Sunak said the country would accelerate the supply of military equipment including longer range capabilities as well as expanding its Ukrainian military training to include pilots. Kyiv says Russia is intensifying its assault on Ukrainian government-held parts of eastern and southern regions of Ukraine that Moscow has unilaterally declared are now part of Russia.
* Russia's embassy to Britain on Wednesday warned London against sending fighter jets to Ukraine, saying such a move would have "military and political consequences for the European continent and the entire world", the TASS news agency reported.
RUSSIA
* International prosecutors said they had found "strong indications" that Russian President Vladimir Putin approved the use in Ukraine of a Russian missile system that shot down Malaysia Airlines Flight 17 (MH17) over eastern Ukraine in 2014. The Kremlin, which has repeatedly denied any Russian state involvement in the past, did not immediately respond to a request for comment.
* Russian authorities are discussing a one-off budget contribution from businesses this year of about 200-250 billion roubles ($2.8-$3.5 billion), three sources familiar with the discussions told Reuters, as Moscow seeks to rein in its widening budget deficit.
* Western sanctions on Russia have significantly reduced state oil revenues and diverted tens of billions of dollars towards shipping and refining firms, some with Russian connections.
* Russia's rouble slid to a one-month low against the dollar ahead of two OFZ treasury bond auctions, held back from a more dramatic fall by the government's foreign currency sales. Russia is now selling 8.9 billion roubles ($124.48 million) worth of foreign currency per day, compensating for lower oil and gas revenues, down 46.4% year-on-year in January.
* A fire broke out at an oil refinery in Russia's southern Rostov region, but was later extinguished, Russian news agencies said. The cause was not immediately clear.
TANK DELIVERIES
* Western partners could deliver the first battalion of Leopard 2 battle tanks to Ukraine in the first three or four months of this year, German Defence Minister Boris Pistorius said on Wednesday on a trip to the Polish capital.
UNITED STATES
The White House on Wednesday dismissed a blog post by a U.S. investigative journalist alleging the United States was behind explosions of the Nord Stream gas pipelines as "utterly false and complete fiction."
QUOTES
* "We are repulsing all their attempts to break through," Luhansk Governor Serhiy Haidai said on Ukrainian television, reporting what he said was the most intense shelling and attacks on the front line in eastern Ukraine so far.
* Ukrainian air force spokesperson Yuriy Ihnat, calling for more missiles: "The enemy is advancing in the east, in some places having success, and accumulating forces. We need to get ready."