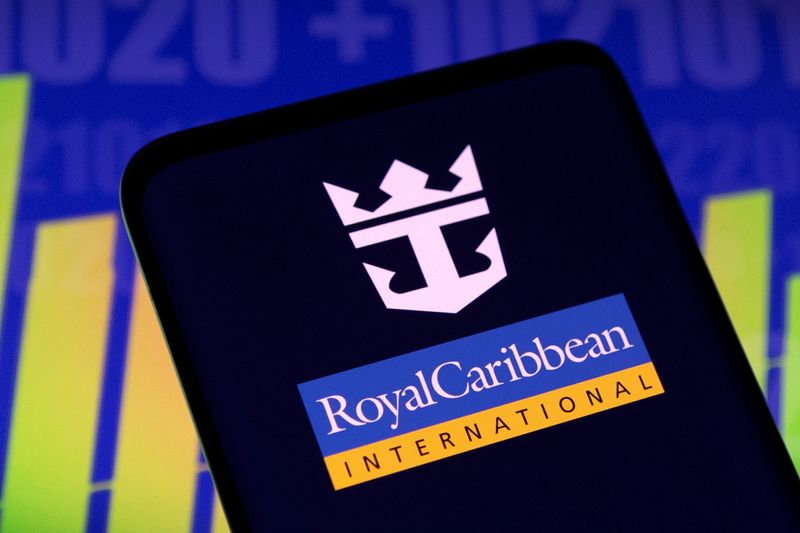 © Reuters. File photo: Royal Caribbean logo and stock graph are seen displayed in this illustration taken, May 3, 2022. REUTERS/Dado Ruvic/Illustration/File photo
(Reuters) -Royal Caribbean Group lifted its full-year profit forecast for a third time on Thursday, banking on elevated ticket prices as well as steady demand from customers for leisure travel.
Cruise operators are now reaping the rewards as travelers gravitate to cruise vacations that offer a range of fun activities under one roof and are cheaper compared to taking a land-based holiday.
This has given them the ability to further hike itinerary prices, especially in North America and Europe, as occupancy levels now approach pre-pandemic levels.
The cruise company said occupancy in the third quarter was 109.7%, up from 105% reported in the second quarter.
Royal Caribbean (NYSE:) expects annual adjusted profit between $6.58 and $6.63 per share, compared with its earlier forecast of $6.00 to $6.20.
However, shares of Royal Caribbean reversed course to be down marginally in volatile premarket trade after the company said its full-year earnings per share would take an 18-cent hit from higher fuel prices and a stronger dollar.
The Miami, Florida-based company also said the ongoing military conflict in the Middle East is also expected to hit its annual profit by 3 cents.
Peer Carnival (NYSE:) in September narrowed its annual loss forecast and posted a third-quarter profit after reporting a loss a year earlier, but investors showed deep concerns around steeper fuel costs.
Rival Norwegian Cruise Line (NYSE:) reports third-quarter results on Nov. 1.
Royal Caribbean's quarterly total revenue rose 39% to $4.16 billion, compared with estimates of $4.08 billion, according to LSEG data.
The company also expects an adjusted profit between $1.05 and $1.10 per share in the fourth quarter, compared with analysts' expectations of $1 per share.
On an adjusted basis, the company earned $3.86 per share, compared with estimates of $3.46.