The heaviest fallout from the U.S. shooting down China's spy balloon could be TikTok being banned from your phone.
"A big Chinese balloon in the sky and millions of Chinese TikTok balloons on our phones. Let's shut them all down," Sen. Mitt Romney, R-Utah, said on Twitter. His post has gotten 1.9 million views.
"Now blow up TikTok," Rep. Matt Gaetz, R-Fla. tweeted after U.S. pilots shot down the balloon.
On the surface, TikTok is nothing more than a short-form video hosting service, known for clever snippets of life that anyone can post. Its use by major celebrities has helped to fuel its spread in the U.S., and today, TikTok has, by one estimate, been downloaded 210 million times.
But there's one point on which many Democrats and Republicans agree: TikTok, owned by the Chinese company ByteDanc , can theoretically scoop up vast amounts of user data on Americans and share it with the communist government in Beijing. This scooping can include more than user data, but also personal activity tracked both on and off the app.
This is seen as both a privacy and security issue, says Brandon Pugh, policy director of the cybersecurity and emerging threats team at the R Street Institute. He tells media outlet The Hill, which covers Congress, that TikTok's vast data collection can be curated and leveraged in certain ways, and used to exploit Americans, particularly those "in sensitive positions or our most vulnerable populations like children."
That's a relevant point, given that the vast majority of TikTok users — about 60% — are under the age of 30; one-third are between the ages of 10 and 19. Three-fifths of all TikTok users are girls or young women, and the average user is in the app for a stunning 95 minutes a day. Talk about a captive audience.  
" 28 states have taken steps to ban TikTok from state-owned electronic devices."
In the U.S., 28 states have taken steps to ban TikTok from state-owned electronic devices, with more likely to follow. Most have cited cybersecurity concerns surrounding the app's ties to the Chinese government. One state, Indiana, is suing TikTok, "to protect children and combat threats from China."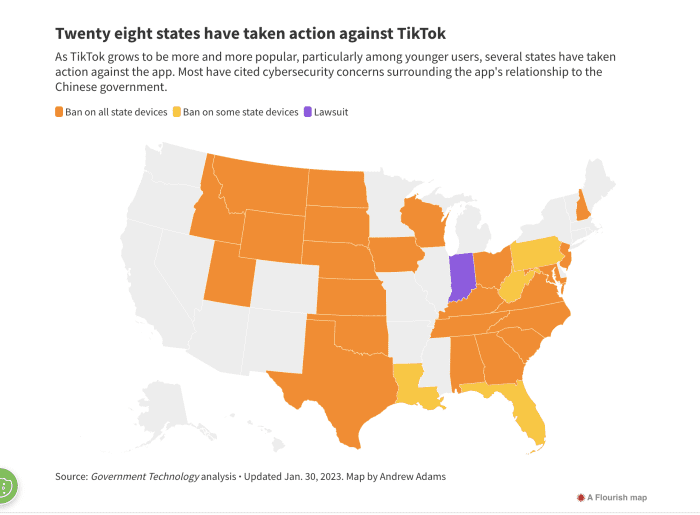 Washington lawmakers are taking action as well. Just this week, Sen. Michael Bennet (D-Colo.) asked the chief executive officers of Apple AAPL, -1.59% and Alphabet GOOGL, -7.75% to remove TikTok from their respective app stores, warning that its "vast influence and aggressive data collection pose a specific threat." 
Other Democrats also have TikTok in their sights. Senator Mark Warner (D-Va.) —chairman of the Senate Intelligence Committee — has said he's open to a ban on TikTok. He's urging the Biden administration to accelerate a national security review.
Republicans have gone further, introducing actual legislation. A bill introduced last month by Sen. Josh Hawley (R-Mo.) and Rep; Ken Buck (R-Colo.) would direct President Joe Biden to use the International Emergency Economic Powers Act to prohibit transactions with TikTok's parent company ByteDance, and to penalize any entity that tries to evade those sanctions. It would also require the director of U.S. national intelligence to report to Congress on possible security threats posed by TikTok, including the ability of China to use U.S. user data for "intelligence or military purposes, including surveillance, microtargeting, deepfakes, or blackmail."
And the White House? Biden ordered a review of TikTok in June 2021 — after reversing an executive order issued by former President Donald Trump to ban new downloads of the app in the U.S. That review isn't finished; Warner, the Virginia Democrat, is warning the administration to hurry up.
For its part, TikTok has resorted to the usual Washington tactic: using lobbyists and public relations firms to make its case. The company has claimed it doesn't store Americans' user data in China. Said Hawley: "That's nice. But all it takes is one knock on the door of their parent company based in China from a Communist Party official for that data to be transferred to the Chinese government's hands." 
More: The U.S. is trying to control chip exports to China. Signing up key allies isn't easy.
Also read: TikTok warned by EU that it must comply with new digital rules