Sports & General 12 minutes ago (Feb 09, 2023 02:15PM ET)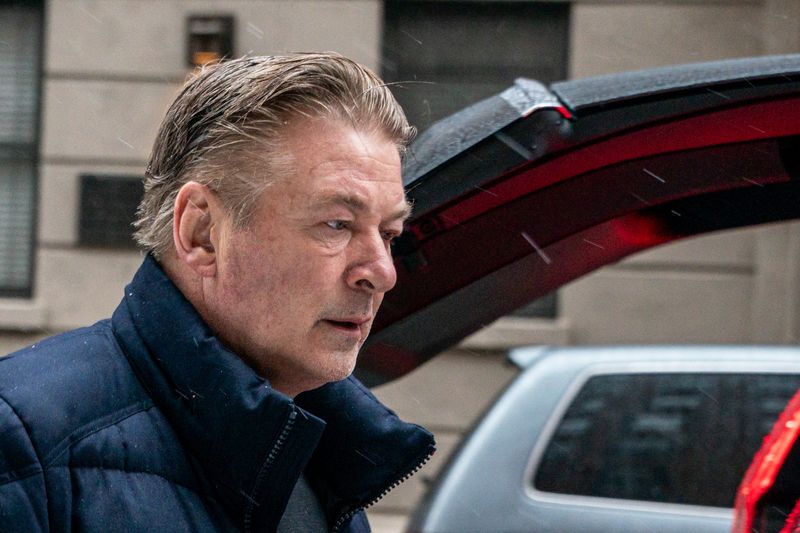 © Reuters. FILE PHOTO: Actor Alec Baldwin departs his home, as he will be charged with involuntary manslaughter for the fatal shooting of cinematographer Halyna Hutchins on the set of the movie "Rust," in New York, U.S., January 31, 2023. REUTERS/David 'Dee' Delg
(Reuters) – The parents and sister of Halyna Hutchins are suing actor Alec Baldwin and others over the cinematographer's 2021 death in New Mexico during the filming of the Western 'Rust', the family's lawyer said on Thursday.
The announcement comes after a Santa Fe prosecutor on Jan. 31 charged Baldwin with involuntary manslaughter, accusing him of reckless disregard for safety when a revolver he was holding fired a live round that killed Hutchins and injured 'Rust' director Joel Souza.
Set armorer Hannah Gutierrez-Reed also was charged with involuntary manslaughter in the case.
Baldwin in October settled a separate wrongful-death lawsuit brought by Hutchins' husband Matt Hutchins over the fatal shooting on a film set outside Santa Fe.
Attorney Gloria Allred, representing Hutchins' parents and sister, said she would provide details of the new lawsuit at a news conference in Los Angeles later Thursday.
Luke Nikas, a lawyer representing Baldwin, did not immediately respond to a request for comment.
Under Matt Hutchins' settlement with Baldwin and the producers of 'Rust', filming of the movie was set to resume in early 2023 with Hutchins serving as executive producer, Baldwin remaining in the lead role of 'Harland Rust', and Souza directing.
At the time, Matt Hutchins said he had no interest in attributing blame to Baldwin or the 'Rust' producers for the fatal shooting, and called his wife's death "a terrible accident".
In a 2021 television interview Baldwin said Hutchins directed him where to point the gun and to cock it. He said the revolver fired when he let go of the hammer and he did not pull the trigger.
"I would never point a gun at anyone and pull the trigger, that was the training that I had," Baldwin told ABC News.
An FBI forensic test of the reproduction Pietta long Colt .45 revolver found that it functioned "normally" and would not fire without the trigger being pulled.