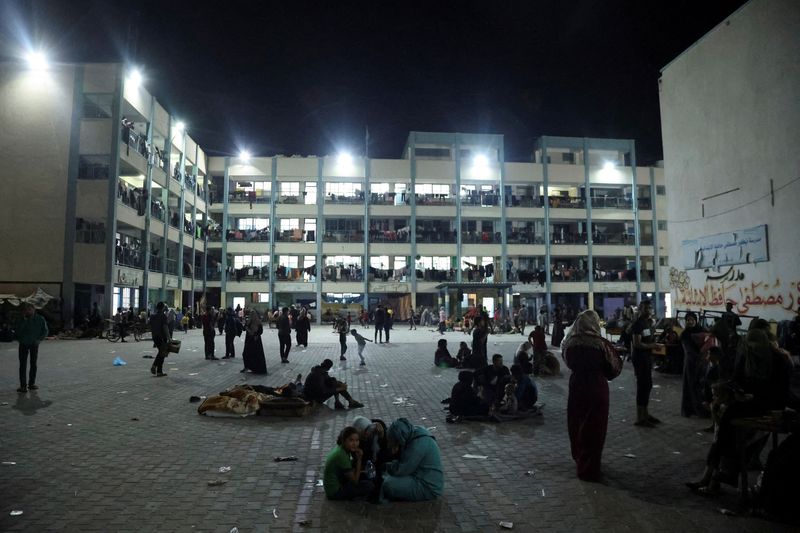 © Reuters. Palestinians, who fled their houses amid Israeli strikes, shelter at a United Nations-run school, after Israel's call for more than 1 million civilians in northern Gaza to move south, in Khan Younis in the southern Gaza Strip October 14, 2023. REUTERS/Ahm
By Nidal al-Mughrabi
GAZA (Reuters) – When Israel told residents of Gaza to leave their homes in the densely populated Palestinian enclave ahead of an expected ground offensive, Fawziya Shaheen, 90, recalled a dark chapter that is seared into the consciousness of Palestinians.
The idea of leaving or being driven out of land on which they want to forge a state carries echoes of the "Nakba", or "catastrophe", when many Palestinians fled or were forced from their homes during the 1948 war that accompanied Israel's creation.
"Whatever happens we will not be displaced. They are striking us but we are not going to leave our homes and we will not be displaced," said Shaheen, sitting at home with her grandchildren facing relentless Israeli bombardment and shortages of bread, drinking water and power outages.
Israel had given the population of the northern half of the Gaza Strip until Saturday morning to move south. It later said it would guarantee the safety of Palestinians fleeing on two main roads until 4:00 pm (1300 GMT). As the deadline passed, troops were massing around the Gaza Strip.
"I remembered the time when we were displaced the first time and what is happening to us now. It is all the fault of America and the countries who made normalization with the Jews (Israel)," said Shaheen, who lives in an alley inside the Khan Younis refugee camp.
"Even if America, Israel or any other state intervenes we will stay put and we will not leave our homes."
Shaheen was originally displaced from Al-Majdal and ended up in impoverished Gaza, now one of the most densely populated places in the world. She witnessed the 1948, 1956, 1967, 1973 wars and the conflicts between Israel and the Palestinian militant group Hamas.
Some 700,000 Palestinians, half the Arab population of what was British-ruled Palestine, were dispossessed and displaced, many spilling into neighbouring Arab states where they or many of their descendants remain. Many still live in refugee camps.
Israel contests the assertion that it drove Palestinians out, saying it was attacked by five Arab states after its creation.
'WE WILL DIE HERE'
Israel has launched an intense bombardment, vowing to annihilate the Hamas militant group that controls Gaza in retaliation for a rampage by its fighters who stormed through Israeli towns a week ago, gunning down civilians and making off with scores of hostages. Some 1,300 people were killed in the worst attack on civilians in Israel's history.
Israel says the evacuation order is a humanitarian gesture to protect residents from harm while it roots out Hamas fighters. The United Nations says so many people cannot be safely moved inside the besieged enclave without causing a humanitarian disaster.
Hundreds of thousands of Gaza's 2.3 million residents have fled their homes, while remaining inside Gaza, a small slither of land wedged between Israel, Egypt and the Mediterranean Sea.
The fate of Palestinian refugees is one of the thorniest issues in the moribund Israeli-Palestinian peace process. Palestinians and Arab states say a deal should include the right of those refugees and their descendants to return, something Israel rejects.
Shehada Abu Draz, 80, is suspicious of an American-Israeli conspiracy to eject Palestinians to Egypt, even though that country has not indicated it will open its doors to any fleeing residents of Gaza.
"We tell America, Israel and those who stand with it that we will never leave the Gaza Strip. We will die here," he said.
"Israel occupied our land in 1948 and until now, and we will engage in a battle against Israel forever."
"Every people under occupation must resist the occupation regardless of what is the price," he said.