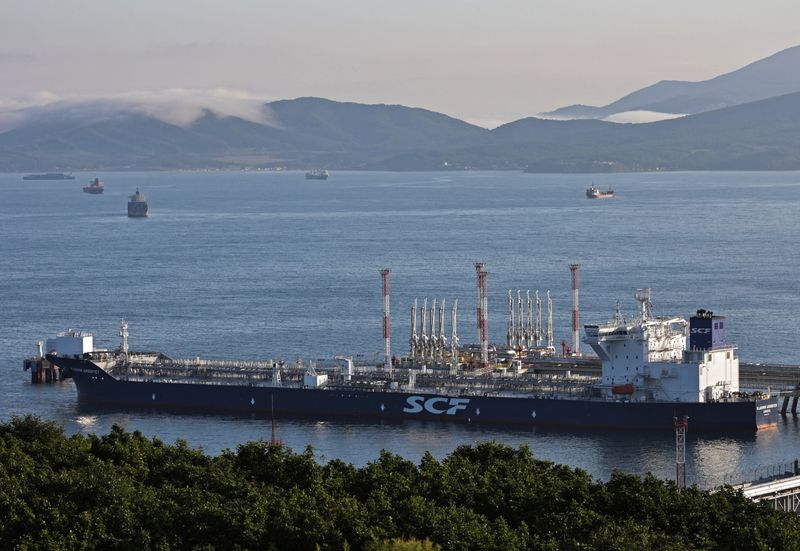 © Reuters. FILE PHOTO: An aerial view shows Vladimir Arsenyev tanker at the crude oil terminal Kozmino on the shore of Nakhodka Bay near the port city of Nakhodka, Russia August 12, 2022. REUTERS/Tatiana Meel
By Emily Chow
SINGAPORE (Reuters) -Oil prices rose on Monday amid optimism over China's demand recovery, concerns that underinvestment will crimp future oil supply and as major producers keep output limits in place.
rose 70 cents, or 0.8%, to $83.70 a barrel by 0720 GMT. U.S. West Texas Intermediate (WTI) crude for March, which expires on Tuesday, was at $76.89 a barrel, up 55 cents or 0.7%. The more active April contract was up 0.8% at $77.14.
The benchmarks settled down $2 a barrel on Friday, and closed lower by about 4% last week after the United States reported higher crude and gasoline inventories.
"Brent and WTI prices are up slightly this morning after selling off on recent hawkish Fed commentary, following stronger than expected CPI and PPI data released in the U.S.," said Baden Moore, head of commodities research at National Australia Bank (OTC:).
While last week's announcement that the U.S. will sell 26 million barrels of from its Strategic Petroleum Reserves adds some downward pressure to the market, global supply looks to be "flat to down" versus the previous corresponding period after factoring in production cuts by Russia and OPEC+, added Moore.
He was referring to the agreement by the Organization of the Petroleum Exporting Countries (OPEC) and allies, a group known as OPEC+, last October to cut oil production targets by 2 million barrels per day (bpd) until the end of 2023.
Russia plans to cut oil production by 500,000 bpd, or around 5% of output, in March after the West imposed price caps on Russian oil and oil products.
"In that context, we continue to see a re-opening of China, and a rebound in China and global jet demand to drive upside risk to prices," Moore said. China is the world's largest crude oil importer.
Analysts expect China's oil imports to hit an all-time high in 2023 due to increased demand for transportation fuel and as new refineries come onstream.
China, along with India, have become top buyers of Russian crude following the European Union embargo.
At the same time, future oil supply shortages are likely to drive prices toward $100 a barrel by the end of the year, analysts from Goldman Sachs (NYSE:) said in a Feb. 19 note.
Prices will move higher "as the market pivots back to deficit with underinvestment, shale constraints and OPEC discipline ensuring supply does not meet demand," they wrote.