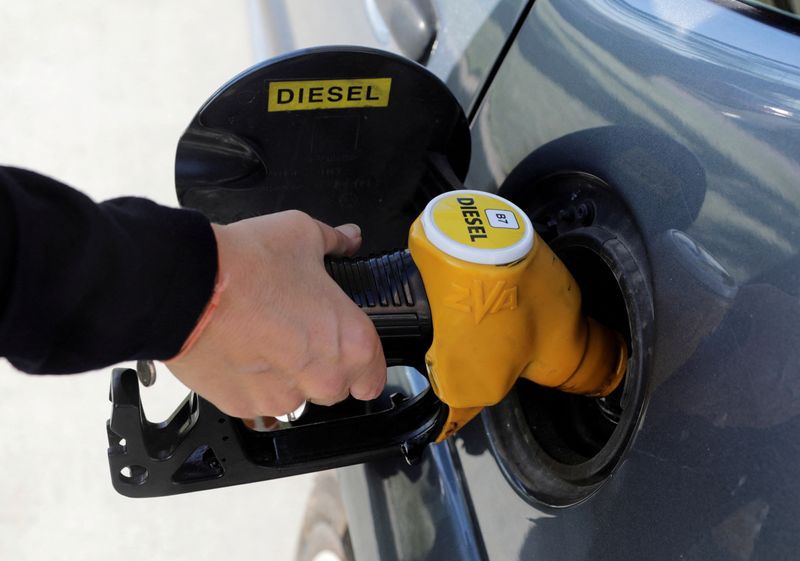 © Reuters. FILE PHOTO: A diesel fuel nozzle with new European labels to standardise gasoline pumps in the EU zone is seen at a petrol station in Nice, France, October 12, 2018. REUTERS/Eric Gaillard/File Photo
By Arathy Somasekhar
HOUSTON (Reuters) – Oil prices edged higher on Tuesday as a drop in euro zone inflation buoyed hopes that the European Central Bank has almost certainly finished raising interest rates, and offset rising supply from OPEC and the United States.
futures for December delivery, were 31 cents, or 0.4% higher at $87.76 a barrel by 12:42 p.m. ET (1542 GMT) ahead of their expiry later on Tuesday.
The more heavily traded January contract rose 11 cents, or 0.1%,to $86.47.
U.S. West Texas Intermediate crude for December delivery rose 25 cents, or 0.3%, to $82.55, while those for January delivery rose 21 cents, or 0.3%, to $81.89.
All contracts traded $1 higher earlier in the day, but prices remain below $90 a barrel on weak Chinese economic data and as the conflict in the Middle East remains contained for now.
"I think a lot of the war premium is coming out of the market, and investors are focused on true supply and demand," said Dennis Kissler, senior vice president of trading at BOK Financial.
OPEC crude output rose by 180,000 barrels per day (bpd) in October, according to a Reuters survey, driven principally by Nigeria and Angola.
Meanwhile, U.S. field production of rose to a new monthly record in August at 13.05 million barrels per day, the Energy Information Administration said on Tuesday.
However, euro zone inflation was at its lowest level in two years in October, falling to 2.9% from 4.3% in September, according to Eurostat's flash estimate. That means the ECB is unlikely to hike interest rates and will now watch their impact play out before making further moves.
Weaker-than-expected manufacturing and non-manufacturing activity data in China stoked fears of slowing fuel demand from the world's No. 2 oil consumer.
Its official purchasing managers' index missed a forecast and dipped back below the 50-point level separating contraction from expansion.
Slow global economic growth will keep crude prices anchored below $90 a barrel this year and next, unless the Israel-Hamas conflict draws in more countries in the Middle East and exacerbates supply tightness, a Reuters poll showed on Tuesday.
Oil prices had fallen on Monday in part "because Israel's ground offensive in the Gaza Strip is so far proceeding only gradually and has thus not yet sparked any further escalation of the Middle East conflict," Commerzbank (ETR:) analysts said.
But investors continue to be wary of the potential for other countries in the region to enter the conflict.
"While Middle East developments have yet to affect oil, as the ground invasion intensifies, the risk of involvement from Iran rises, fueling tight supply concerns," said Fiona Cincotta, senior financial market analyst at City Index.
Israel's Prime Minister Benjamin Netanyahu dismissed calls for a halt to fighting to ease a humanitarian crisis on Tuesday, as Israeli forces attacked Hamas in the network of tunnels under the Palestinian exclave.
Investors were also looking ahead to a U.S. central bank meeting ending on Wednesday. Analysts expect interest rates to be held steady, according to a poll by CME's Fedwatch tool.