2/2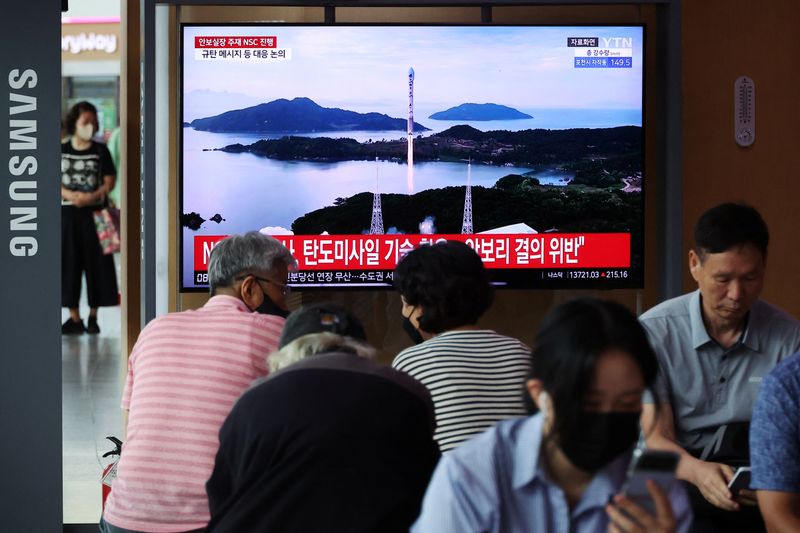 © Reuters. FILE PHOTO: Passengers watch a TV broadcasting a news report on North Korea firing a space rocket, at a railway station in Seoul, South Korea, August 24, 2023. REUTERS/Kim Hong-Ji/File Photo
By Soo-hyang Choi and Chang-Ran Kim
SEOUL/TOKYO (Reuters) – North Korea successfully placed its first spy satellite in orbit on Tuesday, its space agency said, defying international condemnation from the United States and its allies.
Officials in South Korea and Japan, which first reported the launch, said they could not immediately verify whether a satellite was placed in orbit.
North Korea had earlier notified Japan that it planned to send up a satellite between Wednesday and Dec. 1, after two failed attempts to launch what it called spy satellites earlier this year.
Citing the North's National Aerospace Technology Administration, state news agency KCNA said the satellite was launched from the Sohae satellite launch facility at 10:42 p.m. (1342 GMT) and entered orbit at 10:54 p.m. (1354 GMT).
The space agency will send up multiple spy satellites in the near future to continue securing surveillance capabilities over South Korea and other regions of interest to North Korea's armed forces, KCNA reported.
Tuesday's launch would be the first since North Korean leader Kim Jong Un met Vladimir Putin at Russia's modern space facility in September for a summit where the Russian president promised to help Pyongyang build satellites.
South Korean officials have said the latest launch attempt likely incorporated technical assistance from Moscow as part of a growing partnership that has seen North Korea send millions of artillery shells to Russia. Russia and North Korea have denied such arms deals, but are publicly promising deeper cooperation.
"The launch is another flagrant violation of U.N. Security Council resolutions," said deputy U.S. Ambassador to the United Nations Robert Wood.