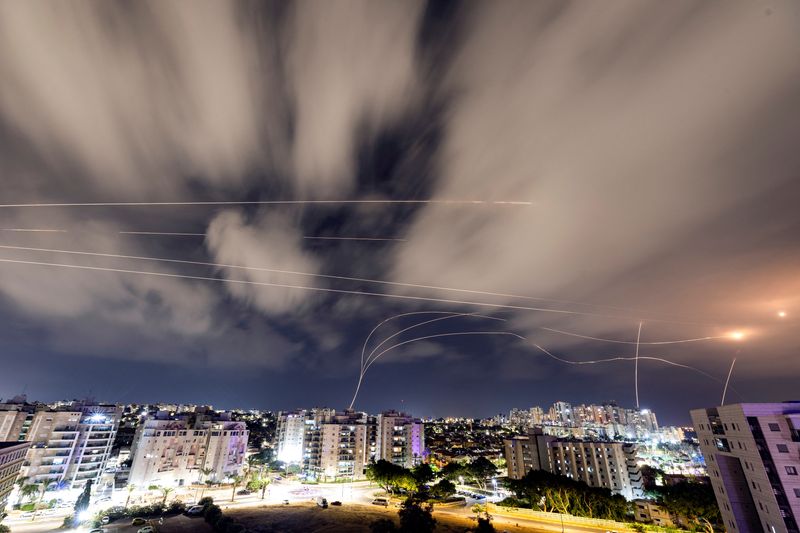 © Reuters. Israel's Iron Dome anti-missile system intercepts rockets launched from the Gaza Strip, as seen from Ashkelon, in southern Israel, October 14, 2023. REUTERS/Amir Cohen
By Nidal al-Mughrabi and Emily Rose
GAZA/JERUSALEM (Reuters) -Israel's Prime Minister Benjamin Netanyahu vowed on Sunday to "demolish Hamas" as his troops prepared to move into the Gaza Strip in pursuit of Islamist militants whose deadly rampage through Israeli border towns shocked the world.
Israel has told Gazans to evacuate south, which hundreds of thousands have already done in the enclave that is home to more than 2 million people.
Inside besieged Gaza, where conditions are deteriorating and deaths from Israeli air strikes rising, civilians said they were not safe anywhere. Militant group Hamas, which runs Gaza, has told them to ignore Israel's message to move south.
Palestinian health workers are storing bodies in ice cream freezer trucks because moving them to hospitals is too risky and cemeteries are full.
With fears of the conflict spilling over, U.S. Secretary of State Antony Blinken continued his tour of Middle East states, seeking to prevent escalation and secure the release of 126 hostages Israel says were taken by Hamas back into Gaza.
Arab leaders stressed the need to protect Gaza civilians.
"The reaction went beyond the right to self-defence, turning into collective punishment," said Egypt's President Abdel Fattah al-Sisi of Israel's retaliatory strikes.
Renewed clashes on Israel's border with Lebanon on Sunday underscored the dangers of regional spillover.
Hamas' armed wing Al Qassam Brigades said it fired 20 rockets from Lebanon at two Israeli settlements while Lebanon's Iranian-backed Hezbollah militia said it fired missiles at Israeli barracks in Hanita and had inflicted casualties.
Israel said it was striking Lebanon in retaliation.
Netanyahu convened Israel's expanded emergency cabinet, including former opposition lawmakers, in a show of unity. "Hamas thought we would be demolished. It is we who will demolish Hamas," he said.
Israel is carrying out the most intense bombardment Gaza has ever seen in response to the killing of 1,300 people when Hamas fighters rampaged through Israeli towns on Oct. 7. They shot men, women, children and soldiers and seized hostages in the worst attack on civilians in Israel's history.
Graphic video of the attacks, and reports from medical and emergency services in the overrun towns and kibbutzes, deepened Israelis' sense of shock.
GAZA BOMBARDMENT
Authorities in Gaza said at least 2,670 people had so far been killed by Israel's retaliatory strikes, a quarter of them children, and nearly 10,000 wounded. Hospitals are running short of supplies and struggling to cope with the numbers of wounded.
Among them was 4-year-old Fulla Al-Laham, 14 members of whose family, including her parents and siblings, died in an Israeli air strike.
"May God keep me alive to take care of her," said her grandmother Um Muhammed Al-Laham, who held the little girl's hand as she lay in a hospital on a drip with a bandaged arm.
The Palestinian Health Ministry said 300 people had been killed and 800 injured in Gaza during the last 24 hours.
The Israeli military on Friday told residents of the northern half of the Gaza Strip – which includes Gaza City's more than 1 million residents – to move south immediately.
"Hamas is trying to prevent your evacuation. We will enable it southward. Leave Gaza City and all the surrounding areas for the sake of your personal security," reiterated chief Israeli military spokesperson Daniel Hagari on Sunday.
Some Palestinians who went south said they were heading back north because they were attacked wherever they went.
Hussam Abu Safiya, an intensive care doctor on a children's ward at the Kamal Edwan hospital in northern Gaza, said the order to evacuate was impossible.
"In this ward as you can see, there are children who are attached to ventilators, and now we have been asked to evacuate the hospital, where should we evacuate these children?"
The World Health Organization said Israel's orders to evacuate 22 Gaza hospitals were a "death sentence for the sick and injured".
Hamas has said dozens of people were killed in strikes on cars and trucks carrying refugees south on Friday. Reuters could not independently verify this claim.
'NAKBA' TRAUMA
The events are reminding Palestinians of the "Nakba," or "catastrophe," when many were forced from their homes during the 1948 war that accompanied Israel's creation.
Blinken said he had a productive meeting with Saudi Crown Prince Mohammed bin Salman in Riyadh on Sunday before heading to Egypt. Amid international efforts to ease the humanitarian crisis in Gaza, Blinken said the Rafah crossing between Gaza and Egypt would reopen. Blinken will travel to Israel again on Monday.
Salman said Saudi Arabia was working to prevent the conflict escalating and wanted to help lift the siege.
The violence in Gaza has been accompanied by the deadliest clashes at Israel's northern border with Lebanon since 2006.
Netanyahu's national security adviser has warned Hezbollah not to take action that could lead to Lebanon's "destruction".
Iran has lauded the Hamas attack on Israel but denied any involvement. Hamas said in a statement on Saturday it and Iran had "agreed to continue co-operation".
"If the crimes of the Zionist regime, including the massacre of people and the siege of Gaza, do not stop, the situation will become more complicated and it will escalate," Iranian President Ebrahim Raisi told France's President Emmanuel Macron in a call, state media said on Sunday.