More gloom from the tech sector — this time from Meta Platforms — is combining with continued pressure on Treasury yields to spark talk of a Red Thursday, or stock selloff, to come. Tech is again set to lead the way lower after the Nasdaq Composite fell into correction territory on Wednesday.
Hopes are now hanging on Amazon.com to belt out some good news after the close. Ahead of that GDP data came in right near 5%, thought that may not stave off a recession.
Our call of the day comes from a pair of money managers who have been banging the table about a crash brewing for this market, and are warning even louder now. They are warning investors to get prepared.
The pair are Michael Gayed, a portfolio manager at Tidal Financial who offers trading strategies via the Lead Lag Report, and Michael Kramer, founder of Mott Capital Management. They posted a discussion on Wednesday that spoke of an "imminent market crash."
"What we're seeing in Treasurys should make a lot of people nervous. I've never seen anything like it, and I've been following this market since the mid-90s," said Kramer, who recently discussed how the new bull market was already over.
In their chat, Kramer told Gayed that it makes sense to see Treasury yields this high, given the Fed jacked up interest rates 500 basis points and the market tried to get ahead of the Fed each time it expected a rate hike. When the Fed started to "mess around with slowing rate hikes," hinting of a pause and the market tried to second guess that as well.
He said the surge in Treasury yields may be "near the end," but there may be a bit to go. Kramer also told subscribers on Wednesday that the S&P 500 decline "doesn't look complete yet," and 4,115 can't be ruled out.
One chart Kramer has been focused on for awhile is shown here, and in followup comments he tells MarketWatch that he suspects, as he has for awhile, that the S&P 500 has been in the grips of a long bear market rally, rather than the start of a new bull market: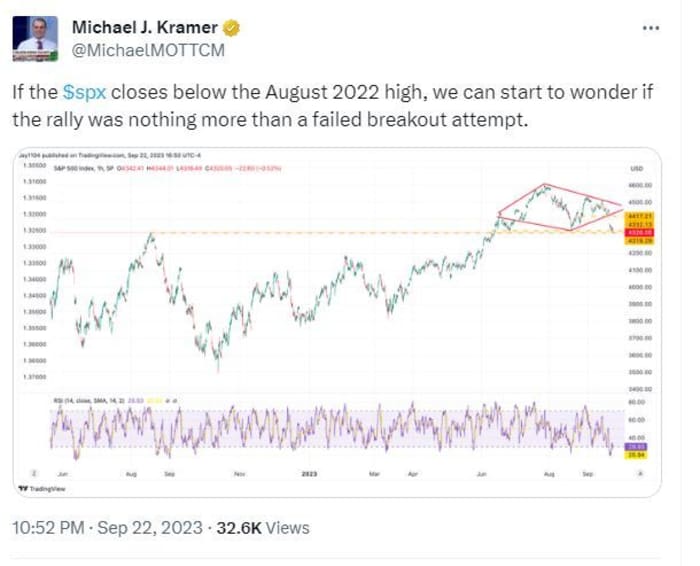 Where does he think investors should be investing right now? For those excited about bitcoin recently, Kramer sees cryptos as way too volatile, so he's sticking to "money market accounts, taking my 5%-ish and leaving it at that. To me that's the best hedge against volatility. And for me, that's the best hedge that provides me the liquidity to be able to move in and out of the market if I so choose."
Gayed posted a few days ago on Seeking Alpha that the fact many stocks are underperforming is "consistent with a market crash." He argued in January that a melt-up later in the year was coming, but also predicted a "credit event" due to lagged effects of the fastest rate hike cycle in history.
What Gayed does see, is that the Treasury selloff risks turning into a corporate credit event. "Credit spreads ARE starting to widen, consistent with what you see in a traditional credit event and stock market crash," he said, offering up this chart: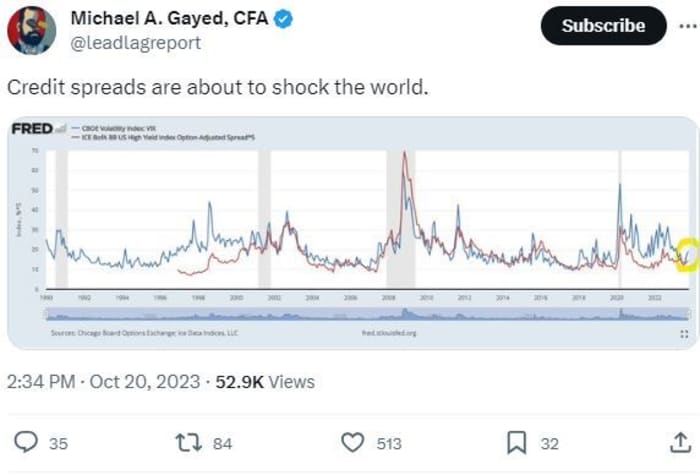 So after the crash in Treasurys, Gayed is on guard for Part 2, when "credit spreads blow out and stocks collapse." Note, that widening credit spreads indicate looming defaults.
"If I'm right, the mother of all short squeezes is still set to come in Treasuries, and people suddenly realize too late they were tricked into a narrative around AI and a 'bull market' that in reality made them exit liquidity," he wrote on Seeking Alpha.
You can listen to the two discuss the market troubles on YouTube.
And here's the last word via X from Gayed:

The market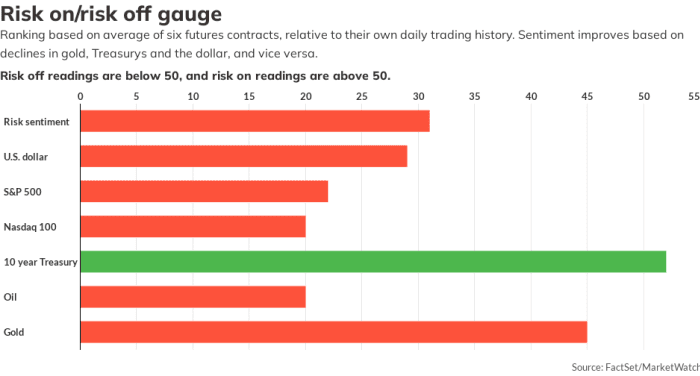 Stock futures ES00, -0.25% NQ00, -0.46% are lower, with tech leading the downside again, as the yield on the 10-year Treasury note BX:TMUBMUSD10Y is stady at 4.95% and the dollar DXY is higher. Oil prices CL.1, -2.27% are down over 3%.
The buzz
Third-quarter GDP rose 4.9%, which was slightly stronger than forecasters exepcted, with weekly jobless claims rising 10,000 to 210,000, durable goods jumping 4.7%, and the trade deficit widening. At 10 a.m., pending home sales will be released.
The European Central Bank has left interest rates unchanged as expected, commenting that inflation has dropped "markedly" in the region.
Meta Platforms' META, -4.17% posted forecast-beating revenue, but talk of weak ad demand in the current quarter amid the Israel-Gaza war spooked investors. Shares are down nearly 3%. From London, Global ad company WPP WPP, -2.23% confirmed the gloom in that space.
Opinion: Meta's risky business of big AI spending amid rocky ad market
Amazon.com AMZN, -5.58% is the next big tech in the spotlight, with results due after the close, alongside a bunch more including Intel INTC, -5.09% and Chipotle CMG, -0.71%. Ahead of those, UPS UPS, -1.60% stock is headed for a three-year low after a revenue miss and outlook cut. Southwest LUV, -1.26% is nearing a 9-year low after revenue and load factor misses. Royal Caribbean RCL, -0.32% is surging on an earnings beat and higher outlook, because of demand for experiences.
Ford F, +1.32% also reports after the close, and United Auto Workers announced a tentative deal to possibly end weeks of strikes.
More late reporters: Mattel MAT, -0.49% is down 7% after disappointing guidance, Whirlpool Corp. WHR, -1.13% is tumbling after a guidance cut and Align Technology ALGN, -4.43% is off 20% after disappointing results from the orthodontics maker.
Elsewhere, Endeavor shares EDR, -1.99% are up 20% private-equity giant Silver Lake said it may take the sports and entertainment company private.
A gunman killed in Maine entered a bowling alley and bar, killing at least 16 people with a manhunt underway.
Best of the web
'We're not in Kansas anymore': Why the 60/40 portfolio might be dead, and what to do now.
In sexless Hong Kong, $2,500 is dim sum money.
Morgan Stanley ends succession battle after three-way race.
The tickers
These were the top-searched tickers on MarketWatch as of 6 a.m.:
| | |
| --- | --- |
| Ticker | Security name |
| TSLA, -1.89% | Tesla |
| META, -4.17% | Meta Platforms |
| AMC, -0.54% | AMC Entertainment |
| NVDA, -4.31% | Nvidia |
| AMZN, -5.58% | Amazon.com |
| AAPL, -1.35% | Apple |
| GME, -2.35% | GameStop |
| PLTR, -6.31% | Palantir Technologies |
| MSFT, +3.07% | Microsoft |
| MULN, -14.38% | Mullen Automotive |
Random reads
Kim Khardashian wanted to take Karl Lagerfeld's $13 million cat to the Met. Choupette wasn't playing.
Hunt for alien technology completes scan of 1.6 million star systems.
Need to Know starts early and is updated until the opening bell, but sign up here to get it delivered once to your email box. The emailed version will be sent out at about 7:30 a.m. Eastern.