Historically, men have had well-documented advantages in the workplace, including receiving higher pay than women and being considered more often for promotions. Now it appears that men may also be rewarded more than women for supporting their colleagues.
According to a new study from MIT Sloan Management Review, men received scores for level of encouragement and rewards for social support for their co-workers that were 11% higher than the scores received by women.
"We created a measure of perceived organizational encouragement by asking whether employees were incentivized to help others at work and whether bonuses and promotions were tied to such behaviors," the MIT study read.
Men received better scores even though women gave similar or greater amounts of support than men, which suggests that women are getting a worse return on their investment for supporting their colleagues.
Here is the breakdown of how men and women say they support their co-workers: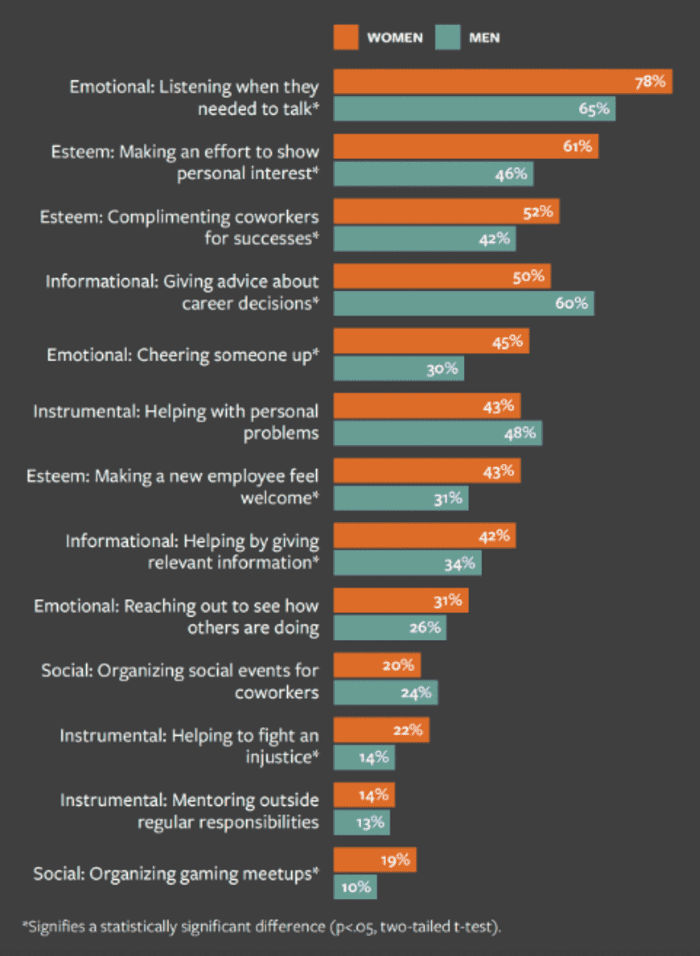 Women reported providing higher levels of support categorized as "emotional" and "esteem," while men reported giving more "social" and "instrumental" support.
"Organizations need to focus on social ROI for all employees. Every employee deserves a high return for investing effort in their workforce community, regardless of their demographic characteristics," said Constance Noonan Hadley, one of the study's authors and a lecturer at Boston University's Questrom School of Business.
See also: Working mothers speak about the dreaded 'mom tax,' the financial toll motherhood can take on their careers and salaries
Creating a better culture that rewards all employees for supporting their co-workers could also help companies retain talented female employees.
"While organizations continue to seek ways to better retain women and members of underrepresented groups, reduce the isolation with remote and hybrid work, and bolster job engagement and satisfaction, they should reexamine how they define, encourage, identify, and reward socially supportive behaviors at work," Nancy Baym, a senior principal research manager at Microsoft Research and co-author of the study, wrote about the findings.
The study outlined ways managers and companies can help women receive better recognition and rewards for supporting co-workers. Those include:
Provide clarity about which behaviors count. Be specific about which types of employee behaviors the company wants to encourage.
Make the invisible visible. In team meetings, highlight employees who have been particularly supportive.
Provide training and education. Conduct exercises that detail different forms of social support, which may allow employees to provide that support to co-workers at a later date.
Revise performance-management systems. Integrate metrics for co-worker support into reviews and performance management, allowing for incentives like bonuses.
The study's authors believe that part of the disconnect between the support that female employees give and the recognition they receive may be because the types of support women tend to give are not valued as highly as the types of support men tend to give. They offered as an example that women are more likely to make an effort to welcome a new colleague, while men are more likely to provide career advice.
The 836 responses from the study were logged in 2020 and later analyzed and broken down by race and gender. The study surveyed employees working in the office and in hybrid and fully remote situations, and managers as well as nonmanagers.
There can also be a less tangible return on investment when co-workers provide emotional support for each other. Other studies, including one from Frontiers in Psychology that was published in the National Library of Medicine, have found that co-worker support was associated with a better working environment, reduced intention to leave a company and increased job satisfaction.
Read on: How to fight back against ageism — without starting a fight