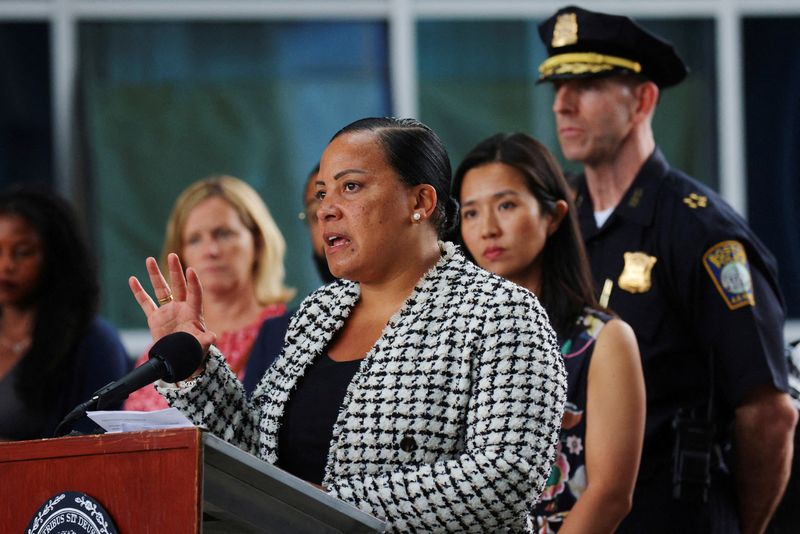 © Reuters. FILE PHOTO: U.S. Attorney for Massachusetts Rachael Rollins, with Boston Mayor Michelle Wu and acting Boston Police Commissioner Gregory Long, speaks to reporters about the march through Boston by supporters of the white nationalist group Patriot Front du
By Sarah N. Lynch
WASHINGTON (Reuters) -Massachusetts U.S. Attorney Rachael Rollins (NYSE:) improperly used her position at the Justice Department to try to influence the outcome of a local district attorney election by leaking negative and non-public information about a political rival, the department's internal watchdog said on Wednesday.
That conclusion was among a litany of ethics violations uncovered by Justice Department Inspector General Michael Horowitz in a scathing 161-page investigative report released a day after Rollins announced she would resign her post by Friday.
The report uncovered a host of issues, from Rollins attending a Democratic political fundraiser in her capacity as the top federal prosecutor in Massachusetts to accusations that she "knowingly and willfully made a false statement" during her interview with the inspector general office.
Separately, the independent U.S. Office of Special Counsel released its own report, finding Rollins had "willfully violated" the Hatch Act – a law that places limits on the political activities of federal employees.
Rollins, the first Black woman to serve as the U.S. attorney in Massachusetts, was appointed by President Joe Biden. She is a prominent figure in the "progressive prosecutor" movement that supports policies designed to eliminate racial disparities in the justice system.