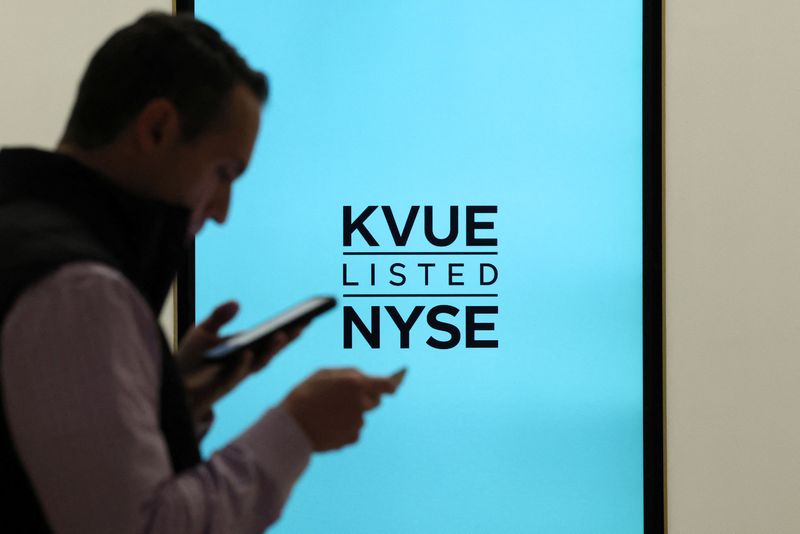 © Reuters. FILE PHOTO: Kenvue Inc. Johnson & Johnson's consumer-health business, trading information is displayed on a screen during the company's IPO at the New York Stock Exchange (NYSE) in New York City, U.S., May 4, 2023. REUTERS/Brendan McDermid/File photo
By Bhanvi Satija
(Reuters) -Kenvue on Thursday warned that a longer summer season in the northern hemisphere would hurt sales of its cold and flu medicines this year as the Benadryl maker cut the higher end of its annual profit forecast range.
Shares of the company were down 3% in premarket trading.
The consumer health company, which also flagged an increased impact from a stronger dollar, now expects full-year adjusted profit between $1.26 and $1.28 per share, compared with its previous forecast of $1.26 to $1.31 per share.
"Mostly due to the seasonally warm weather we saw in the northern hemisphere in September, we see a slow start of the season," CEO Thibaut Mongon told Reuters.
Kenvue (NYSE:)'s reported-quarter revenue came in at $3.92 billion, slightly above analysts' estimates of $3.91 billion, as per LSEG data.
The former unit of Johnson & Johnson (NYSE:) said its third-quarter revenue was aided by demand for its anti-allergy products like Zyrtec and Reactine tablets, smoking cessation or Nicorette products and digestive health products like Imodium and Pepcid.
However, sales were impacted by soft demand for its products in China.
"The Chinese consumer is more choiceful in where they spend their money," said Mongon in an interview.
Revenue from its self-care unit came in at $1.61 billion, compared with $1.52 billion reported last year.
Kenvue expects full-year organic sales growth between 5.5% and 6%, compared with its prior forecast of 5.5% to 6.5% growth.
The forecast change comes in contrast to peer Haleon, which in August had raised its annual forecast for organic revenue growth, betting on resilient demand for its household brands like Sensodyne toothpaste and Panadol tablets.
On an adjusted basis, Kenvue reported a profit of $0.31 per share in the third quarter, in line with analysts' estimates.