The 2023 BMW i7 is the first all-electric 7 Series. It has the luxury and technology you'd expect from a flagship luxury sedan and up to 318 miles of range. Pricing starts at $119,300.
The 2023 BMW i7 is an all-new entry to the German luxury brand's EV lineup. The i7 is part of the redesign for the whole 7 Series, and it has the distinction of an all-electric powertrain. The interior is spacious, luxurious, and loaded with tech features to give it a futuristic feel.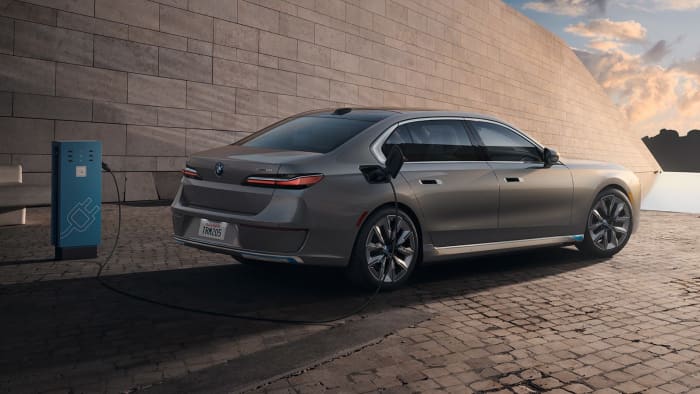 BMW BMW, +0.82% didn't forget about performance; the big sedan achieves a 0-60 mph time of just 4.5 seconds. This EV has a range of up to 318 miles, and it can charge up to 80 miles worth of range in only 10 minutes with DC fast charging. The most direct competitor to the i7 is the Mercedes-Benz EQS.
2023 BMW i7 pricing
The BMW i7 starts at $119,300, plus a $995 destination fee. That pricing is similar to the dual-motor Mercedes-Benz EQS 580 4Matic, but the EQS has a more affordable single-motor option. The i7 is a bit more expensive than smaller electric luxury sedans like the Porsche POAHY, -1.62% Taycan and Tesla TSLA, -0.94% Model S.
As a perk, the i7 comes with 3 years of unlimited charging via the Electrify America network.
You might like: Sustainability and good range make the all-electric 2023 BMW iX appealing to those who can afford it
Driving the 2023 BMW i7
In some ways, the all-new 2023 BMW i7 is surprisingly similar to the standard, gasoline-powered 7 Series. That standard model is already a masterpiece, with driving talents that make it feel smaller than its footprint would lead you to believe. It is more playful than you'd expect, even cushier than you imagined when all you want is comfort, and drips with more tech and amenities than you can count. The i7 takes all those traits and copies and pastes them into an all-electric form.
Our test of the i7 took place on the outskirts of Palm Springs, California. No mere desert, the region has a beguiling landscape that includes mountains that regularly receive snow. Connecting those peaks with the arid landscape below are some lovely ribbons of asphalt.
Driving the twisty bits was a thrill — again, more thrilling than one would expect in a full-size executive sedan — while this flagship made easy work of the more mundane urban traffic that leads out of the city. That includes the ability for one-pedal driving, which brings the car to a halt merely by lifting off the accelerator pedal.
Also on MarketWatch: The 2024 Volvo EX90: This understated, luxury electric SUV offers Volvo's best in safety and design
Acceleration is also faster than one would expect: The i7's 4.5-second 0-60 mph time is only a hair off the time of the V8-powered 760i. As fun as it is to squirt the i7 off the line — gleeful, even, those first several dozen times — the i7 is equally a champion of quiet, comfortable motoring. When treated as the executive sedan that it is rather than a plaything, the i7 shuffles about its business with a quiet, stately, and powerful gravitas.
Amenity-laden interior
The interior of the BMW i7 is sure to meet or exceed your expectations for a flagship luxury sedan. It goes without saying that the interior space is generous, and the seats are comfortable. Extended Merino leather upholstery and oak trim come standard.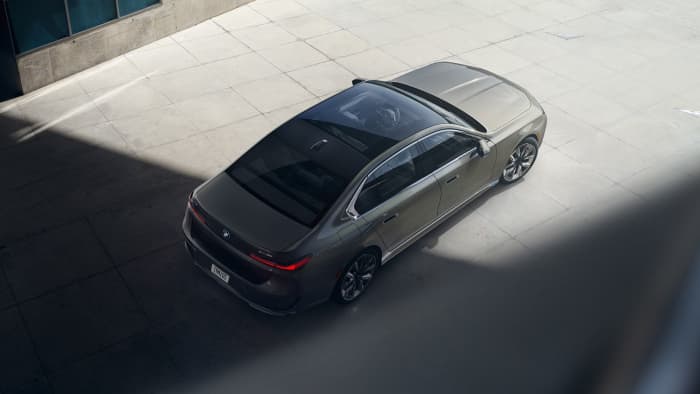 With the BMW Individual Composition option, you can tailor this interior precisely to your liking. You have six different leather color options and interior trim options ranging from carbon fiber to four types of wood.
An optional Luxury Rear Seating package upgrades the back seats with ventilation and massaging.
If we go over every interior tech feature in the i7, we'd be here for a while, so we'll touch on the highlights. The BMW Curved Display is both a digital gauge cluster and an iDrive infotainment system on one giant screen. In the back, there's an optional 31.3-inch BMW Theater Screen with an 8K display and Amazon AMZN, -0.59% Fire TV functionality. Other features include the Panoramic Sky Lounge LED Roof, a wireless charging pad, a Bowers & Wilkins audio system, and the IconicSounds Electric system, which lets you customize the car's sound.
Exterior styling
Unlike Mercedes' S-Class and electric EQS, which are completely different vehicles, the i7 shares sheet metal and more with the 7 Series. The front-end design of the i7 is a bit of a break from tradition, but this sedan has the aesthetic of a high-tech luxury sedan. You get a sportier look if you opt for the M Sport package with Shadowline exterior trim, revised front and rear fascias, and unique M Aerodynamic wheels.
The BMW i7 is big compared to other electric luxury sedans. It's a bit bigger than the Mercedes-Benz EQS and significantly larger than the Tesla Model S.
Read: 3 reasons the Hyundai Ioniq 6 makes the Tesla Model 3 seem a bit boring
Favorite features
Electric Powertrain
The BMW i7 is the first-ever electric 7 Series. It's powered by a dual-motor electric drivetrain with all-wheel drive (AWD). According to BMW, the i7 can hit 60 mph in 4.5 seconds and delivers up to 318 miles of range on a full charge.
Panoramic Sky Lounge LED Roof
The dazzling Panoramic Sky Lounge LED Roof is not your average sunroof. This standard feature has customizable colors and an illuminated graphic design allowing you to create your own atmosphere in the i7.
Adaptive Recuperation
This feature uses navigation data to optimize regenerative braking in the BMW i7 to ensure the most efficient drive. It can preserve and recapture driving range without you needing to change anything about your driving style.
BMW Curved Display
With the BMW Curved Display, one gorgeous screen spans the dash to create the Live Cockpit digital gauge cluster and a feature-rich iDrive infotainment system. Standard infotainment features include navigation, Android Auto, Apple AAPL, +0.83% CarPlay, and a Bowers & Wilkins audio system.
M Sport package
There's no full-fledged M model of the i7 at launch, but drivers who want a sporty luxury EV will be interested in the M Sport package. It has a sporty appearance package that includes Shadowline exterior trim and unique wheels. Stepping up to the M Sport Professional package adds even more black trim, a rear spoiler, and M Sport brakes.
BMW Theater Screen
Rear entertainment systems are nothing new, but we've never seen one like the BMW Theater Screen. This is a massive 31.3-inch screen with up to 8K resolution and Amazon Fire TV built-in.
Engine and transmission
The BMW i7 employs a dual-motor electric powertrain. It makes power and torque numbers very similar to the twin-turbo V8 in the BMW 760i xDrive. The i7's range varies depending on what size wheels it's wearing. According to the EPA, the i7 has up to 318 miles of range with 19-inch wheels, 308 miles with 21-inch wheels, and 296 miles with 20-inch wheels. All-wheel drive comes standard.
Interesting fact: BMW's electric motor is made in-house. It is a special electrically excited synchronous motor that doesn't use rare-earth materials.
Dual electric motors
101.7 kWh lithium-ion battery
536 horsepower
549 lb-ft of torque
EPA range: Up to 318 miles
KBB's car review methodology.
This story originally ran on KBB.com.