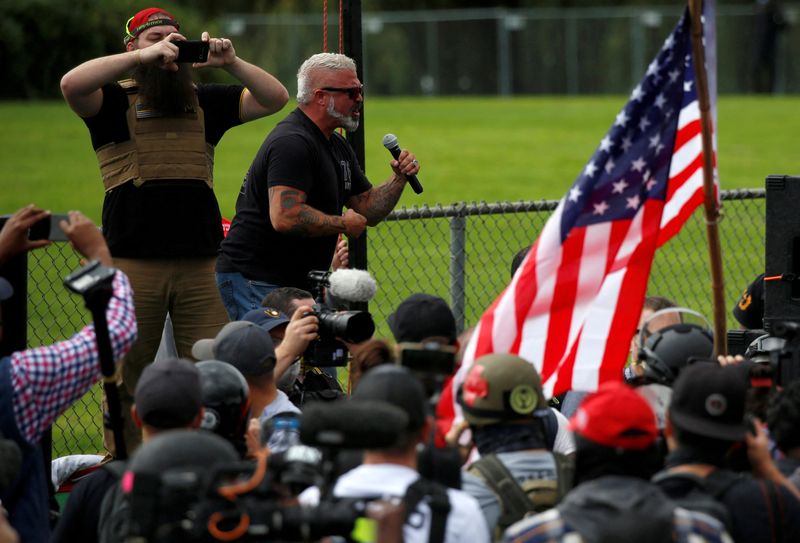 © Reuters. FILE PHOTO: Proud Boys member Joe Biggs speaks during a rally in Portland, Oregon, September 26, 2020, before he was later arrested for his involvement in the storming of the U.S. Capitol building in Washington. D.C., U.S. REUTERS/Jim Urquhart/File Photo
By Sarah N. Lynch
WASHINGTON (Reuters) -A federal judge on Thursday sentenced former far-right Proud Boys leader Joseph Biggs to 17 years in prison, after a jury convicted him of seditious conspiracy for his role in storming the U.S. Capitol in a failed bid to overturn Donald Trump's 2020 election defeat.
The sentence handed down by U.S. District Judge Timothy Kelly is below both U.S. sentencing guidelines and far less than the prison term sought by federal prosecutors.
Kelly said he was not "trying to minimize the violence" that occurred on Jan. 6, but he noted that the event was still not on par with a mass casualty event and imposing a stricter sentence could create disparities.
Ahead of his sentencing, Biggs apologized for his actions as he faced Kelly, choking up as he spoke about his daughter whom he said was a sexual assault victim who needs him.
"I was seduced by the crowd, and I just moved forward. My curiosity got the better of me," said Biggs. "I'm not a terrorist. I don't have hate in my heart."
Federal prosecutors had hoped for a 33-year sentence for Biggs and a 30-year term for Biggs' co-defendant Zachary Rehl, who will be sentenced later on Thursday.
Together, Biggs and Rehl will become the first Proud Boys convicted of seditious conspiracy to be sentenced for their roles in the Jan. 6, 2021, attack.
The government's sentencing recommendations exceeded the longest sentence handed out so far over the assault by the former president's supporters on the Capitol, including Oath Keepers founder Stewart Rhodes, who was sentenced in May to serve 18 years.
"These are very serious crimes," federal prosecutor Jason McCullough said on Thursday. "There is a reason why we will hold our collective breaths as we approach future elections. … They pushed this to the edge of a constitutional crisis."
Former Proud Boys Chair Enrique Tarrio and another former leader, Ethan Nordean, were scheduled for sentencing on Wednesday but their hearings were postponed after the judge called out sick.
The attack was meant to stop Congress from certifying Democratic President Joe Biden's election, which Trump falsely claims was the result of widespread fraud.
Trump currently holds a wide lead in the race for the Republican nomination to challenge Biden in 2024.
TERRORISM ENHANCEMENT
Prosecutors asked U.S. District Judge Timothy Kelly to agree to a terrorism enhancement – a move that had the potential to add roughly 15 years to a prison term.
Kelly on Thursday agreed that the enhancement applied to Biggs, based on his criminal conviction for destroying a metal fence that separated the large crowd of Trump's supporters from the Capitol.
The destruction of the black metal fence "is a federal crime of terrorism," Kelly said.
More than 1,100 people have been arrested on charges related to the Capitol assault. Of those, more than 630 have pleaded guilty and at least 110 have been convicted at trial.
Five people including a police officer died during or shortly after the riot and more than 140 police officers were injured. The Capitol suffered millions of dollars in damage.
Special Counsel Jack Smith, who was tapped to investigate broader efforts to overturn the 2020 election, has since charged Trump for trying to keep himself in power.
Norm Pattis, an attorney for both Biggs and Rehl, asked Kelly to sentence his clients to a term that is below U.S. sentencing guidelines.
"Since the Jan. 6 prosecutions have taken place, there have been many media reports of people afraid to go to protests for fear that if they become violent, their incendiary speech will be used as evidence against them," Pattis told the court.
In May, a jury convicted Biggs, Rehl, Tarrio and Nordean of seditious conspiracy, a Civil War-era law that makes it a crime to conspire to oppose the government by force, and other felonies.
Prosecutors are seeking a 33-year prison term for Tarrio and a 27-year term for Nordean.
Also facing sentencing, on Friday, is Dominic Pezzola. Pezzola was acquitted of seditious conspiracy but convicted of other serious felonies including obstructing an official proceeding. Prosecutors are requesting a 20-year sentence for him.