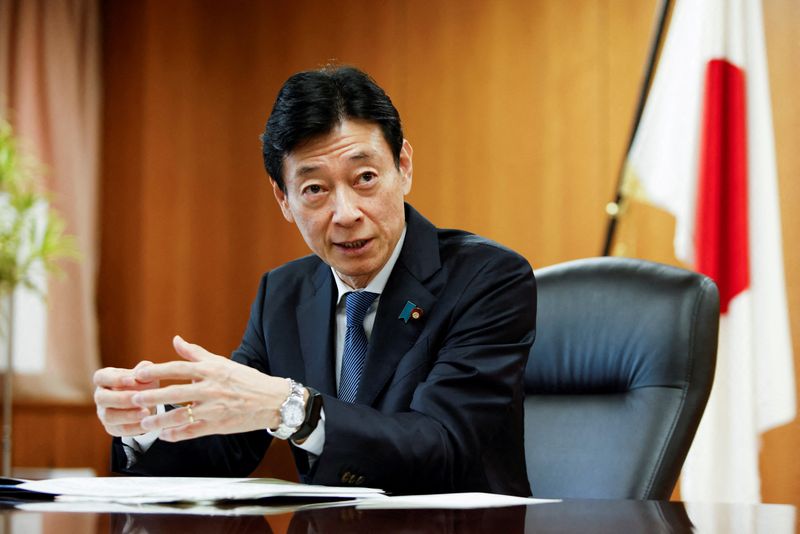 © Reuters. FILE PHOTO: Nishimura Yasutoshi, Minister of Economy, Trade and Industry (METI), talks during an interview with Reuters in Tokyo, Japan, April 5, 2023. REUTERS/Androniki Christodoulou/File Photo
TOKYO (Reuters) -Japan and the United States are likely to issue a joint statement on semiconductor and advanced technology cooperation on Friday, the Yomiuri daily newspaper reported without disclosing where it obtained the information.
Japan's Minister of Economy, Trade and Industry Yasutoshi Nishimura and U.S. Secretary of Commerce Gina Raimondo will meet in the U.S. city of Detroit where Nishimura is attending the 2023 APEC Ministers Responsible for Trade Meeting to agree on the joint statement's contents, Yomiuri reported.
The United States has been garnering support among allies to join it in countering China in technological development at a time when Asia's biggest economy is becoming increasingly assertive on the international stage.
Washington has imposed a series of export controls on chipmaking technology to China whereas Beijing has barred operators of key infrastructure from using products from U.S. chipmaker from Micron Technology Inc (NASDAQ:).
Last week, the leaders of the Group of Seven advanced democracies, including the U.S. and Japan, took issue with what they called China's "economic coercion" and agreed to reduce exposure to the world's second-largest economy.
A new Japan-U.S. statement is likely to include a roadmap for the development of next-generation semiconductors as well as plans to cooperate in artificial intelligence and quantum technology, the Yomiuri reported.
Ahead of meeting her Japanese counterpart, Raimondo on Thursday met China's Minister of Commerce Wang Wentao in Washington where the pair exchanged views on trade, investment and export policies.