A previous version misstated the S&P 500's performance since Sept. 14. It has been updated.
Ford Motor Co. Executive Chair Bill Ford has jolted markets by saying that Tesla Inc. and other carmakers are "loving" the ongoing United Auto Workers strike hitting the Big Three.
Ford made his remarks on Tuesday, calling for the auto workers to end the strike and saying that Tesla TSLA, +0.37% and makers such as Japan's Toyota Motor Corp. TM, -0.49% and Honda Motor Co. HMC, +0.18% are the ones benefiting from the strike.
And while there may be plenty of people who agree with him, as of afternoon trading on Wednesday, Tesla shares are down 7.5% since Sept. 14, the day of the UAW contract expiration and the start of the strike. Over the same period, Ford shares have slipped 4.2%.
Of course, Tesla's dismal stock performance in the period has a lot more to do with the swirling concerns about the electric-vehicle maker's margins and demand after a fresh round of price cuts, the latest of several that Tesla has made.
Tesla has also underperformed the broader U.S. equity market since Sept. 14. The S&P 500 SPX has lost about 2.9% in that period.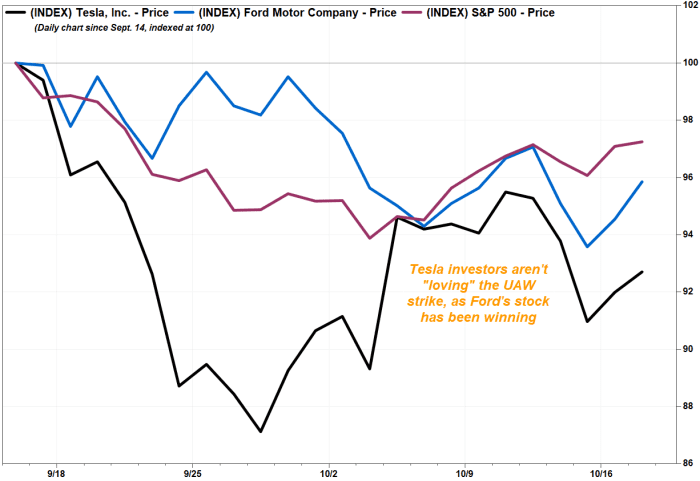 Tesla might clear up any lingering questions soon: The EV maker is slated to report third-quarter earnings on Wednesday.
So far this year, however, Tesla has run laps around the broader market. The stock is up 107%, compared with an advance of around 14% for the S&P.
As for the UAW, the union's president, Shawn Fain, said that Ford's chair knows "exactly" how to end the strike. "It's not the UAW and Ford against foreign automakers. It's auto workers everywhere against corporate greed," the union leader said.
The UAW has broken with tradition and called for strikes at several plants and facilities of Ford F, +0.92%, General Motors Co. GM, +0.90% and Stellantis NV STLA, +1.21%. Among its latest actions, the union has called for a strike at Ford's pickup-truck plant in Kentucky.
In the past, the union had chosen one company at which to strike, in order to preserve its picket-line firepower and strike fund.
Tomi Kilgore contributed.