Meta Platforms Inc.'s stock has been on a hot streak since the company first announced its cost-cutting plans last fall, and that helped it achieve a milestone Thursday that Mark Zuckerberg had not seen in more than a year.
Meta META, -1.22% finished Thursday's session with a market value higher than Tesla Inc.'s TSLA, -9.75%, the first such occurrence since Dec. 20, 2021, according to Dow Jones Market Data. Meta is now the seventh largest public U.S. company by market capitalization, with Tesla in the No. 8 spot.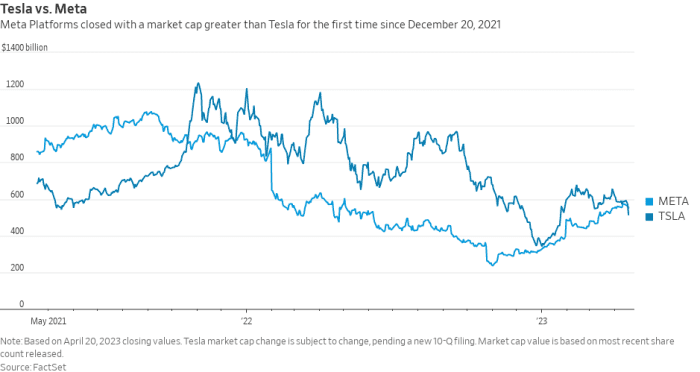 Both Meta, which had a $552.4 billion valuation at the session's end, and Tesla, with a $515.7 billion valuation, previously peaked at fifth in the market-cap rankings. Tesla's valuation is based on the share count given alongside its fourth-quarter report and is subject to change once the company discloses an updated share count in its first-quarter 10-Q.
Opinion: With Tesla stock and margins under pressure, Elon Musk falls back on his favorite fantasy
Shares of Meta have rocketed 144% from their November 2022 low as Chief Executive Zuckerberg and his management team have given Wall Street what it wants in the form of sizable job cuts and a more measured approach to spending.
Tesla's stock had enjoyed a rebound of its own, surging more than 50% from its recent low in January 2023. But Tesla shares stumbled Thursday, falling 9.8% after the company missed margin expectations in its most recent quarterly report in the wake of broad price cuts on its vehicle. The decline wiped away $55.69 billion in market value for Tesla, which is more than the total market capitalizations of both Ford Motor Co. F, -2.86% ($47.32 billion) and General Motors Co. GM, -3.01% ($46.78 billion), according to Dow Jones Market Data.
Meta will have a chance to justify its recent stock rebound April 26, when the social-media company delivers its own earnings report that will show how it has fared in a tough advertising climate.
Read: AI is the word as Alphabet and Meta get ready for earnings