5/5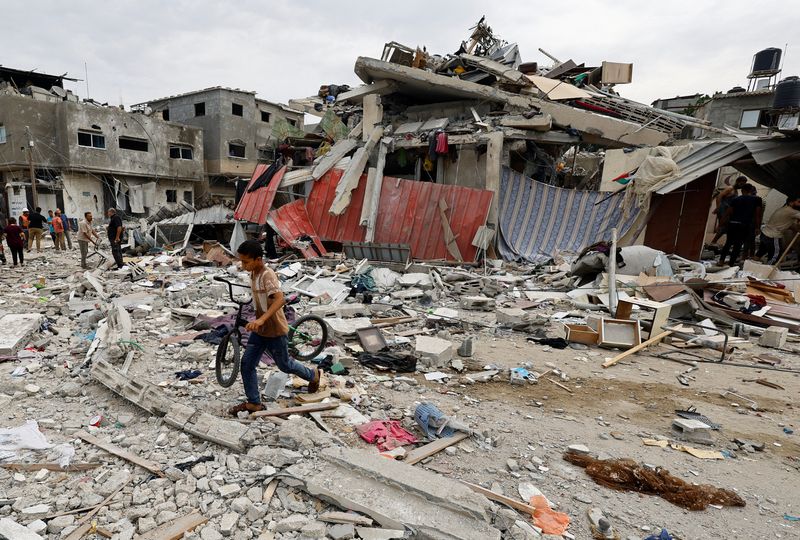 © Reuters. A child walks at the site of an Israeli air strike on a house, as the conflict between Israel and Palestinian Islamist group Hamas continues, in Khan Younis in the southern Gaza Strip, October 27, 2023. REUTERS/Mohammed Salem
By James Mackenzie
JERUSALEM (Reuters) -Gaza was largely cut off from the outside world on Saturday after Israel expanded air and ground operations and suggested its long-promised ground offensive against the Hamas militants controlling the Palestinian enclave had begun.
Israel said on Saturday morning its troops, sent in on Friday night, were still in the field, without elaborating. The country had earlier made only brief sorties into Gaza during three weeks of bombardment to root out Hamas militants, who it said had killed 1,400 Israelis, mostly civilians, on Oct. 7.
"The forces are still in the field and continuing the war," Rear Admiral Daniel Hagari told a news briefing on Saturday morning.
Gaza was under an almost complete communications blackout, with internet and phone services cut for more than 12 hours by Saturday morning. The Palestinian Red Crescent said Israel had cut the communications.
Hagari also said Israel would allow trucks carrying food, water and medicine to enter Gaza on Saturday, indicating that bombing might pause, at least in the area of its border with Egypt where small amounts of aid have been arriving.
Aid agencies have said a humanitarian catastrophe is unfolding in Gaza, whose 2.3 million people are under a total Israeli blockade. Health authorities in the Hamas-run enclave have said more than 7,000 Palestinians have been killed since Israel's bombardment began.
The head of the World Health Organisation (WHO), Tedros Adhanom Ghebreyesus, said the blackout was "making it impossible" for ambulances to reach the injured in Gaza.
"Evacuation of patients is not possible under such circumstances, nor to find safe shelter," he said on X.
He, the Red Crescent and the U.N. children's fund UNICEF said they were unable to contact their staff and facilities.
Al Jazeera, which broadcast live satellite TV footage overnight showing frequent blasts in Gaza, said Israeli air strikes had hit areas around the enclave's main hospital, Al Shifa, in Gaza City in the north.
Israel's military accused Hamas on Friday of using the hospital as a shield for its tunnels and operational centres, an allegation the group denied.
Reuters could not verify reports of strikes near the hospital. Medecins Sans Frontieres (Doctors Without Borders) said it was particularly worried for patients, medical staff and thousands of families taking shelter there and at other health facilities.
An Al Jazeera correspondent, reporting live on Saturday morning, described the cut in internet and phone communications as "catastrophic" for rescue efforts following a night of heavy Israeli bombardment.
Unable to reach ambulance services, Palestinians were transporting the dead and injured to hospital in their cars, the correspondent said. The Hamas-run government said rescue crews were unable to receive emergency calls.
The spokesperson for the Gaza health ministry said on Al Jazeera on Saturday that the death toll in Gaza had reached 7,703 and that 19,734 people had been wounded. Israel said it had no reports of casualties amongst its troops.
RELATIVES OF HOSTAGES SCARED, ANGRY, DEFIANT
Some of the relatives of people captured in Israel during the Oct. 7 Hamas assault demanded an urgent meeting with the Israeli government after what they called "the most terrible of all nights".
"None of the war cabinet bothered to meet with the families of the hostages to explain one thing – whether the ground operation endangers the well-being of the 229 hostages in Gaza," the Hostages and Missing Persons Families Forum headquarters said.
Defence Minister Yoav Gallant said he would meet with family representatives of the hostages on Sunday. The hostages include children and the elderly and many people with foreign passports. Four women have been released so far.
Another relative of hostages, Yosi Shnaider, had said earlier that Israel's military operation was the only way to release them. "We can't wait anymore," he said.
There has been growing speculation that a Qatari-brokered deal to release more hostages was imminent but Israeli military spokesman Hagari said Hamas was cynically manipulating the situation.
"When the information (on any hostage release) is in our hands, we will give it," he told the news briefing.
ISRAELI VIDEOS SHOW TANKS, AIR STRIKES
Israel's military released footage of ground forces, including a column of tanks, operating inside the Gaza Strip, though it did not specify when it was from. It also showed multiple air strikes destroying buildings overnight.
Fighter jets killed the head of Hamas' aerial wing, Asem Abu Rakaba, who was responsible for Hamas' UAVs, drones, paragliders, aerial detection and aerial defence for the Oct. 7 attack on Israel's southern towns, it said.
"He directed the terrorists who infiltrated Israel on paragliders and was responsible for the drone attacks on IDF posts," the IDF said.
Fighter jets had also struck 150 underground targets in the northern Gaza Strip, including Hamas tunnels, underground combat spaces and other underground infrastructure, killing others from the group.
"Their killing, their elimination is a good progress in the stages of war, and gives the forces on the ground a fight against a weaker enemy," Hagari said.
The armed wing of Hamas, the al-Qassam brigades, said early on Saturday its fighters were clashing with Israeli troops in Gaza's northeastern town of Beit Hanoun and in the central area of Al-Bureij.
"Al-Qassam Brigades and all Palestinian resistance forces are fully prepared to confront the aggression with full force and thwart the incursions," it said.
On Friday evening, Hagari had said Israeli ground forces were widening their operations along with extensive air strikes.
"In addition to the attacks carried out in the last few days, ground forces are expanding their operations tonight," he said.
The United States and other Western countries have offered strong support to Israel but had urged it to hold off on a ground offensive for fear that high casualties among Palestinians would fuel wider conflict.
Hamas is backed by Iran, which also supports militias in Lebanon, Syria, Iraq and Yemen. U.S. troops have come under fire from Iran-backed groups in Iraq and Syria and Washington has been moving more military assets to the region.
The Israeli military said it had stopped a missile fired from Lebanon at one of its drones and was striking the launch site on Saturday, the latest in what have been the most serious clashes on the border since 2006.
Israel's neighbour Egypt said drones fell on the country on Friday and warned against any expansion of the conflict.
White House national security spokesperson John Kirby (NYSE:) would not comment on the expanded ground operation. But he said Washington supported Israel's right to defend itself and added: "We're not drawing red lines for Israel."
He said the U.S. supported a pause in Israeli military activity in Gaza to get humanitarian aid, fuel and electricity to civilians there.
He also said that if getting more than 200 hostages abducted by Hamas out of Gaza required a localized temporary pause, the U.S. supported that.