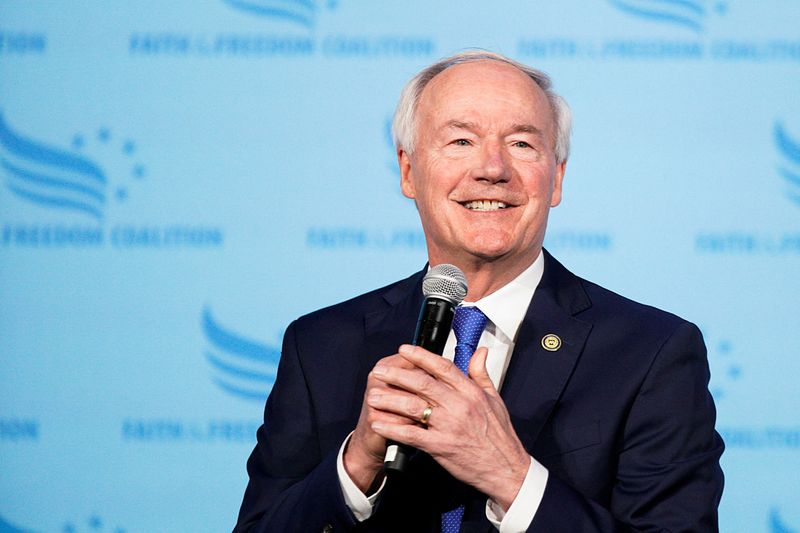 © Reuters. FILE PHOTO: Former Arkansas Governor Asa Hutchinson speaks at the Iowa Faith & Freedom Coalition Spring Kick-off in West Des Moines, Iowa, U.S. April 22, 2023. REUTERS/Eduardo Munoz
By Tim Reid
(Reuters) – Former Republican Arkansas Governor Asa Hutchinson formally launched his 2024 presidential bid on Wednesday, in a speech that portrayed himself as a more moderate alternative to party frontrunner Donald Trump.
Hutchinson, 72, who's bid is considered a long-shot, had already broken with Trump this year after the Republican former president's criminal indictment in March over hush payments to a porn star.
Unlike all the other declared and potential Republican White House candidates, who rallied behind Trump after the indictment, Hutchinson said at the time that Trump should pull out of the race.
In his formal announcement speech, Hutchinson did not name Trump, but appeared to break with him on foreign policy by decrying the isolationist approach Trump took to international issues when president.
"Isolationism only leads to weakness and weakness leads to war," Hutchinson said. His formal kick-off speech followed an announcement earlier this month that he was running for president.
Hutchinson, who has little name recognition nationally, will present himself to Republican primary voters as a more moderate alternative to Trump and Florida Governor Ron DeSantis, another conservative firebrand who is expected to announce his presidential campaign soon.
Moderation is a tough sell in Republican primary battles, which attract mostly conservative voters.