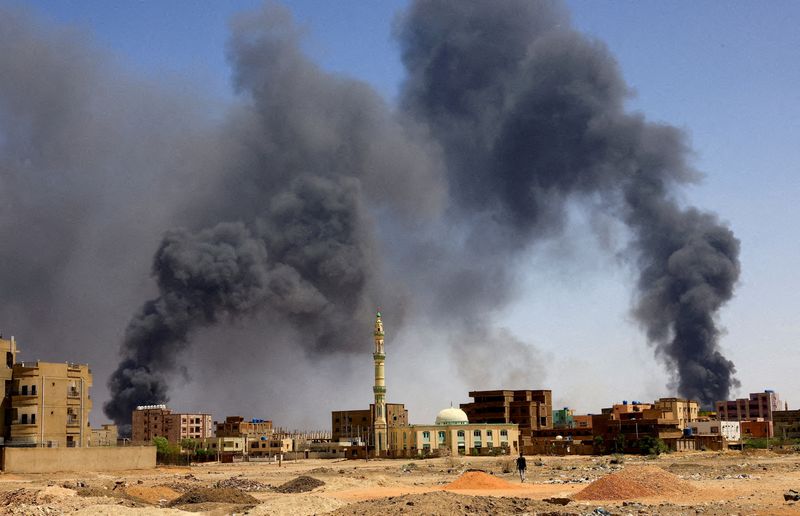 © Reuters. FILE PHOTO: A man walks while smoke rises above buildings after aerial bombardment, during clashes between the paramilitary Rapid Support Forces and the army in Khartoum North, Sudan, May 1, 2023. REUTERS/Mohamed Nureldin Abdallah
By Khalid Abdelaziz and Mohamed Nureldin
KHARTOUM (Reuters) -Heavy clashes and artillery fire erupted across Sudan's capital Khartoum on Sunday and residents reported air strikes soon after the end of a 24-hour ceasefire that had brought a brief lull to eight weeks of fighting between rival military factions.
Witnesses said the fighting between the army and the paramilitary Rapid Support Forces (RSF) was some of the heaviest for weeks, and included ground battles in the densely populated neighbourhood of Haj Youssef in Bahri, one of three adjoining cities, along with Khartoum and Omdurman, that make up the capital around the confluence of the River Nile.
Just after the ceasefire expired at 6 a.m. (0400 GMT) witnesses said clashes and artillery fire resumed in the north of Omdurman. They also reported clashes in southern and central Khartoum, and in Shambat along the Nile in Bahri up to the strategic Halfiya bridge, which crosses to Omdurman.
"The truce made us relax a bit, but the war and fear are returning today," said Musab Saleh, a 38-year-old resident of southern Khartoum.
Mohamed Usher, a local activist who visited two sites of artillery shelling in southern Khartoum, said at least 11 civilians had been killed there. In East Khartoum, six civilians had been killed by the fighting, an activist in that area said.
War between Sudan's army and the paramilitary Rapid Support Forces (RSF) broke out on April 15 over tensions linked to an internationally backed plan for a transition towards civilian rule.
The conflict has killed hundreds of civilians and displaced more than 1.9 million, triggering a major humanitarian crisis that threatens to spill across a volatile region.
Fighting has been concentrated in the capital, much of which has become a war zone plagued by looting and clashes. But unrest has also flared elsewhere including the western region of Darfur, already suffering from a conflict that peaked in the early 2000s.
Residents and activists have reported a further deterioration in recent days in El Geneina, near the border with Chad, and new waves of attacks by Arab nomadic tribes with ties to the RSF.
Among those killed were a number of human rights activists, lawyers and doctors, according to the Darfur Bar Association, which monitors the conflict in the region.
The city has been largely cut off from telephone networks for several weeks.
'LOOTING EVERYWHERE'
Another affected city is El Obeid, capital of North Kordofan State southwest of Khartoum and on a major route to Darfur. Residents say it is under a state of siege due to the conflict, with supplies of food and medicine cut off.
The wider Kordofan region is an important agricultural area and source of livestock, oilseeds and gum arabic.
"The situation is difficult. The RSF are spread out on the roads between the villages and they are looting, and there are gangs looting everywhere. Moving from place to place became dangerous," North Kordofan resident Mohamed Salman told Reuters by phone.
"We don't know how we'll plant or how we'll live."
The RSF has said it is trying to counter looting, and has denied responsibility for the violence in Darfur.
Some 400,000 of those who have fled their homes have crossed into neighbouring countries, about half of them heading north to Egypt.
On Saturday, Egypt tightened entry rules by extending a requirement for entry visas from men aged 16-50 to all Sudanese citizens.
Even before the rule change, thousands of Sudanese had faced long waits near the land border as they tried to obtain visas. At Cairo airport, 22 Sudanese citizens were deported after being denied entry under the new rules, airport sources said.
The 24-hour ceasefire that began on Saturday morning was negotiated at talks led by Saudi Arabia and the United States in Jeddah. A previous, 12-day ceasefire agreed by the two sides in Jeddah had been repeatedly violated.