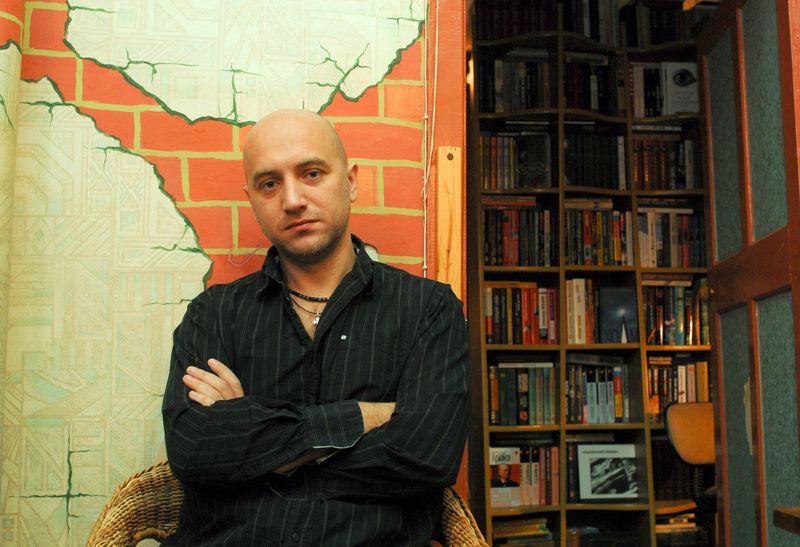 © Reuters. FILE PHOTO: Russian writer Zakhar Prilepin poses for a picture in his flat in Nizhny Novgorod, Russia, December 6, 2008. REUTERS/Mikhail Beznosov
(Reuters) – Here are some key facts about Zakhar Prilepin, a Russian nationalist writer who was wounded when a bomb blew up his car on Saturday.
– Prilepin, 47, is the author of six novels, often focusing on dark themes. His debut novel "The Pathologies" told the story of young soldiers in the Chechen wars. He has also written numerous poems, essays and articles, and is the recipient of various state awards including a 2021 arts prize from the defence ministry.
– He is an outspoken pro-war figure on social media, with around 300,000 subscribers each to his Telegram and YouTube channels.
– For years, he has organised Russian proxy fighters in the Donbas region of eastern Ukraine, boasting in a 2019 YouTube interview that his unit "killed people in big numbers". The extent of his direct combat involvement is not clear.
– Prilepin has been politically active as the co-chair of the "A Just Russia – For Truth" party. Last year he took a prominent role in creating GRAD, a parliamentary group that seeks to identify cultural figures with "anti-Russian" views and persuade the state and business to stop funding them. GRAD's initials stand for "Group to investigate anti-Russian activity in the cultural sphere." Grad is also the Russian word for "hail", and the name of a missile system.
– Since Russia's full-scale invasion of Ukraine last February, he has been sanctioned by Switzerland, Britain, Australia, Canada, New Zealand and the European Union.