The great pandemic mortgage refinance boom is most definitely over, but the aftershock is still rippling through the housing market. Homeowners are holding up home sales, as their ultra-low prize is too precious to give up.
During the early days of coronavirus pandemic in 2020 and 2021, mortgage rates fell sharply, and millions of homeowners jumped at the opportunity to refinance. The 30-year mortgage fell down to 2.65% in early January of 2021, according to Freddie Mac data FMCC, -0.13%.
The Federal Reserve Bank of New York estimated that 14 million mortgages were refinanced during the "pandemic refinancing boom." 
The surge in refinancing was, in part, due to strong household balance sheets and an increased need for housing, the New York Fed said in a blog post published Monday.
The average homeowner who refinanced saw their monthly payment drop by $220, the Fed said.
The biggest share of mortgages that were refinanced originated from 2015 onwards, the NY Fed. said. Older mortgages, such as those originated before 2010, were the least likely to be refinanced. 
Homeowners most likely to refinance their mortgage owed a balance of $400,000 to $500,000 on their mortgage, the NY Fed concluded.
"The mortgage refinancing boom is over, but its impact will be seen for decades to come," Andrew Haughwout, director of household and public policy research at the NY Fed, said in a statement.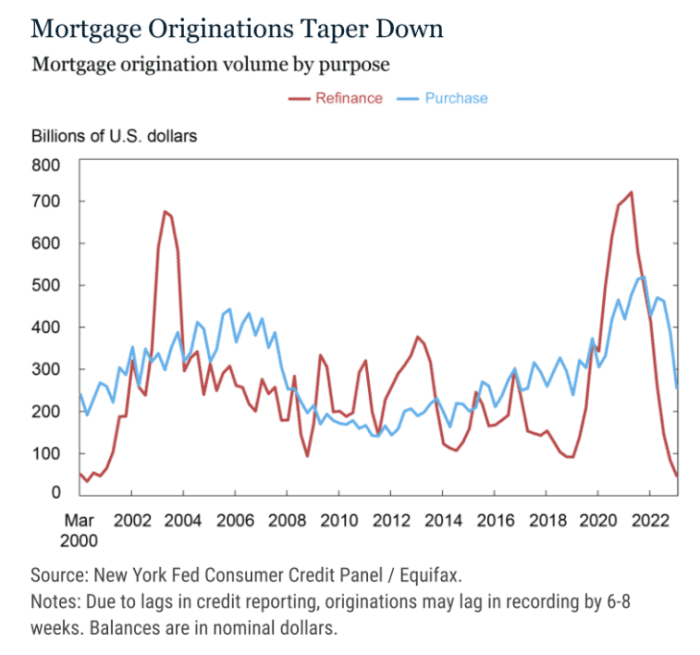 Ultra-low rates have squeezed housing inventory
One of the biggest consequences of the refinancing boom is that would-be homebuyers today are now struggling to find homes for sale.
"The end of the most recent exceptionally low interest-rate period leaves homeowners somewhat disincentivized to sell or change properties," the NY Fed authors noted.
In other words, homeowners aren't keen on giving up their ultra-low mortgage rate and selling their home. Not only are rates far higher today, with the 30-year above 6%, but home prices have continued to stay elevated.
New listings — how many sellers were putting up their homes for sale — were down by 16% in early May compared to a year ago, according to Realtor.com.
(Realtor.com is operated by News Corp NWSA, -1.01% subsidiary Move Inc., and MarketWatch is a unit of Dow Jones, also a subsidiary of News Corp.)
"Owners now looking to move will face increased borrowing costs and higher prices, with current home prices being more than 36% higher than they had been pre-pandemic," the NY Fed said.
Homeowners appear reluctant to sell. Sales of previously-owned homes fell 22% year-over-year in March, according to the National Association of Realtors. New data on April home sales will be released this week.
Many buyers are turning to new builds to find good housing options. New home sales jumped 9.6% in March. One-third of housing inventory is new construction, a deviation from the historic norm of new homes being just 10% of overall housing, the National Association of Home Builders said in April.
And for the mortgage industry, business is likely to be far slower than it was during the pandemic as fewer homeowners are refinancing. The NY Fed said mortgage originations — which include refinanced mortgages — fell sharply in the first quarter of 2023 to $324 billion, the lowest level since 2014
It's not hard to understand why few are interested in refis: The 30-year was averaging at 6.35% in mid-May, as compared to 5.3% a year ago, according to data from Freddie Mac. 
The rise in rates between December 2020 and October 2022 was not just steep, it was historic: Rates rose from 2.68% in 2020 to 6.9% in 2022, the largest swing since the early 1980s, the NY Fed said, citing data from Freddie Mac.