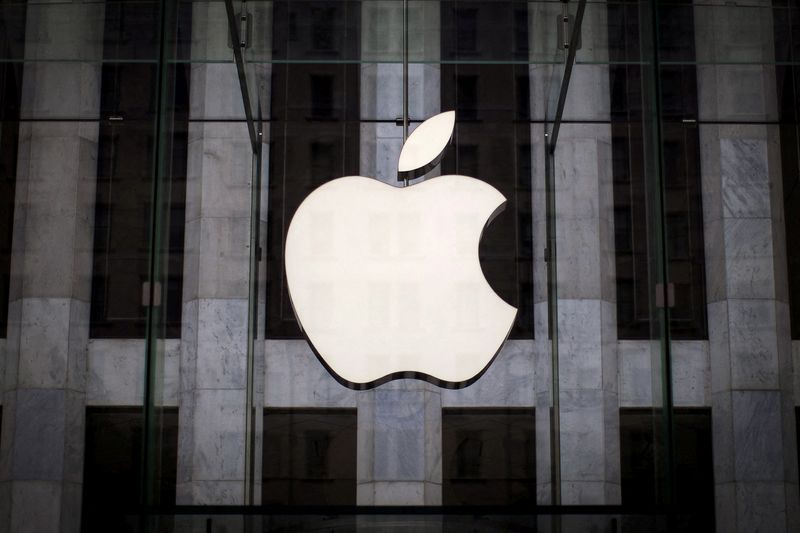 © Reuters. FILE PHOTO: An Apple logo hangs above the entrance to the Apple store on 5th Avenue in the Manhattan borough of New York City, July 21, 2015. REUTERS/Mike Segar/File Photo
AMSTERDAM (Reuters) – The Dutch consumer watchdog is challenging the fees that Apple (NASDAQ:) charges dating app providers in the Netherlands as part of its long-running case against the U.S. technology company over the dominance of its app store, according to a filing seen by Reuters.
Bloomberg News reported on the filing earlier on Tuesday.
Although the case is limited to dating apps in the Netherlands, it is seen as having potential to set a precedent for other markets.
The Netherlands' Authority for Consumers and Markets (ACM) in 2021 fined the company 50 million euros ($53 million) for failure to comply with changes it had ordered to Apple's app store to end practices it said violated European Union antitrust laws.
Apple denied wrongdoing and appealed the fines in a case still before a Rotterdam Court. Apple did agreed to make changes to the app store including opening it to alternative forms of payment for dating apps in the Netherlands.
In February 2022 Apple cut commissions for dating app makers in the Netherlands to 27% from 30%. The ACM never disclosed whether it believed that was a satisfactory change.
This month, the ACM published a summary of its rebuttals to Apple objections dated July 13, 2023, noting there was one remaining dispute it could not disclose publicly for legal reasons.
According to the ACM's fuller July 13 arguments now seen by Reuters, the undisclosed dispute was over commissions.
"Apple … harms dating app providers by charging them an additional, and inexplicably higher, fee for the same services" it does other types of app makers, it said in the document.
A spokeswoman for the ACM said on Tuesday the agency cannot comment while the case is before the court. No decision date has been set.
Apple did not respond to requests for comment.