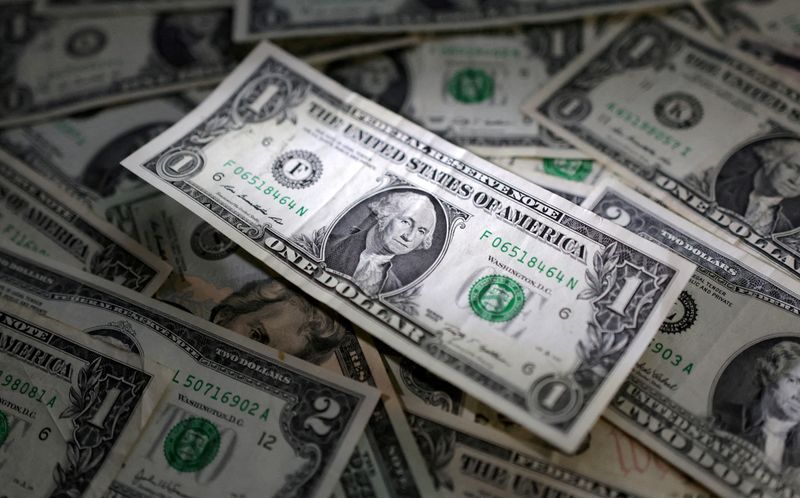 © Reuters. FILE PHOTO: U.S. dollar banknotes are seen in this illustration taken March 10, 2023. REUTERS/Dado Ruvic/Illustration/File Photo
By Rocky Swift
TOKYO (Reuters) – The U.S. dollar rallied in Asian trading on Thursday after the Federal Reserve signalled rate hikes later in the year, while China's and New Zealand's currencies fell on signs of weakness in those economies.
The market's attention is now turning to other central bank decisions late this week.
The rose 0.28% to 103.21, recovering from a four-week low of 102.66 on Wednesday after the Fed held interest rates steady but signalled that borrowing costs would increase by another 50 basis points (bps) by end-December.
The European Central Bank announces its next rate decision on Thursday, with markets pricing in a 25 basis-point hike and another in July before a pause for the rest of the year.
The Bank of Japan follows on Friday, when it is expected to maintain its ultra-dovish stance and yield curve control settings.
"In light of what the Fed has announced, it's a hawkish pause," said Bank of Singapore currency strategist Sim Moh Siong. "The message here is that the Fed is tightening, and this is why I think the dollar itself could stay supported in the near term."
The euro lost 0.12% to $1.0818, but against Japan's currency it surged 0.35% to 152.26 yen.
The yen also weakened against the dollar, falling 0.46% to $140.735.
The dollar sank 0.68% to $0.6170 after data showed New Zealand's economy shrank into a technical recession in the first quarter.
slid 0.1% and touched 7.1872 per dollar, the weakest since November, after the People's Bank of China (PBOC) cut the borrowing cost of its medium-term policy loans for the first time in 10 months.
That followed a reduction in the PBOC's short-term policy lending rate on Tuesday.
"Following the rate cut from earlier this week, there's a lot of expectation for more wide ranging stimulus to shore up the economy," said Bank of Singapore's Siong.