2/2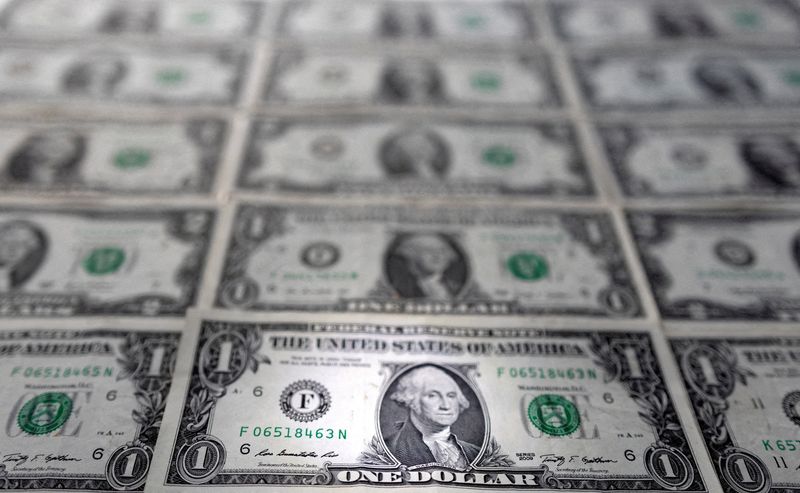 © Reuters. FILE PHOTO: U.S. dollar banknotes are displayed in this illustration taken, February 14, 2022. REUTERS/Dado Ruvic
By Karen Brettell
NEW YORK (Reuters) – The dollar pared gains on Thursday after two Federal Reserve officials indicated they favored a 75 basis points hike at the U.S. central bank's July meeting, reducing the odds of a more aggressive move.
Traders have ramped up bets that the Fed will hike rates even faster after data on Wednesday showed U.S. annual consumer prices jumped 9.1% in June, the largest increase in more than four decades.
Odds of a 100 basis points move fell, however, after Fed Governor Christopher Waller said he supported another 75-basis-point interest rate increase at the central bank's policy meeting later this month, but would lean toward a larger hike if new data shows demand is not slowing fast enough to reduce inflation.
St. Louis Fed President James Bullard also said he would prefer to lift interest rates by 75 basis points at the central bank's July 26-27 meeting.
Fed funds futures now indicate a 31% chance of a 100 basis points increase, down from around 70% earlier, and a 69% chance of a 75 basis points increase.
The was last at 108.50, up 0.22% on the day, after jumping to 109.29, the highest since September 2002.
The euro fell to $1.0031, after getting as low as 99.52 cents U.S., the weakest since December 2002.
The greenback is expected to continue rising as it benefits from higher rate-hike prospects than other global central banks, including the European Central Bank.
"Europe's going to have a harder time and you're probably going to see that the Fed is going to become very aggressive, and that interest rate differential is just going to become very powerful throughout the next year," said Edward Moya, senior market analyst at OANDA in New York.
Trading was volatile on Thursday with the euro hitting 20-year lows after a party in Italian Prime Minister Mario Draghi's coalition government failed to support a parliamentary confidence vote including measures to offset the cost of living crisis. Draghi later resigned.
The dollar also jumped to a 24-year high against the yen as the Japanese central bank maintains a dovish stance that contrasts with hawkish moves by other central banks.
"There's clearly a broader preference for the dollar in the markets at the moment given the broader context of ongoing geopolitical uncertainty, the pressures in Europe from the energy supply situation and expectations of interest rate rises in the U.S.," said Shaun Osborne, chief FX strategist at Scotiabank.
The Canadian dollar slipped a day after the Bank of Canada raised its benchmark interest rate by a full percentage point, its biggest hike since 1998.
The may be weaker also because aggressive rate increases are fueling fears about an economic downturn, said Osborne.
"Investors are concerned that potentially the Bank of Canada is moving too fast, too quickly, there are thoughts that a policy mistake is being made here with a 100-basis-point increase given the housing sector vulnerabilities," Osborne said.
The greenback gained 0.98% against the loonie to C$1.3102. It earlier reached C$1.3224, the highest since November 2020.
The Australian dollar dropped on concerns about global growth to 66.825 cents U.S., the lowest since May 2020.
========================================================
Currency bid prices at 3:00PM (1900 GMT)
Description RIC Last U.S. Close Pct Change YTD Pct High Bid Low Bid
Previous Change
Session
Dollar index 108.5000 108.2700 +0.22% 13.419% +109.2900 +108.1900
Euro/Dollar $1.0031 $1.0059 -0.27% -11.76% +$1.0066 +$0.9952
Dollar/Yen 138.8400 137.4350 +1.04% +20.62% +139.3800 +137.3550
Euro/Yen 139.29 138.19 +0.80% +6.88% +139.7700 +138.0000
Dollar/Swiss 0.9828 0.9792 +0.39% +7.77% +0.9885 +0.9789
Sterling/Dollar $1.1835 $1.1895 -0.52% -12.50% +$1.1892 +$1.1761
Dollar/Canadian 1.3102 1.2979 +0.98% +3.66% +1.3223 +1.2975
Aussie/Dollar $0.6758 $0.6759 -0.01% -7.04% +$0.6787 +$0.6683
Euro/Swiss 0.9858 0.9845 +0.13% -4.93% +0.9885 +0.9828
Euro/Sterling 0.8474 0.8459 +0.18% +0.88% +0.8496 +0.8441
NZ $0.6130 $0.6132 +0.00% -10.42% +$0.6134 +$0.6062
Dollar/Dollar
Dollar/Norway 10.2155 10.2030 +0.24% +16.09% +10.3500 +10.1960
Euro/Norway 10.2489 10.2586 -0.09% +2.36% +10.3192 +10.2360
Dollar/Sweden 10.5658 10.5527 -0.04% +17.16% +10.6646 +10.5311
Euro/Sweden 10.5992 10.6030 -0.04% +3.57% +10.6367 +10.5918