The Japanese yen temporarily surged against the dollar on Friday, after a report in the Nikkei financial newspaper about a surprise possible pick for the top job at the Bank of Japan.
The central bank plans to appoint economist and former BOJ policy board member Kazuo Ueda to replace Gov. Haruhiko Kuroda on Feb. 14, the Nikkei reported, citing sources. The publication said Bank of Japan Deputy Gov. Masayoshi Amamiya had been considered as a possible successor to Kuroda but that he firmly refused the job.
Bloomberg pointed out, though, that when candidate names have been leaked to the press in the past, the BOJ has ended up going with other candidates.
Shinichi Uchida, BOJ executive director, and Ryozo Himino, former chief of the Financial Services Agency, are expected to be appointed to deputy governor posts, the report said.
The Japanese yen USDJPY, -0.03% strengthened to ¥129.82 against the dollar, a gain of 1.3% on the day as markets weighed up the possibility of a someone perhaps more wedded to fighting inflation to the BOJ head. Favored by traders for the post, Deputy Gov. Amamiya is viewed by market participants as dovish on monetary policy. The yen gave back earlier strength to trade slightly weaker on the day at ¥131.46 to the dollar.
The yen move also came as Amamiya reportedly said Friday that there was no pressing need to tweak yield curve control policy again and more time was needed to assess the bank's December decision to raise a cap on the 10-year Japanese government bond yield to 0.5% from 0.25%.
Who is Kazuo Ueda?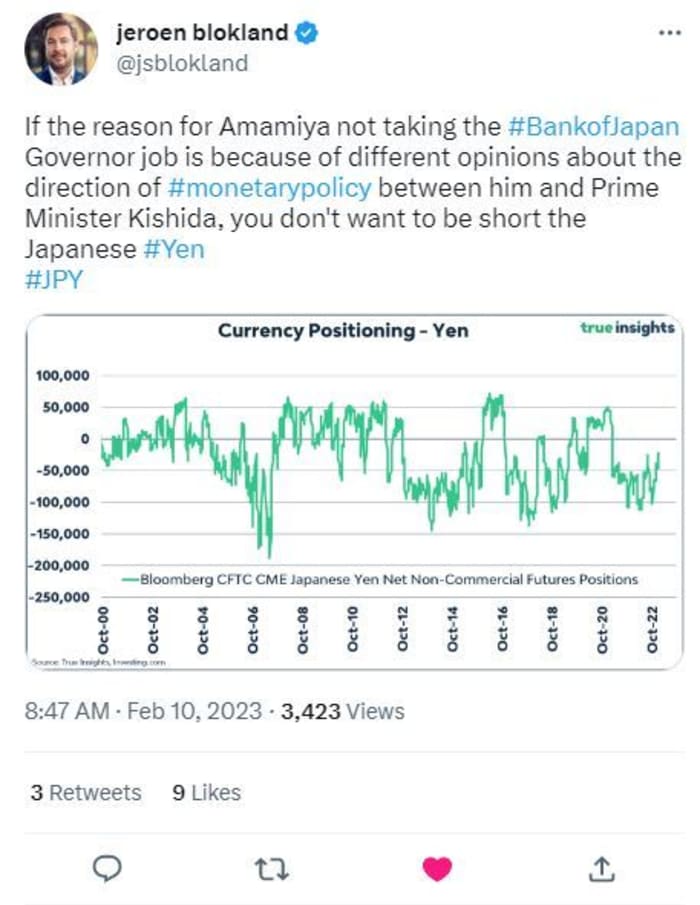 The 71-year old Ueda served on the Bank of Japan policy board between 1998 and 2005, and is known for voting against a decision by the central bank's bank to move away from its zero-interest rate policy in August 2000.
Ueda, who has a long academic history, is currently a professor at the Kyoritsu Women's University business department in Tokyo. He is viewed as an authority on monetary policy, but as some analysts said, wasn't "on many bingo cards" when it came to the top job at the central bank.
"My BOJ call was totally wrong as I thought it would be safe to assume Amamiya would say 'yes.' I am wrong and everyone is confused, chasing theories like cats chasing a laser," Brent Donnelly, president of Spectra Markets, told clients in a note.
But he said if officials want "rapid normalization" of Japanese monetary policy, then the choice of Amamiya "would be the last person to approach."
Meanwhile, Evercore ISI's Krishna Guha and Peter Williams, said Ueda is "an enigma to markets. He served on the BoJ policy board two decades ago when he was a dove in the Hayami and Fukui eras but at times expressed concern about the sustainability of monetary policy in the Kuroda era," they told clients in a note.
"The yen is trading higher on the news — in our view less because investors have a clear understanding of Ueda's views and more because he is not Amamiya who is widely seen as a dove offering continuity with outgoing Gov. Kuroda," said Evercore ISI's Krishna Guha and Peter Williams, in a note to clients.