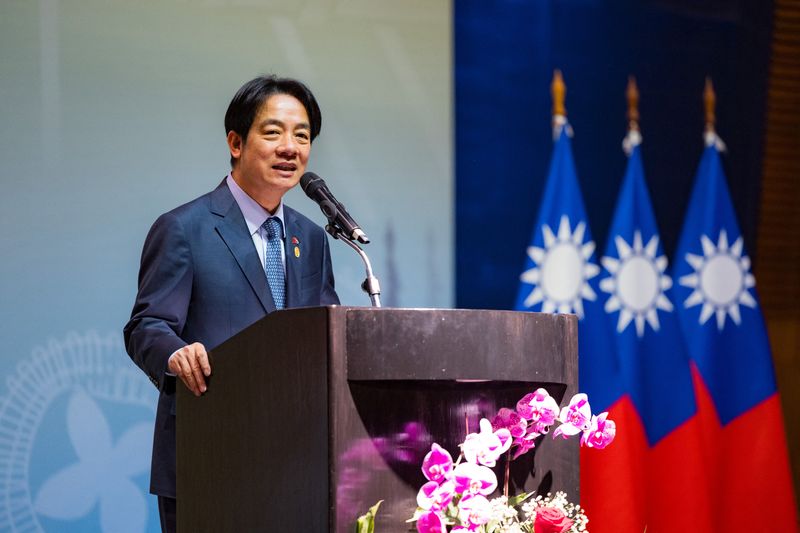 © Reuters. Taiwan's Vice President William Lai speaks during a welcome dinner in Asuncion, Paraguay, in this handout picture released on August 15, 2023. Taiwan Presidential Office/Handout via REUTERS
TAIPEI (Reuters) – Any Chinese military action in response to the stopovers in the U.S. by Taiwan Vice President William Lai would be an attempt by Beijing to interfere in the island's elections, Lai said during a trip to Paraguay.
Taiwanese officials say China could launch military drills this week, using Lai's stopovers in the United States as a pretext to intimidate voters ahead of an election next year and make them "fear war".
China, which claims Taiwan as its own territory, has an especial dislike of Lai who has previously described himself as a "practical worker for Taiwan independence". He is the frontrunner to be the next president at elections in January.
Speaking to reporters on Tuesday in Paraguay, where he arrived via New York, Lai said such U.S. transits were routine and China had no cause to use them as an excuse to "verbally and militarily intimidate Taiwan", the island's official Central News Agency reported.
"If China uses the transits as an excuse to again launch verbal and military intimidation or other threatening methods, it just confirms international media reports that China is attempting to intervene in Taiwan's election with military threats," the report cited Lai as saying.
Lai, however, said he had confidence in Taiwan's people.
Taiwan's defence ministry said on Tuesday it had yet to see any large-scale Chinese manoeuvres near the island.
In April, China held war games around Taiwan after President Tsai Ing-wen returned from California where she met U.S. House Speaker Kevin McCarthy on her way back from Central America.
China has denounced Lai's New York stop – he is due in San Francisco on Wednesday on his way back to Taipei – and said he is a separatist "troublemaker".
Both Taiwan and the United States have sought to keep Lai's U.S. stopovers low key, and Lai said there were "no special arrangements" to meet with U.S. officials.
China considers Taiwan to be its most sensitive and important political and diplomatic issue, and it is a constant source of Sino-U.S. friction.
Speaking at a conference in Moscow on Tuesday, Chinese Defence Minister Li Shangfu said "playing with fire on the Taiwan issue and vainly trying to 'control China with Taiwan' is bound to end in failure".