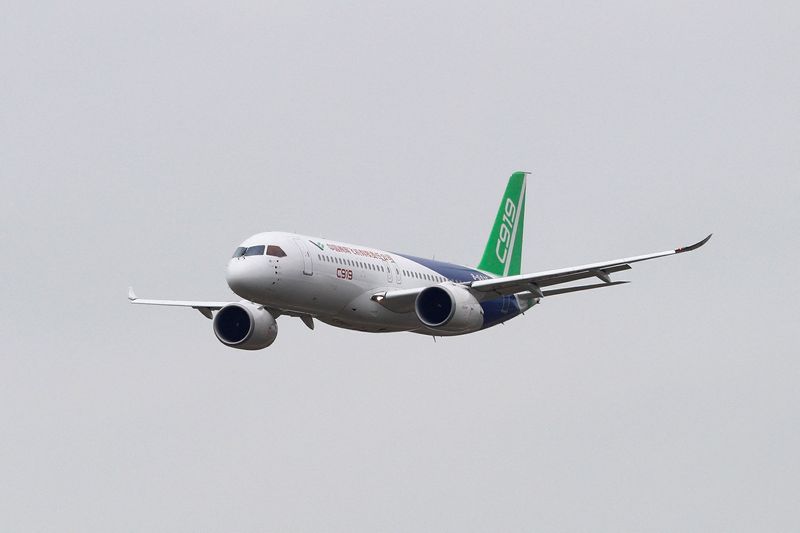 © Reuters. FILE PHOTO: Chinese passenger jet C919 performs at the China International Aviation and Aerospace Exhibition, or Airshow China, in Zhuhai, Guangdong province, China November 8, 2022. China Daily via REUTERS
BEIJING (Reuters) – China Eastern Airlines (OTC:), the initial customer for the country's homegrown narrow-body jet C919, will launch the plane's first commercial flight on Sunday, the carrier's app showed on Friday.
The C919 flight will take off as flight number MU9191 at 10:45 a.m. Beijing time (0245 GMT) from Shanghai Hongqiao International Airport and arrive in Beijing Capital Airport at 1:10 p.m.
The commercial operation of the C919 marks a milestone in the country's hopes that the plane will break the longtime Airbus-Boeing duopoly in the world's airline manufacturing industry.
Manufactured by Commercial Aviation Corp of China (COMAC) to rival the Airbus A320neo and Boeing (NYSE:) 737 MAX single-aisle jet families, the C919 has made many flights without passengers.
China Eastern said on Thursday that C919 would be put into operation "in near future" and the plane will operate commercially with Shanghai as its main base. The airline did not immediately respond to a request for comment on Friday.
On Tuesday the Shanghai Stamp Collecting Corporation said a promotional stamp would commemorate the first flight of C919 on Sunday.
China Eastern signed a contract for five C919s in March 2021 in the first commercial deal for the plane. The Shanghai-headquartered carrier received its first C919, numbered B-919A, in December and began 100 hours of empty aircraft verification test flights.
China's Xinhua state news agency had said last year that the C919 would make its first commercial flight in the spring.
The 164-seat aircraft comes with a two-class cabin layout, consisting of business and economy seats.
Although the C919 is assembled in China, it relies heavily
on Western components, including engines and avionics, from
companies including GE, Safran (EPA:) and Honeywell (NASDAQ:)
International.