Tilray Brands Inc.'s share price dropped in the extended session Thursday after the cannabis company filed a convertible note offering to buy back older ones before they convert to stock, a month after it announced an all-stock acquisition of rival Hexo Corp.
Shares of Tilray TLRY, -2.48% TLRY, -3.34% fell about 20% after hours, following a 2.5% decline to close the regular session at $2.36. Meanwhile, the S&P 500 index SPX, +0.88% finished Thursday up 0.9%. Should shares open Friday down that much and remain unchanged, however, it won't be the stock's first 20%-plus daily beating.
Since Tilray went public in July 2018, the stock has logged six sessions where it has closed down more than 20%, the last being the stock's worst one-day performance ever, on Feb. 11, 2021, when shares plummeted 50% after U.S. reforms on the legal status of cannabis slowed.
Late Thursday, the company said it was issuing $150 million in senior convertible notes due in 2027, with underwriters Jefferies and B. of A. Securities getting a 30 -day option to offer an additional $22.5 million.
In a statement, the company said the offering will result in lower interest payments and have "fewer covenant restrictions than our non-convertible debt options due to the conversion option value," and would be less dilutive than a secondary offering of stock.
Read: Up in smoke: $60 million marijuana startup co-owned by rapper was a Ponzi scheme, feds say
Based on Thursday's closing price, $172.5 million represents about 73 million shares. Tilray has about 618 million shares outstanding. At the end of February, the company reported having $165 million in cash and cash equivalents, $89.4 million in long-term debt, and $223.1 million in "convertible debentures payable."
The company said it was using a portion of the proceeds to buy back 5% convertible senior notes that come due in 2023, and 5.25% ones due in 2024, and the rest for general corporate purposes. At the same time, Tilray said that with "certain holders" of the 2023 and/or 2024 notes, it will buy back "a portion of such notes on terms to be negotiated with such holder."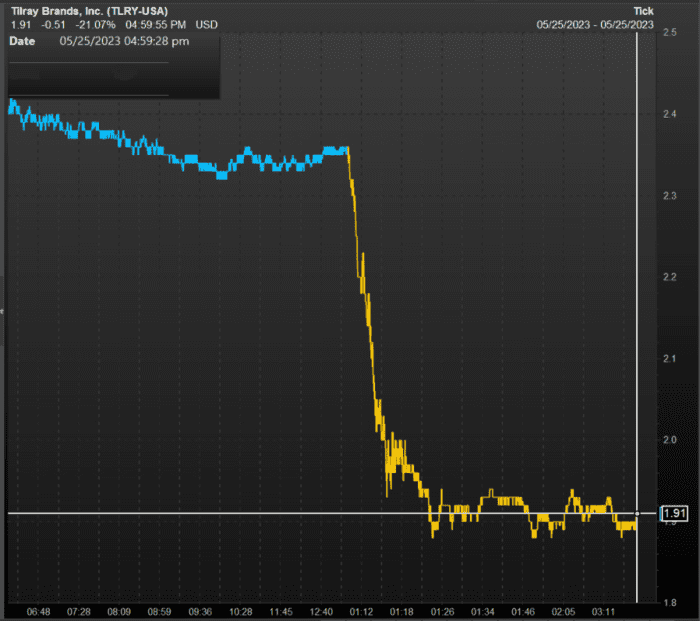 The offering comes a little more than a month after the company agreed to buy peer Hexo HEXO, -5.65%. On April 10, Tilray reported after the close of markets it swung to a loss for the February-ending quarter and offered to acquire Hexo in an all-stock, $56 million deal expected to close in June.
Tilray shares, which had closed April 10 up 5.4% before any of the announcements were made, closed down 8% the next session. Meanwhile, shares of Hexo had surged 30.2% on April 10 before the announcements, and dropped 26.8% during the April 11 session, according to FactSet data.
Read: Tilray plans to buy Hexo, in the latest consolidation in Canada's struggling pot industry. Analysts ask 'Why now?'
At Thursday's close, Tilray shares were down 12.3% year to date, compared with an 8.1% gain on the S&P 500 SPX, +0.88%. Hexo shares are up 15.8% for the year.